Professor Emeritus Glenn Webb Conferred Order of the Rising Sun
Pepperdine Magazine is the feature magazine for Pepperdine University and its growing community of alumni, students, faculty, staff, and friends.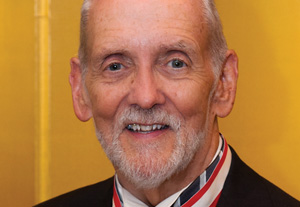 Glenn Webb, Professor Emeritus at Pepperdine and former director of the Institute for the Study of Asian Cultures, was conferred the Order of the Rising Sun by His Imperial Majesty the Emperor Akihito of Japan on November 15 in Los Angeles, California.
First presented in 1875 by Emperor Meiji, the decoration is the second most prestigious after the Order of the Chrysanthemum.
According to the Ministry of Foreign Affairs of Japan, Webb was selected for contributing to the advancement of Japanese studies and promoting mutual understandings and friendship between Japan and the United States.
"Glenn is deserving of the highest honor," says W. David Baird, Dean Emeritus of Seaver College and Howard A. White Professor of History. "He has spent a lifetime studying Japanese culture and history and is recognized as one of the world's greatest masters of the tea ceremony."
"Pepperdine was fortunate that Glenn spent the last 15 years of his career on the faculty here at Seaver College, directing the Center for Asian Studies and Pepperdine's own tea house," Baird continues. "Hundreds of students learned the discipline and beauty of tea from him and his wife, Carol. I suspect their lives, and their eyes, have never been the same since."