School of Law Vice Dean Tim Perrin Appointed President of Lubbock Christian University
Pepperdine Magazine is the feature magazine for Pepperdine University and its growing community of alumni, students, faculty, staff, and friends.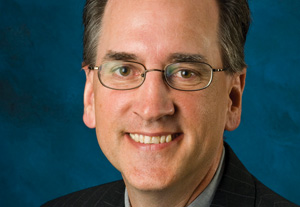 Tim Perrin has been named the sixth president of Lubbock Christian University (LCU) in Lubbock, Texas. An alumnus of Lubbock Christian, Perrin is currently vice dean of Pepperdine's School of Law. He will assume his new duties June 1, 2012.
In being named president of Lubbock Christian, Perrin will become the sixth former Pepperdine employee to currently serve as CEO of a university. He joins Gerald R. Turner (MA '76) of Southern Methodist University, Michael F. Adams of University of Georgia, Kenneth W. Starr of Baylor University, L. Randolph Lowry III of Lipscomb University, and Mike E. O'Neal of Oklahoma Christian University. Like Pepperdine and Lubbock Christian, both Lipscomb and Oklahoma Christian are religiously affiliated with Churches of Christ.
"We will be sad to bid farewell to our esteemed colleague, Tim Perrin," commented President Benton. "He and his wife Lucy have enriched our campus community for the past 20 years and his scholarship and seasoned administrative leadership will be greatly missed. The pain of our loss is eased just a bit anticipating the great contribution he will make at our sister university in Lubbock."
Perrin joined Pepperdine in 1992 where he has served with distinction on the faculty and the administration as professor of law, associate provost, and vice dean. He is the author of numerous articles in leading law journals writing on trial advocacy and he participated in Pepperdine's acclaimed juvenile justice program in Uganda.

Read more about Tim Perrin on the School of Law website.