Surveying the American Dream
The Private Capital Markets Project brings insight to small businesses.
---
"Small businesses produce most of the new jobs in this country. They are the anchors of our Main Streets. They are part of the promise of America—the idea that if you've got a dream and you're willing to work hard, you can succeed. That's what leads a worker to leave a job to become her own boss. That's what propels a basement inventor to sell a new product or an amateur chef to open a restaurant. It's this promise that has drawn millions to our shores and made our economy the envy of the world."
– President Barack Obama, September 2010, upon signing the Small Business Jobs Act

JUST MONTHS BEFORE PRESIDENT OBAMA UTTERED THOSE WORDS—and on the cusp of the mobile application revolution—Graziadio School of Business and Management student Bardia Dejban and his now business partner Gary Rudolph left their employer of 11 months to start a mobile strategy and development firm they called Lolay, Inc.

Dejban and Rudolph, both software engineers, had been coworkers for seven years at various companies before deciding to leap into a budding industry by building Where U At?, a mobile location tracking software. "We bootstrapped with $20,000 and didn't take salaries for six months," recalls Dejban, who drew motivation from the attention the product received from friends and colleagues. The two eventually brought on clients such as eHarmony.com, for whom they built the dating website's iPhone and iPad apps from scratch. Now 90 percent of Lolay's business consists of consulting work.

While their success today is real and tangible, so was the risk they took on in the beginning. Bootstrapping, or using personal funds, is a method to which more small business owners like Dejban are resorting in order to avoid the debt incurred by financing from banks and investors. That is, when businesses are actually being approved for loans.

More than 60 percent of small business loan applications in the U.S. were denied last year, discovered Pepperdine's Private Capital Markets Project (PPCMP), the first comprehensive, ongoing, and simultaneous investigation of the major private capital market segments (those that fund privately held businesses, such as private equity, venture capital, angel investment, and bank loans). As a result, the project also found, only 29 percent of business owners expect an improvement in business conditions over the next 12 months, 25 percent expect a continued deterioration, and 49 percent cited economic uncertainty as inhibitors to their hire rate.

The scarcity of funds and security, coupled with a lack of access to critical capital, bank loans, and other equity sources, is preventing the creation and growth of small businesses in America—a group that makes up over 99 percent of all employer firms and employs over half of private-sector employees in the U.S. What seems like a challenge for privately owned companies, however, is actually part of a bigger problem: by reducing capital flow to small businesses, often referred to as the engine of job creation in America, the economy is unable to create jobs on a national scale.

In the thick of these conclusions is the PPCMP, directed by associate professor of finance John Paglia and his team at the Graziadio School, whose data is bringing to light the fact that the lack of access to capital is putting a strain on greater economic growth. "The project's goal is to create information to help business owners make better investment and financing decisions," explains Paglia, whose work includes disseminating complete private capital market data—a relatively unexplored area of study—over periodic intervals.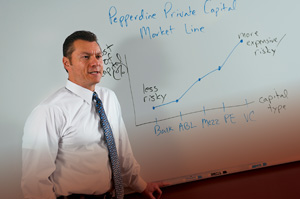 John Paglia

What the team—which includes Paglia, research analyst Irina Shaykhutdinova (MBA '11), and graduate assistant Sean Gray—focuses on are the benchmarks that must be met for businesses to successfully raise capital from various sources. "Once we understand those benchmarks that must be met, we can better assist business owners in terms of helping them identify potential sources of financing for their businesses and also what the cost of their financing sources is," says Gray.

Through working on several independent, business valuation consulting projects since 2000, Paglia realized that looking to public capital markets to quantify risk in privately held businesses did not make sense. Instead, he sought the perspective of small business owners and private capital providers themselves, and explored gathering their feedback, experiences, and opinions through surveys. "By understanding what costs of capital are for the markets from which privately held businesses fund, we can gain better insight into a quantification of risk and, ultimately, business value," he thought.

Seven years later, Paglia met Rob Slee, author of Private Capital Markets, who helped launch the first survey project. After discussing the project with Graziadio School dean Linda Livingstone and assistant dean David Smith, Paglia started the Private Capital Markets class in January 2009. Livingstone described it as "an exciting opportunity for Pepperdine to be a thought leader in enhancing understanding of capital providers and how they are interacting with the private business community."

The first "Capital Markets Survey"—a semiannual behavior assessment completed by capital providers, lenders, appraisers, bankers, and private business owners—was published in August that same year. "There are many market and corporate indices that provide outlooks on the economy, but the real heart of the matter is private business in the U.S.," says Gray. "This survey captures that sentiment."

The original survey investigated "the important benchmarks that must be met in order to qualify for capital, how much capital is typically accessible, what the required returns are for extending capital in today's economic environment, and outlooks on demand for various capital types, interest rates, and the economy in general," Paglia notes.

Today, the PPCMP has expanded to include three major product lines, including Cost of Capital Surveys, which examine the behavior of private capital providers; Economic Forecast Surveys, which study small and medium-sized business owners' views on the national economy and their need for capital to expand their businesses; and the Private Capital Access Index, which measures small and medium-sized business owners' demand for, activity within, and health of the private capital markets, plus provides actionable data to these business owners not generally available in the past.

See more on the surveys below »

To date, the surveys have garnered 30,000 report downloads in over 75 countries and captured the attention of media, business owners, intermediaries, and others who cater to small and medium-sized businesses. Notably, former U.S. president Bill Clinton cited survey results while promoting his new book, Back to Work, on MSNBC's Morning Joe program in November 2011. "It was definitely a validation of all the good work we've been doing here at Pepperdine and made me realize that the project had gone mainstream," says Paglia, who was recently presented with the third annual Middle Market Thought Leader Award given by Grant Thornton and the Alliance of Mergers & Acquisitions Advisors. Paglia was also recognized by the Association for Corporate Growth with the inaugural Tom Hopkins Award for Excellence in Mergers and Acquisitions.

Despite the widespread success of the PPCMP, Paglia and his team face the ongoing challenge of how to find enough survey respondents to continue providing relevant survey results to business owners. To help redress the problem, the project connected with Dun & Bradstreet Credibility Corp., a company that licenses information on businesses and corporations. Their recent partnership has enabled Paglia and his team to access the more than 26 million businesses with which they maintain contact. "The research we're doing also helps them in terms of understanding the needs of business owners that buy their products and services to help position themselves for a more successful financing raise," states Paglia. "It's a great partnership that unfolded."

Together the partners recently issued the "U.S. Economic Forecast," the "State of Small Business Report," the "Capital Markets Report," and the "California State of Small Business Supplement" as a result of their collaboration.

While the PPCMP makes great strides to provide business owners economic forecasting data, the results are also relevant to the general public. Gray notes that it is especially significant to job seekers. "They should look at the economic indicators, unemployment rates, GDP activity, and how the U.S. is going to be able to maintain a competitive advantage against the world," he explains.

He also perceives a benefit to the many people who are hesitant to get into private business right now. "They have these great ideas, but are apprehensive because of the poor economic landscape. They can look to these statistics and see if it's a good time to jump into the ocean or stay out."

For Dejban and his team of 14, a number that has grown considerably since Lolay, Inc.'s inception, these statistics have not only provided an outlook of the company's future, but also affirmed its status as a thriving small business.

"If a majority of small business owners are saying that they're not going to hire anybody, we know we're doing something right," he says, referring to statistics reported in the "2012 Economic Forecast: Insights from Small and Mid-Sized Business Owners." "I can see that we're not going to be affected by that right now, because we are able to build a team of 14."

"When I see that 61 percent small businesses are likely to get a loan in 2012, that leads me to believe that we should be comfortable getting one as well," he adds. "These survey results are more realistic about what we're actually experiencing."
---
IN A NUTSHELL:

THE PEPPERDINE PRIVATE CAPITAL MARKETS PROJECT SURVEYS
PRIVATE COST OF CAPITAL SURVEY

Who is being surveyed?
Senior lenders, asset-based lenders, mezzanine funds, private equity groups, venture capital firms, angel investors, privately-held businesses, investment bankers, business brokers, limited partners, and business appraisers.

What are they asking?
The survey investigates, for each private capital market segment, how to qualify for capital, how much capital is typically accessible, what the required returns are for extending capital in today's economic environment, and outlooks on demand for various capital types, interest rates, and the economy in general.

How often are they being surveyed?
Semiannually

How many respondents each time?
Approximately 3,000
---
ECONOMIC FORECAST SURVEY

Who is being surveyed?
Small and medium-sized business owners in the United States.

What are they asking?
This survey asks private business owners for their projections on how well the U.S. economy will perform and questions them on such topics as confidence in their business growth prospects, hiring, job creation, impediments to U.S. gross domestic product, and government economic policies and their impact on business health in 2012.

How often are they being surveyed?
Semiannually

How many respondents each time?
Approximately 2,200
---
PRIVATE CAPITAL ACCESS INDEX

Who is being surveyed?
Small and medium-sized business owners in the United States.

What are they asking?
This index measures the demand for, activity, and health of the private capital markets, plus provides actionable data to these business owners not generally available in the past.

How often are they being surveyed?
Monthly

How many respondents each time?
Approximately 3,000