Those Who Serve
Pepperdine students past and present share their stories of military service.
In 1937, just as 167 eager students prepared to begin their college careers at the new George Pepperdine College campus in south Los Angeles, Japanese troops entered China in what would be the first stages of World War II. Some of these new Waves joined servicemen and servicewomen worldwide in the fight, beginning the long legacy of Pepperdine students who have risked their lives and impacted the course of history with their contributions to the United States military and its many branches. Throughout its 75 years of existence, Pepperdine has seen scores of students serve their country in myriad ways.


HERE ARE SOME OF THEIR STORIES: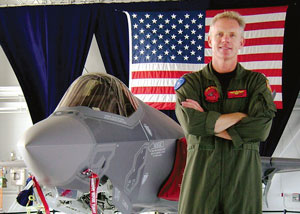 Scott Kartvedt: Navy
DURING HIS CHILDHOOD IN EL CENTRO, CALIFORNIA, SCOTT KARTVEDT ('90) WATCHED THE BLUE ANGELS NAVY FLIGHT DEMONSTRATION SQUADRON SWIRL AROUND THE SKY AS PART OF THEIR TRAINING EXERCISES. "I saw them practice while I was riding motorcycles," says Kartvedt, now a commanding officer in the Navy's Strike Fighter Squadron 101.

Twenty-five years later, it was Kartvedt who was in the pilot's seat, flying a few inches away from a neighboring aircraft at 800 mph while taking a six-plane vertical delta formation. "Anytime someone asks what goes through my head when I'm up there, I always say I'm just there in the moment," explains Kartvedt, now the commanding officer of the Navy's first F-35 squadron, Strike Fighter Squadron ONE ZERO ONE (VFA-101). "There are times when you break away and you have that moment to fly, so you have that chance to take it all in or take in the crowd. It's a rush!"

Among more than 90,000 Pepperdine alumni, he is the only naval officer selected as a member of the Blue Angels. Yet without Pepperdine, Kartvedt would have never even considered enlisting in the military. Passing by Chancellor Emeritus Charlie Runnels' office one afternoon in 1990, "I saw a naval aviation poster, which caught my eye," he recalls. "I knocked on the door, started a conversation, and struck up a friendship from that point on. We talked a lot about naval aviation and the challenges of training, but also the joys of service." Runnels later wrote a letter of recommendation for Kartvedt's Navy application, which propelled his decades-long career in the military.

Since then, Kartvedt has become a decorated naval commander, who has participated in 1996 Taiwanese Contingency Operations, Operations Southern Watch, and Iraqi Freedom; during Operation Enduring Freedom he commanded an F/A-18 squadron during two deployments supporting ground forces in Afghanistan. In 2010 Kartvedt assumed duties at the Pentagon as the Navy's Joint Strike Fighter requirements officer responsible for establishing the Navy's first stealth fighter and for training pilots and maintainers on how to operate the F-35.

Ashore, Kartvedt served with Marine Strike Fighter Squadron 101 as an F/A-18 flight instructor and landing signal officer. He has also held a post as a requirements officer of the Naval Aviation Joint Strike Fighter, where he assisted the director of air warfare in the development, programming, and budgeting of war-fighting requirements for the F-35C Strike Fighter.

Throughout his accomplished career, Kartvedt counts his wife Lisa ('90) as his most ardent supporter and someone who has enabled the family's smooth transition throughout the 13 moves the Kartvedts have made since 2004. "We have always decided that we would move together," he explains. "But the sweetest moment of any military career is the homecoming and homecoming embrace, because you spend six months thinking about it and when you finally reach that moment, it's sweeter than anything you can imagine."
---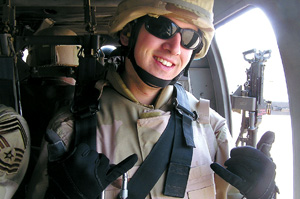 Landon Derentz: Air Force
LIVING IN CLOSE PROXIMITY TO MARINE CORPS AIR STATION EL TORO IN IRVINE, CALIFORNIA, PROVIDED THE IMPETUS FOR LANDON DERENTZ'S FOUR-AND-A-HALF YEAR CAREER IN THE ARMED FORCES.

As an impressionable young man, he was influenced by the integrity of the servicemen and servicewomen with whom he came into contact on a regular basis. "I admired their composure, the way they carried themselves, and their congenial, good-natured demeanor," recalls Derentz, a now third-year School of Law student who quickly developed a desire to be part of the elite team. "I think I maybe had a God-given sense of service or an innate desire to give back," he explains.

The young Derentz took the advice of the Marines, who advised him early on to aim to become an officer in the Air Force. "I took them quite literally," he admits, applying to the ROTC scholarship in high school and later obtaining a commission as a public affairs officer for the Air Force after graduating from the University of Southern California. "I was a communications major as an undergrad and it just seemed to key in with what I had been studying and my desire to be a conduit between leadership and the general public." From there, Derentz became a military spokesperson, liaising with major U.S. media outlets to provide them with timely and accurate information about the Air Force's core mission and delineate such issues as on-base construction and Pentagon visits by foreign representatives.

While overseas, Derentz discovered how integral attorneys and JAG officers were to what was being done, whether it was an operational mission or developing new base facilities. "I admired their capacity to give advice on almost every issue being driven at the command level," he says. After graduation, Derentz hopes to parlay his fieldwork into a public policy job or take the Texas bar exam to practice real estate or business law.
---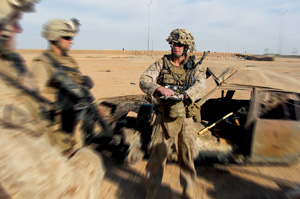 Brad Tatum: Marine Corps
THOUGH HIS PARENTS HAD DISCOURAGED HIM FROM ENLISTING IN THE MILITARY, GRAZIADIO SCHOOL FULLY EMPLOYED MBA STUDENT BRAD TATUM COULD NOT SIT BY AND BEAR THE APATHY SURROUNDING THE IRAQ WAR IN AMERICA.

"They wanted me to go to college," explains the University of Miami engineering graduate who, in 2005, spoke with the captain of the officer recruiting office on campus and went off to officer candidates school soon after.

Tatum was commissioned as a second lieutenant following graduation, and "in sort of an eternity and a flash," the then-23-year-old was suddenly in charge of 44 Marines, both younger and older than he. "You really learn leadership quickly and understand that you have to say what you mean, believe in the mission, and show them that you care about them."

After his first deployment, which included brief stints in Okinawa and the Philippines, Tatum was soon selected as executive officer of a 10-man team to train and advise the Iraqi Border Patrol. "It was a challenging mission, because we made sure they did their job of not letting terrorists in, but at the same time, couldn't be too strict because they were in the position of power and could easily kill you and your whole team," recalls Tatum. "You learn the art of negotiation very quickly."

After two deployments in two years (between 2008 and 2010), the MBA student now works as an engineer at Camp Pendleton using his degree to conduct reliability testing for the Marine Corps. He is also the Los Angeles representative for Marine for Life, helping Marines who are leaving the service reorient to regular life. "The Marine Corps is great at indoctrinating young men and women to become Marines," he explains, "but they are not great at teaching them to unlearn that and get back to civilian mode. When, all of a sudden, all of that's gone, it can be overwhelming to a lot of these guys."

Tatum also shares his varied combat experiences on the Graziadio Voice (bschool.pepperdine.edu/studentblog). "Most people lack a personal understanding of what a war is or what it means to take on that burden and, when you talk to other guys like me, most of them don't want to share their experience," he explains. "If somebody's going to try to explain it in a way for others to understand it, I like to try to do it in a way that ties in lessons of ethical leadership."
---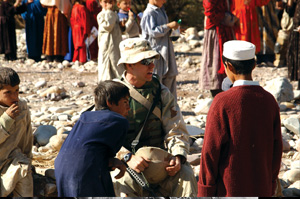 Nathan Moon: National Guard
ISSUES OF SEPARATION, ALIENATION, AND LONELINESS CAN PERVADE THE LIVES OF THOSE LEFT BEHIND BY SPOUSES WHO SERVE IN THE ARMED FORCES.

Nathan Moon (MA '09), an enlisted sergeant in the National Guard and doctoral student at the Graduate School of Education and Psychology, explores that reality in his research on the disparate levels of marital satisfaction that exist in the lives of those soldiers serving in the armed forces and those serving in the National Guard. He surveys the types and frequency of contact that spouses keep with their deployed families and how they rate the effectiveness of such communication in maintaining marital satisfaction.

"When the marriage suffers due to relational differences at home, whether it be arguments, separation, or even divorce and custody issues with their families, it's difficult for the soldiers to focus solely on the mission at hand," explains Moon, who knows firsthand the difficulties that afflict military families. At 21 years of age, he was deployed to Afghanistan for 16 months with the National Guard, leaving his wife of four months back home. "We lived close to home, but we weren't fully integrated into a military type of community," he recalls. "We didn't know what resources were available."

While the Army provides its community with social support and integration resources—such as schools on post specifically available for military children to attend—the National Guard soldiers only integrate with each other, leaving their spouses and children to rely on their families of origin or civilian life for support. "There isn't that aspect of joint suffering and it's harder for them to find someone who relates or is going through a similar experience," explains Moon. It can also be a dangerous distraction for servicemen and servicewomen who must focus on their duties for the safety of themselves and the team.

For Moon and his family, which has now grown to include two daughters, ages 4 and 1, this separation was more difficult than his actual deployment. "As hard as a deployment is, it can be very strengthening," Moon asserts. "It's difficult each time I'm pulled away from my family, but it's also very reinvigorating and we become more appreciative of each other. It's an awesome reminder and I don't think many people have that experience."
---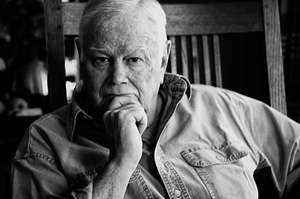 Bill Belcher: Marine Corps
WHEN WILLIAM "BILL" BELCHER ('59) BEGAN HIS ACADEMIC CAREER AT GEORGE PEPPERDINE COLLEGE IN 1956, HE HAD EVERY INTENTION OF BECOMING A PHYSICAL EDUCATION TEACHER AFTER GRADUATION.

Invited to attend on a basketball scholarship, Belcher ultimately accepted because he enjoyed the small, cozy feel of the school. Not long after, however, he changed his course to pursue another future.

"While I was a student, I always had a fascination with the military," explains Belcher. "My father and I decided, after a lot of research, that the Marine Corps would be a good program for me and it allowed me to continue on with my school until I graduated."

From there, Belcher was commissioned as a second lieutenant in the Marine Corps and was ordered to report to the Marine Corps Base in Quantico, Virginia, in 1959, just a few credits shy of graduation. "I had enough units to graduate, although I didn't finish my final semester of student-teaching—but I did come back for graduation in June."

Thus began Belcher's 50 years of federal service to his country, first as an infantry officer, eventually reaching the rank of lieutenant colonel, which he held until he retired in 1982. His tours as an officer took him to Korea and Vietnam, the latter where he served twice and led a company of 250 men to battle. Vietnam was also where Belcher lost several of his men, an occurrence that his wife Marti remembers as "one of the most painful experiences of his life."

Though Belcher looks back fondly on his entire military career, he recognizes his time as commanding officer of G Company, 2nd Battalion, 7th Marines in Vietnam as his most notable. "When you lead young people in combat and you're responsible for their life or death, it's pretty memorable!"

When he retired from the Marine Corps after 24 years of service, Belcher went on to work for the U.S. Department of State, where he took a position with the Office of Inspector General. Over the course of his second career, Belcher was responsible for traveling to various embassies around the world and overseeing their security practices. Of his career highlights, Belcher particularly recalls "being able to travel and make recommendations that made people safer," as well as visiting 137 countries throughout his decorated career.

"Being in the military is not easy, but the relationships that you build with the people that you work with and the ability to be involved with the young people are the most rewarding and most lasting," says Belcher. "I was blessed to have two different careers that were both meaningful and made a difference."

Editor's Note: We were saddened to learn that Lt. Col. William R. Belcher passed away April 10, 2012, in Falls Church, VA. He will be interred in Arlington National Cemetery with full military honors.

Are you a member of the Pepperdine community who serves or has served in the military? Share your story below.