The Way of the Pilgrims
Controller Brian Thomason and father, faculty member Phillip Thomason, share their story of a pilgrimage to Spain that opened their eyes to new beauty, strengthened their bond, and deepened their faith.
This is it, thought Phillip Thomason, professor of Spanish, from his hotel room in northern Spain in the early hours of June 17, 2011.This is the beginning of a new adventure with the two people I love most in the world.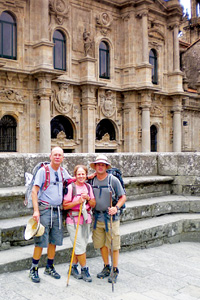 That morning, Phillip would embark on a five-week, 500-mile pilgrimage along the Camino de Santiago—or, Way of St. James, in English—with his wife Cathy and son Brian. They would start just across the border in France, meander across the Pyrenees, and end their journey in the Spanish city of Santiago de Compostela, having walked one of the most popular European pilgrimages since the apostle James' alleged burial site was discovered in Santiago over 1,000 years ago.

"I was also thinking what a privilege it is that God has given me this opportunity," remembers Phillip. "And about the physical challenges—would I be able to make it? I was wondering what experiences we would have, what kind of people we would meet."

Spain served as a home away from home for Brian when the Thomason family spent their summers in Madrid for Phillip's research and his work as the founder of the University's former international program in the Spanish capital. Brian left Malibu to earn his bachelor's degree from Abilene Christian University and an MBA from Auburn University, returning to Pepperdine as the University controller and associate vice president. He calls the Camino "a part of the fabric of what makes Spain, Spain, from a religious and cultural standpoint," and mentions that the family first started thinking about making the pilgrimage about 15 years ago. "For me, this was about doing something that is physically demanding and waiting to see what God has to say to me and how He might change me."

Motivated by what he could share with his students the following semester, Phillip viewed the road as his classroom and the Spaniards his teachers. "Anything I can do to better understand and learn more about the people and culture of Spain, I want to do," he says. "And the fact that we would be doing this together as a family was the icing on the cake. It is trite but true that anything one loves is better when shared."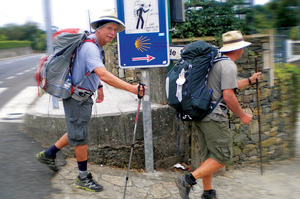 "Sharing" is the crux of their story. It is a tale of sharing the experience with each other as a family. Of sharing the trail with strangers turned friends, including a runner named Jöan who jogged the route in 30 days and a young American woman in her mid-20s on her own, eliciting concern from the Thomasons until she mentioned she had just returned from her third tour of duty in Afghanistan. They shared a piece of history with the pilgrims who have traveled the paths in the past millennium. And they shared five weeks of contemplation with God, removed from life's responsibilities.

"It was very freeing," says Brian, who took Career and Spiritual Development Leave from Pepperdine for the journey. "All you had to worry about was getting up, getting your pack ready, making sure you had water, and where you were staying that night. I just walked. And I could tell in the background my brain was churning through things unconsciously."

Freedom from real-world responsibilities did not mean freedom from all troubles, however. Just three days into their journey Cathy, who was once a Pepperdine librarian, fell in a creek, cutting open her lip on the edge of a concrete culvert. The family was three days outside of a town of any decent size, with just their first aid kits to disinfect the wound. "We patched her up and just kept walking—we did 12 more miles that day," recalls Brian.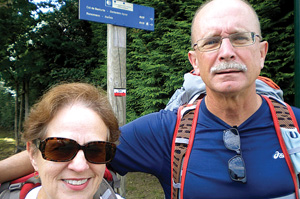 Further along the trail, they ascended rough Pyrenees terrain past a site of prehistoric excavations called Atapuerca, en route to the city of Burgos, while the wind and rain pummeled them along the steep mountain road. Phillip remembers the physically traumatic day as being so cold that the sheep huddled together. "The wind and rain penetrated our gear and to make matters worse, Brian was in short sleeves!"

Brian nearly froze to death that day, and all three were in danger of slipping off the narrow path down the sheer drops on either side. Cathy had suffered her wounded lip and Phillip occasionally followed his family by train when the physical demands outweighed his abilities. But when Brian takes in the whole experience he thinks about the medieval pilgrims—who made the journey without shoes, adequate clothing, or money, typically relying on the church to provide for them along the way—and counts his blessings that the journey for their family allowed more freedom for cultural and spiritual growth.

"When we started my pack was about 25 pounds and by the time we finished I'd jettisoned so much stuff that my pack was about 15 pounds," Brian notes. "I found that to be a pretty apt metaphor for what I should be doing with my life."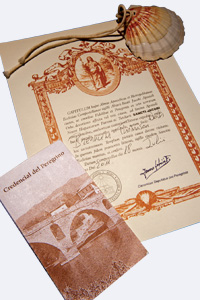 The Thomasons and their fellow pilgrims wore a scallop shell on the journey as symbols of the pilgrimage and collected their certificates of completion at the end of the road.

The last day of their journey on July 19 began, as usual, at dawn. There was, Phillip recalls, a subdued air of anticipation as they left Arca O Pino, about 13 miles outside of Santiago. He wanted to get to the cathedral in time for the Pilgrim's Mass at high noon, adding a sense of urgency to the morning's trek.

They made it just in time: a family of pilgrims, with memories to cherish and stories to tell. "The physical relief itself was a joy," says Phillip, of the final moments of the journey. "We entered the cathedral through the Portal of the Pilgrims and found room on the floor at the back to sit. We were there to witness the mass with hundreds of other pilgrims and worshippers. It was an appropriately unifying and culminating experience."