Bridging the Gap
Pepperdine's business and nonprofit management students provide real-world consulting services to nonprofits.
She had been president and CEO of Church of Christ-affiliated nonprofit Agape Villages for four years, and CFO for 11 years before that, and ever since joining the nonprofit organization— which supports children and families in the foster care system in Northern California—she had observed other nonprofits and charities supplement their fundraising efforts through operating successful thrift stores. She decided it was about time that Agape Villages look into opening their own store.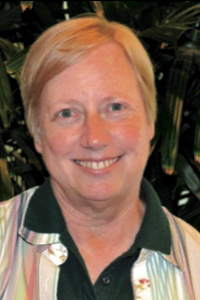 Janet Kleyn ('72) was battling thrift-store envy.

"When factoring in the rent of a store and salary for at least one full-time employee, I knew it might be risky. We needed to fully research the financial feasibility of this idea," says Kleyn.

She was, however, conscious that the organization's limited resources—both time and money— prevented an in-house investigation, an issue that often plagues nonprofit institutions, and decided to partner with a small group of emerging business consultants.

"They recommended that right now we couldn't open a store, since the expenses would likely exceed the expected income," she explains, adding that she was left feeling optimistic about the chances of opening a thrift or consignment store in the future. "They left us with a very clear vision of what they found, how they approached it, concerns they had, and what we need to do next to eventually make this happen. One of our board members is now using their work to keep researching; I'm so glad we didn't just go ahead and open a store."

The emerging business consultants that had so fastidiously researched the very real-world practicalities of such a venture were not technically hired by Agape Villages, but instead partnered with the organization through Pepperdine's Service Leadership Project (SLP), a capstone course taken by all business majors and nonprofit management minors.

"It was great to be a part of something in which we were actually contributing and making a difference," says Caleb Borgerson, a Seaver College senior business administration major and team leader for the Agape Villages consulting group. "We really wanted to be able to tell them it would work, but once you're committed and paying all of the fixed costs then you are stuck. So we spent most of our presentation not telling them why it wasn't feasible, but what they needed to do should it become feasible."

Where for-profit companies can often afford to hire professional consultants, nonprofits don't typically have the extra funds for outside help. Meanwhile, undergraduate business students are rarely entrusted with the chance to work on a real project that can truly impact an organization.

The SLP partnerships help bridge that gap. "I told the students at the beginning of our partnership that I didn't just invent a problem for them to solve in class, that this is real work that needs to be taken seriously. And they did a great job. I would do it again in a heartbeat," Kleyn says.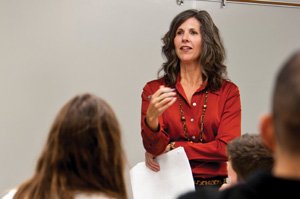 Regan Schaffer

The SLP program, which receives grant funding from the Wood- Claeyssens foundation, was founded 16 years ago by professors Regan Schaffer, Jere Yates, and Jeffrey Banks—with just one client and seven students to kick-start the idea. By 2012, it had served over 450 nonprofit clients, averaging 25 clients and 100 students each semester, with four students to a group.

Schaffer, now director of the Nonprofit Leadership Collaborative— which includes the SLP class, the nonprofit management minor, and the annual Nonprofit Leadership Institute conference—did her doctoral research on service learning and feels convicted that students need to leave Pepperdine with strong leadership skills.

"It's important that it's not just a feel-good experience for our students but that it's high quality; I'm a stickler for quality!" Schaffer proclaims. "I want the projects to provide a viable answer or resource for our nonprofit partners, one that is implemented in the organization and not just put on a shelf. My expectations are very high."

Projects last a semester, during which the teams have 10 weeks to work together on the problem at hand, often for a few hours each week, before presenting their findings. Most nonprofit partners are local and outside of Pepperdine's alumni network, such as long- time partners iDREAM for Racial Health Equity, Habitat for Humanity Ventura, and Bookends, though each semester typically features a small handful of alumni-led organizations like Agape Villages or the White Heart Foundation.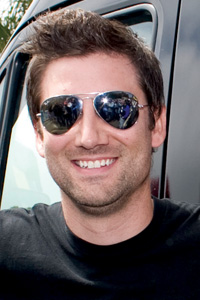 Ryan Sawtelle

White Heart was established last year by recent alumnus Ryan Sawtelle ('09) as a fundraising organization that aims to support public heroes such as military veterans, police officers, and firefighters.

"Our initial task was to explore all the red tape barriers in donating items to a government entity, such as a fire station, and discover what White Heart has to do to make donations," explains team leader Michael Curukcuyan ('12).

They learned that it's almost impossible to donate items to a specific station—donations go through governmental steps, and can be assigned arbitrarily to any station. In the end they were able to assess the red tape, explore the benefits of using online donation resources, create mailers to send to fire departments, and set up an interview between Sawtelle and the Los Angeles County Fire Chief. "The chief was excited about the idea of talking to Ryan about everything he wants to accomplish for L.A. fire stations," says Curukcuyan.

Sawtelle, who runs his fledgling foundation from his living room, was very familiar with the high expectations of the SLP program's faculty, having participated in the program for his nonprofit management minor. "It was so much better for me this time to not have to worry about being graded," he jokes. "But I do know the stress the students are under and it was a lot of fun working with them. We met once every other week and stayed in touch over e-mail every week. I have many more projects for future groups, if Pepperdine will take them!"

Long-term partnerships have indeed been forged between nonprofits and the SLP program over the years, owing their collaborative strength to the standards to which Schaffer holds her students. iDREAM for Racial Health Equity is a good example: the nonprofit—which works to combat disparities in maternal and infant health care of African American families—has worked with Pepperdine students a total of eight times now.

SLP students have seen the iDREAM through a renaming (from its original title, the Pasadena Birthing Project); a rebranding from direct services and case management to leadership, training, and advocacy; and a virtualization of the organization and its employees that eliminated the overhead of a physical office.

"Regan Schaffer and I have developed a real friendship over the years," notes iDREAM executive director Wenonah Valentine, "in part because as colleagues we're thinking the same way about our desired outcomes. She is giving her students the opportunity for real- world experience and I am giving them the real-work experience that has enriched their time in the program."

Valentine estimates that the SLP consulting teams represent at least $5,000 of the bottom line that nonprofits get to keep in their pockets. "Being young and academic, they're also fresh thinking and forward thinking," she adds.

She will always hold alumna Cassidy Watton ('11), from a 2010 group, in particularly high regard, after her group was challenged to come up with a new moniker for the organization. Watton had to fight for the name iDREAM.

"She thought the organization deserved to continue dreaming and have one word that would encompass the mission and goals that everyone on the inside would identify with and that everyone hearing it for the first time would immediately understand," remembers Valentine. "The boys were nervous to present the name, but as soon as the board heard it we all looked at each other and said, 'That's it.' Tears are in my eyes remembering that defining moment for iDREAM."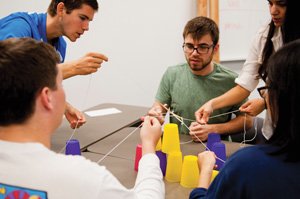 There have been occasions, of course, in which the nonprofit partners have not been able to use the recommendations offered, or that they were not quite what was expected. Schaffer warns all of the organizations ahead of time that the consulting groups are, after all, not professionals, but students with limited real-world experience and busy schedules.

But she adds that, as with the Agape Villages example, the point is not to just tell the organization leaders what they think they want to hear, but instead to provide bottom- line, real business recommendations. After all, these are real business students who will likely go on to pursue business careers.

"The whole program is designed to show our students that leadership is not about power but about serving, even if they don't end up working in the nonprofit sector," says Schaffer. "I just want my business students to recognize that the world needs their intellect, heart, and character to serve it. And as such, it's a thrill to teach this program because I don't have to find any way to keep the students motivated—they're very self-motivated in both a business and a service sense."

And, Schaffer adds, through engaging members of the community in mutually beneficial service business partnerships, it shows that Pepperdine students do not "just stay up on the hill." "Our learning goes far beyond that. To me it is so exciting that I can look out at Ventura and Los Angeles and see our handprints all over the place."
The Nonprofit Leadership Collaborative

The successor to the former American Humanics program and the youth and human service minor at Seaver College, the Nonprofit Leadership Collaborative (NPLC), incorporates three key programs for service-minded student leaders and nonprofit community partners:

THE NONPROFIT MANAGEMENT MINOR: the business minor prepares students for leadership positions in the nonprofit sector

THE SERVICE LEADERSHIP CAPSTONE PROJECT: business and nonprofit-management-minor students provide consulting services to underserved businesses and nonprofits

THE NONPROFIT LEADERSHIP INSTITUTE: the annual conference brings together nonprofit leaders, students, alumni, and a keynote speaker for an intimate professional development event. "We cap it at 100 people to keep it energetic and interactive, with a keynote that local nonprofits could never afford to hire to speak," notes NPLC director Regan Schaffer. "It's so rewarding, and it's Pepperdine being true to its word and mission."