Meet Team Escudero
Pepperdine Magazine is the feature magazine for Pepperdine University and its growing community of alumni, students, faculty, staff, and friends.
Doubles team Lorraine Guillermo (right) and Khunpak Issara (left) have had a meteoric rise through the NCAA rankings since partnering up last season under Gualberto Escudero's tutelage. They entered the NCAA doubles rankings at No. 56 in February 2012—and ended the season 37 places up at No. 19. Additionally, Guillermo, a sophomore accounting major from California, and Issara, a senior advertising major from Bangkok, Thailand, were ranked the No. 4 doubles team in the 2012 NCAA Southwest Region. Pepperdine Magazine caught up with them to learn about their competitive styles, learning from Escudero, and the secrets to their success.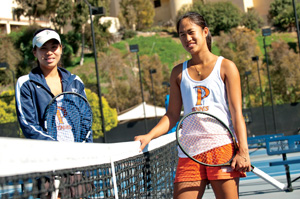 PEPPERDINE MAGAZINE: What do you both enjoy about the game of tennis?

KHUNPAK ISSARA: I started playing because my dad and granddad played, and I would follow them around to watch. I just started hitting, and really liked it. It's a very mental game.

LORRAINE GUILLERMO: It shows your personality on court.

KI: That's true. We're both very patient and calm—we don't throw rackets.

LG: But when we get into it, we do get fired up within ourselves!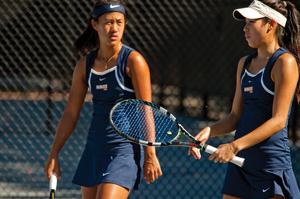 PM: What do you enjoy about competing together?

KI: It's always nice to have a good teammate who's there encouraging you so you're not alone on the tennis courts. Tennis is a mental game, and when you're playing singles you have to think through every point by yourself, but when we play doubles together Lorraine helps me focus.

LG: We really complement each other.

PM: What is the secret of your successful partnership?

LG: I would say it's communication, and knowing what each of us is going to do.

KI: Yeah, you have to be close enough to know your partner so that you can read her and know what she's thinking. Other partners I've had would take advice personally or get defensive, but we're not like that with each other. We both know we're trying to win.

PM: How have your tennis skills grown at Pepperdine?

KI: Mentally I feel much stronger. I'm learning a lot from Gualberto—he's so experienced and passes along a lot of knowledge that can be related to lots of things in life.

LG: I've matured a lot on the court and off the court because of Gualberto. He's like a father figure to the whole women's tennis team and we're all like daughters to him.

PM: Can you tell us anything about Gualberto that our readers might not otherwise know?

LG: He enjoys food—a lot. He's into the tastes. But he exercises a lot, too.

KI: Yeah, he bikes intensely. I've never met anyone who knows so much about bikes.