The Rise and Rise of Young Adult Literature
After years on the periphery of cultural relevance, novels aimed at teenagers are suddenly front and center of popular fiction. We talk to three Pepperdine authors writing for the young—and the young at heart.
Vampires are done.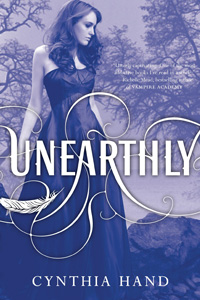 At least, that's what a prospective publisher at Harper Collins told Cynthia Struloeff's agent a few years ago. After vampires, werewolves, and supernaturally strong girls saving a postapocalyptic planet had dominated pop culture since the late 2000s, publishers considered them at the point of being exhausted in the young adult market. What they really wanted were contemporary stories about angels.
The timing was perfect for Seaver College adjunct creative writing professor Struloeff, who had just completed her first young adult novel, Unearthly, about a teenage girl named Clara who discovers that she is half-angel. "It's very contemporary and personal to this one character and her inner struggles," says Struloeff. Within weeks, her agent had secured a book deal forUnearthly (2011) with Harper Collins.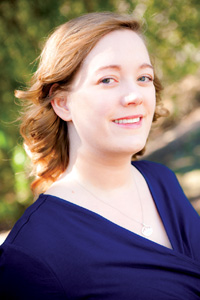 Cynthia Struloeff
Struloeff, who writes under the pen name Cynthia Hand, found that she had unintentionally achieved that most elusive kind of authorial luck—publishing a story that hits the zeitgeist at just the right time. Sometime between starting her first draft in April 2009 and Unearthly's release in January 2011, young adult (YA) literature handily asserted itself as the leader of the pack in popular culture and book sales.
These coming-of-age books, such as the Harry Potter series orThe Hunger Games trilogy, now regularly sit on or near the top of the fiction bestseller lists for months at a time.
"You know, we didn't really have YA fiction when I was a teen," Struloeff recalls. There was contemporary fiction for that age group, such as Judy Blume's controversial novels or the Sweet Valley High series, but teenagers tended to be the exclusive audience.
Today, YA literature is still about teenage characters dealing with young adult issues, but adults now represent a higher percentage of the readership than ever before, accounting for 55 percent, according to Publishers Weekly. Suzanne Lazear (MPP '03), author of steampunk faerie novelInnocent Darkness (2012), the first book in a planned trilogy calledThe Aether Chronicles, has a few theories why.
"Somebody recently described to me that young adult books are just like adult books with all the boring bits taken out," she explains. "Teenagers are busy and they won't suspend their disbelief for plot holes. And I think a lot of adults like the theme of finding yourself. You get to go back to that time in your life and relive the wonder of your teenage years, and all of those not so wonderful firsts, too."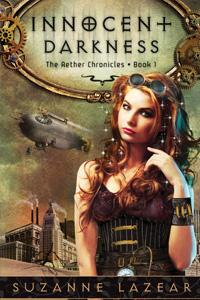 Innocent Darkness' heroine Noli, living in an alternative version of Victorian-era Los Angeles, faces a battle between whom her family expects her to be and whom she wants to become. Most adults reading YA novels have made these formative decisions about their lives already, and so books about teenagers grappling with these choices can, as Struloeff asserts, serve as a nostalgic look back at who they once were, how far they've come, and what they might have done differently if given the chance to go back.
"Teenagers' lives are about transitions and defining moments. That's very exciting in a narrative sense, so it makes sense to me that adults are drawn to YA," Struloeff says.
***
Both Struloeff and Lazear had to make transitions of their own when they began writing YA, as both initially resisted writing for young adults, wanting instead to write contemporary fiction for adults.
"I got my agent while finishing my PhD and then didn't give her anything for five years while I worked on a literary novel," Struloeff admits. After marrying fellow author John Struloeff, director of creative writing at Seaver College, and having the first of their two children, she was in a low creative period when out of the blue she felt a strong urge to tell a story about a person with purpose.
"I didn't even know it was YA at first. The angelic aspect felt perfect because it made the idea of purpose take on a whole new layer of meaning," she says. Within six months, the first draft of Unearthly was ready. "But I was so nervous when I sent it to my agent; I knew it wasn't her thing and it wasn't what she expected of me."
Struloeff initially feared receiving a similar reaction from her agent to the one she had throughout her PhD course at the University of Nebraska-Lincoln, where it was pointed out that her stories were most often focused on teenage girls. She ended up having to consciously start writing stories from other perspectives, although in a twist of irony it was a short story about a 14-year-old girl coping with the death of her mother that eventually got her published for the first time in the Iowa Review and led to her securing said literary agent.
She was ahead of the curve back then, too, because it turns out that the current trend of popular YA literature is very much focused on teenage girls. Like anything that suddenly becomes hyper-popular, YA has provoked backlash, in this case against its portrayal of female characters stemming from the negative fervor surrounding Twilight's heroine Bella Swan, who defines herself by the men in her life. Struloeff and Lazear were conscious of this when writing their first heroines.
"I have a lot of resistance to the idea that a female character has to become like a man in order to be considered strong," says Struloeff. "I had a moment with my editor on the third book, Boundless, when she pointed out that towards the end, when things are pretty dire, Clara gets a kiss from one of the male characters before going on to save the day. She was concerned it would appear that Clara needed this person romantically to do that. I hadn't even thought of it that way, but I understand that idea so I lessened the moment. But in real life, people do need each other, and they save each other, and that's okay."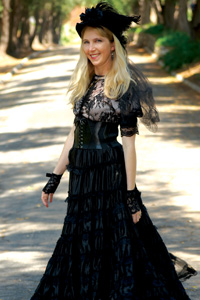 Suzanne Lazear
Lazear, who earned a master's degree in public policy from Pepperdine and was formerly a grant writer for the University's advancement office, was conscious about writing a strong female character. Protagonist Noli, against her family's wishes, refuses to marry someone she doesn't love and instead longs to go to university and study botany. Despite that, Lazear admits that she receives some criticism that Noli is not strong enough. "When you look at her environment in the Victorian era, she is a really strong girl fighting against society. Maybe for our time she is a little more average, but for her time she was really dancing to the beat of her own drum," she explains.
"I don't think male characters get as much of this analysis. What makes a female character strong is not whether she can take down a guy twice her size, but that she knows what she wants, goes after that, and uses whatever she has to fulfill her destiny," Struloeff agrees. "Isn't that one of the goals of young adult literature, anyway? To give teens weapons with which to fight battles in their own world?"
***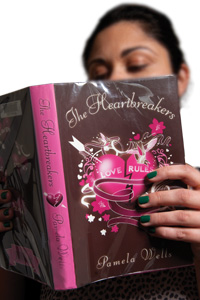 Pamela Wells (MA '03) felt called to write a story that would help teenagers fight one of the most decidedly traumatic experiences of a young person's life: first heartbreak. The former journalist was finishing up her master's degree in at the Graduate School of Education and Psychology when her own life provided inspiration.
"I went through a breakup myself while in the program," she explains. "Studying psychology, I knew I had to take control of my heart, so I created a 'Breakup Code' to follow and The Heartbreakers was born."
The Heartbreakers (2007) tells the story of four best friends in high school as they navigate the emotional journey of love, loss, and heartache. "I followed my own Breakup Code and it worked for me. Writing it as a teen novel, I felt the book might be an inspiration to girls going through their very first breakup. And I hoped they would use my dating codes to learn from some of my dating mistakes."
Writing about the formative experiences of adolescence can also be a cathartic experience for writers of YA. "A lot of my emotions about my parents' divorce leaked into Clara's story," agrees Struloeff. "I wasn't trying to work out my teenage issues but there is some of my own 'stuff' in there."
Which might ultimately explain why YA literature is so appealing to readers of all ages. At a time when adults are reconnecting on social media with old friends they haven't seen in years and current teenagers are living out their "firsts" and trying to find their identities, YA literature allows the reader to step into the world of a person who is young, growing, and changing. They might look to that character as an inspiration, or it might help them work out a few of the "What if?" questions they have about their own lives.
"Young adult books are all about pushing the limits, trying to figure out where you fit in the world, and if the place you fit in is the same as what everyone else wants for you," says Lazear. "Who can't relate to that?"
---
Recommended YA Reading for Beginners
Top picks by Struloeff, Lazear, and Wells
The Fault in Our Stars by John Green (contemporary)
Little Women by Louisa May Alcott (classic)
The Knife of Never Letting Go by Patrick Ness (dystopian)
Miss Peregrine's Home for Peculiar Children by Ransom Riggs (fiction and photography)
Anna and the French Kiss by Stephanie Perkins (romance)
Beautiful Creatures by Kami Garcia and Margaret Stohl (supernatural)
Upstate by Kalisha Buckhanon (contemporary)
---
Young Adult Literature: The Stats of Success

Harry Potter
The most successful book series in history: approximately 450 million copies sold internationally
Translated: 67 languages
The film series by Warner Bros.: $7.7 billion worldwide
One Universal Studios theme park in Florida
One museum and stage tour at Warner Bros. Studios, Leavesden, U.K.
---

Twilight
Over 116 million copies sold 38 international translations
Summit's five film adaptations: $3.34 billion internationally
Tourism to the real town of Forks, Washington: 10,000 annual visitors before Twilight—73,000 in 2010
---

The Hunger Games
26 million copies in print
Archery class sizes have increased, according to USA Archery
Nameberry.com reports Katniss the most popularly viewed baby girls name on their site in 2012