Science on Fire
The unique landscape of Pepperdine's Malibu campus reveals the delicate role of fire in the local ecosystem.
Fire is a natural part of the local ecosystem, which needs to burn once every 25 years or so in order to continue its natural life cycle. In the habitat around the Pepperdine campus, fire is occurring at a rate of once every seven years, an increase from once every 14 years in 1985. This adds pressure on the local chaparral and other indigenous species, posing a challenging outlook for native plants and animals.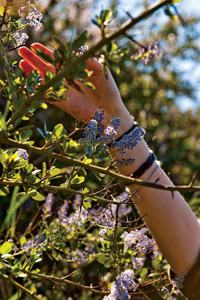 Chaparral is a hardy little shrub—it has to be to survive in the drought-heavy, fire- prone landscape of Southern California, where it has made a home for itself on Pepperdine's Malibu campus and all across the Santa Monica Mountains.

"Pepperdine is situated in a narrow corridor that has the highest frequency of fire of the Santa Monica Mountains," notes Stephen Davis, Distinguished Professor of Biology. "High frequency of fire degrades the environment, and native plants are being replaced by weeds."

Davis has been keeping a close eye on the effects of fire on the Santa Monica Mountains ever since 1985, when he founded a long-term study that uses a 10-acre plot of land on the 830-acre Malibu campus as its "natural laboratory" to collect data and observe the regrowth of plant life following fire. Pepperdine, he says, is in a unique position to study the changes that have already taken place, while using data from the past 28 years to help predict what might happen to the Santa Monica Mountains ecosystem if the fire return rate isn't curbed.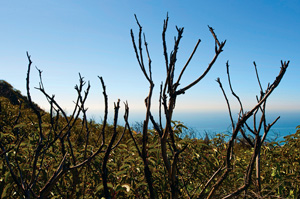 A lifelong nature enthusiast, he observed in the early 1980s that there was a depression of land in the hillside behind student housing opposite the School of Law that was the result of ancient landslide and therefore unstable in nature. "I knew it would probably remain undeveloped, so I wrote memos and had the area set aside as a preserve for research," he recalls.

He could never have predicted what happened next: in 1985,14 years after the last big burn of 1971, the University suffered an intense fire as a result of arson. While the fire was unfortunately destructive, it did help start the study with a brand new set of data.

"We had considered having a controlled burn but there were obvious concerns about that. The 'natural' fire of 1985 paved the way for us to begin research," says Davis. "We reconstructed vegetation from prior to the fire and followed how the plants recovered after the fire."

Since that time, natural and human-imposed fires have burned on or near campus in 1993, 1996, 2003, January 2007, and October 2007. (While the last incident prompted active response to protect some campus structures, the more common hillside burns occur far from the residential and academic heart of campus.) Even by Southern California standards, that is a lot of fire in a very short amount of time.

"There is a wall of Dr. Davis' pictures in the new Keck Science Center, and you can see that what we see on the campus now is totally different from what was there before 1996," says Davis' protégé, Anna Jacobsen ('03). Jacobsen worked closely with Davis as a student to study the effects of fire ecology on native plants and is now an assistant professor of plant ecology and evolutionary biology at California State University, Bakersfield. "You can see there's been a huge change. Why? The answer is fire."

THE CLIMATE FACTOR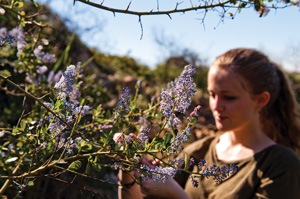 Because of the nature of chaparral, there are breathtaking sections of Pepperdine's 830-acre campus that the University community rarely gets to experience, where over 500 acres—or, approximately 60 percent—is maintained in its native state.

"Chaparral is often called the 'Elfin Forest'— you get to these dense places where you're pushing through thick shrubs, and then all of a sudden it opens up and it's like being in a miniature forest," Jacobsen notes. "But more than just being beautiful, this is an area of terrific biodiversity. More than 20 percent of the vascular plants in the world occur in Mediterranean climates, meaning that about just five percent of the earth's surface contains 20 percent of the diversity."

Davis adds that summer drought is more consistent in Southern California than in the other five Mediterranean ecosystems in the world, with drought exacerbating the spread of fire in a region that is vital to the world's biodiversity. "If we put economic value on the plant and wildlife in this area, it would be astronomical—we can't afford to lose that genetic variety, for medicines, food, landscape resilience, and natural beauty. This area is identified as an ecological hotspot and it's under threat."


Since Davis began his 28-year study of local plants on the 10-acre biological preserve, scores of students and faculty have used the area to help him determine the somber fate of the local ecosystem, with the long- term study taking on an interdisciplinary aspect when Timothy Lucas began analyzing and extending the data.

"We started working at the preserve about two and a half years ago," says Lucas, assistant professor of mathematics, who has been working with his undergraduate students to see "if we could use the data from the past 30 years to generate predictive models of what might happen in the future to the hillside if wildfires continue to come at a frequent pace."

Lucas and his students noticed that as fire frequency has grown, exotic and invasive species have been taking up the space left behind for chaparral after fire—dominating the space so that what was there originally could no longer survive. This year they have started constructing a 2D model of the preserve ecology to observe how plants germinate and sprout, or don't, following fire.

"I think it's great for our students to see how math applies to other disciplines. This is a unique problem that hasn't been studied from a math perspective before and it's right there in our backyard—we can go anytime to gather information that we need," Lucas explains.

In addition to the advanced data gathered for the study by Lucas and his students, a number of changes have already been made since the earliest days of this longitudinal fire study to try to combat extirpation—a term used when a species of plant or wildlife is rendered locally extinct, which poses a number of risks for Pepperdine and the surrounding area, including the threat of landslides.

Since the Drescher Graduate Campus was approved for construction in 1999, the University has enacted its commitment to maintaining native ecology. Currently, the hillside slopes surrounding Drescher are at 99 percent native vegetation.

"Native vegetation is very different from more traditional landscaping—it doesn't need fertilizers or pesticides and requires little irrigation," notes Rhiannon Bailard, director of Pepperdine's Center

for Sustainability. "It is not more fire resistant, but it has a deep root system that grows back better. And native vegetation has a superior carbon balance, taking more carbon out of the atmosphere than traditional landscaping would. Dr. Davis has a huge role in all of this."

LIGHTING A FIRE FOR RESEARCH

Jacobsen was actually a pre-med, chemistry major when she arrived at Pepperdine, but found Davis' class on plant life to be so fascinating that she changed her plans entirely. Davis—who has won

a 2008 Robert Foster Cherry Award for Great Teaching, among other teaching honors—has long been known for inspiring his students with an unbridled enthusiasm for plants and biology. He can often be spotted wandering around campus with his students, pointing out plants and studying things they may have never before seen.

"He is a great model for involving students in the process and bringing them in early to learn science by doing science. It's hard for undergrads to find a place where they can do that and he is a great mentor," Jacobsen confirms.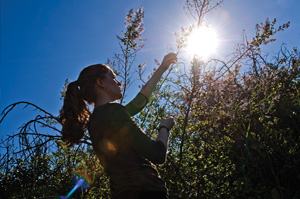 Indeed, over the 28-year course of Davis' fire study he has included generations of undergraduate students in mini-projects that build out the bigger picture. Some have been published in the prestigious journals Oecologia andEcology and some, like Jacobsen, have turned their early work with Davis into careers.

After graduating from Seaver College in 2003, Jacobsen earned a Fulbright Scholarship to study chaparral in South Africa with her husband and fellow Seaver alumnus Brandon Pratt ('98), an associate professor of biology at Cal State Bakersfield. She partnered with the U.S. National Park Service on a study that extended her local work from the Pepperdine campus to the entire Santa Monica Mountains. The National Parks have since implemented changes to their management strategies in order to protect the area from fire and fire damage as much as possible and repopulate damaged areas with native vegetation.

Other students, like Taylor Stucky, are just starting out on that journey; as a freshman, she worked with Davis researching leaf strength and how water flows through different types of chaparral after fire. Now a sophomore, Stucky has received a Keck Scholarship to continue her research and has already presented work at the Southern California Conferences for Undergraduate Research and the Summer Undergraduate Research in Biology conference. This summer she will present her findings to the Ecological Society of America.

Her work, along with the work of other biology students from over the years, is stored in the Pepperdine Libraries Digital Archives, where the knowledge gathered can be referenced and built on for years to come—and help save local, vital plant and animal life to preserve the natural beauty of the Santa Monica Mountains.

"Like wine and cheese, this research becomes more significant with time, and it's rare that we can do a long-term project on this scale," says Davis. "There is really a uniqueness about this place that is underappreciated. It is so great to have this great resource at our institute as a natural laboratory and complex ecosystem in our own backyard. Nature is wonderfully, infinitely complex."
WEB EXCLUSIVE:

In 2011 Seaver College was awarded a four-year grant by the W. M. Keck Foundation for the enrichment of undergraduate scholarship.

As a result, a number of students have been able to pursue interdisciplinary research projects at great depth with faculty mentors, including Victoria Lekson, who was awarded a Keck Scholarship so that she could test the effects of temperature on the web strength of native Malibu spider, Araneus gemmoides.

"I had hypothesized that their webs would be strongest at the average temperature of Malibu, since that is what they're acclimatized to, but it turns out not to be the case," says the double biology and music performance (harp) major.

Read about Lekson's research, its musical beginnings, and more here.