The Tennis Turn
After 36 years heading Waves women's tennis, Gualberto Escudero reigns as Pepperdine's longest-serving coach.
It all started with a girl, of course.
Gualberto Escudero ('72) was a young teenager in Los Angeles when his favorite neighbor and her brother invited him to play tennis with them one day.
"I said of course I'd go if she was going to be there," he remembers. His first attempt at hitting the ball sent it over the fence. "So I patted the next ball slowly, so as not to hit it out. And then I forgot my neighbor and all other girls and from that day on my life was tennis, tennis, tennis."
He went to bed thinking about tennis, woke up the next day thinking about the game, and became so obsessive about practicing on old Hollywood courts that his grades dropped. The youngest of nine children, one sister threatened to make him quit playing, but his brother tried another tactic, offering to help him improve by playing with him every day. "I agreed of course, but when I got better than him he wouldn't play with me anymore!"
By his senior year at Hollywood High School, Escudero had become a prominent player on the school's team and was an All-City Champion semifinalist. At 18 he won his first tournament and soon after got a call from John B. McClung, then head coach of the Pepperdine men's tennis team, who offered him the chance to join the Waves on scholarship.
"The rest is history," he remarks. "I haven't left Pepperdine since."
Transitioning from player to coach over 36 years ago, Escudero has led the women's tennis program to 22 West Coast Conference (WCC) titles, including a streak of 14 in a row from 1988 to 2001. When the WCC hosted its first-ever regular season tournament last year, Escudero's players won the title after a perfect 8–0 victory. He has also guided the team to NCAA postseason play 29 times.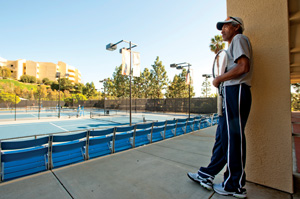 His proven track record of demanding—and receiving—excellence from his team is remarkable, especially when considering that the women's tennis program was just three years old when he began coaching at the start of the 1977 season. Before president Howard A. White revamped the coaching salaries, the women's coaches often earned less than a third of the salaries of the men's teams' coaches.
"I was more than happy to take it because at that age I could live on anything," he muses of his early career, before he finally met his wife Ha, a woman who could compete with his love of tennis, and welcomed their two sons Kevin and Egan, a current Seaver student.
In the nearly four decades since his humble coaching beginnings, Escudero has developed a coaching philosophy that clearly yields results. As well as treating the players' competitive styles individually, "because their games are very individual," he takes advantage of Pepperdine's other highly-ranked sports teams.
"I love to use other sports to help the girls better learn their own," he explains. "We'll watch a baseball match to observe how the pitcher is throwing the ball and how they make it harder for the hitter."
Escudero also remembers the training given to him by the man he considers his mentor, a neighborhood tennis afficionado named Phil O'Connell. "I learned how to compete from him, how to diagnose tennis from him, what love for the game really was, and how to deal with different types of opponents," he emphasizes.
The most important thing O'Connell taught him—a lesson that Escudero tries to instill in each of his players—is to see the entire court at all times. "He once told me to see the court after hitting the ball and I asked what he meant. Six months later it dawned on me: he was talking about the ability to see everything going on while the ball is in play, all the time. I can only compare it to Bobby Fisher seeing the whole board in each game while playing chess against 12 men at the same time."
Unfortunately, Escudero says, the nature of the game has changed since he was passionately learning the sport as a teenager and later, a Pepperdine science student. Students had more free time in the 1970s to play and practice and just be "in love with the game." He notes that the NCAA has limited the number of hours student-athletes are allowed to practice their sport, and that students in 2013 are generally a lot busier, which can make it a challenge to keep them fully engaged.
In addition, more schools nationally are making it a priority to recruit top-notch players rather than strengthen from the inside. "The competition is so much fiercer now that the recruiting landscape has changed," he laments. "To continue reaching the Top 20 we need to keep getting a few elite players each year."
Currently, Pepperdine Athletics is home to the No. 4 nationally ranked doubles players, sophomore Lorraine Guillermo (California) and senior Khunpak Issara (Thailand). "They're beating teams like UCLA and Stanford. They are the kinds of players we need on our team right now."
Now and throughout his storied career, Escudero has built a reputation of passion for his sport, which has not wavered once in decades.
"I love the competition. If you aren't competitive, you aren't going to beat anyone, and I love to win!" he laughs. "But I think my players also know that I truly just love the game of tennis and always have."
Follow the women's tennis progress through their 2013 season: www.pepperdinesports.com

Click here to Meet Team Escudero: Doubles team Lorraine Guillermo (left) and Khunpak Issara (right), who have had a meteoric rise through the NCAA rankings since partnering up last season under Gualberto Escudero's tutelage. Recently, they were ranked the No. 4 doubles team in the 2012 NCAA Southwest Region.