In Full Swing
Pepperdine baseball coach Steve Rodriguez ('01, MA '03) has come full circle after making history on the field as a student-athlete.
The year was 1992. The Waves had already overcome Wichita State and Texas at Rosenblatt Stadium in Omaha, Nebraska, at the NCAA Baseball Championship tournament. In the second game against Texas, the Longhorns took a 4–1 lead in the top of the seventh, but junior Steve Rodriguez came in with a dramatic grand slam in the bottom half of the inning to propel the Waves to a 5–4 win and make Pepperdine history.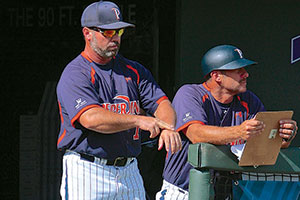 Soon after that legendary game, Rodriguez was selected by the Boston Red Sox in the fifth round of the draft and spent the next seven years playing pro ball, both in the minor leagues, as well as on the Detroit Tigers and Los Angeles Dodgers.

But the life of an athlete was no match for the one he had imagined as a father. In the days following his daughter's first birthday, Rodriguez decided to hang up his bat and head back home to Corona, California, to tend to his growing family.

"It was a very scary moment, because you go to college for a while, and then you go play pro ball for seven years, and now you find yourself removed from a normal work environment and a normal everyday life," Rodriguez recalls. "I put everything I could on that baseball field, but when I walked away, I had no regrets."

The opportunity to return to a familiar place presented itself in 1999 when the assistant coaching job opened up on the Pepperdine baseball team. Rodriguez commuted to the Malibu campus from home for 6 am workouts every day, which would take him between three to five hours each way. He was promoted to head coach in 2002 and continued the legacy that started when he was a student himself, but not without the lessons he learned in the big leagues.

"No matter how well you do, it doesn't mean you're going to get everything you're looking for," he says. "You can have a great season, but it doesn't mean you're going to be called to bat. It's very difficult to really understand the whole process and politics of the professional athletics world, because sometimes it's really not in your hands."

At Pepperdine Rodriguez applies those lessons to helping his players set realistic goals, manage their expectations, and play to their capabilities.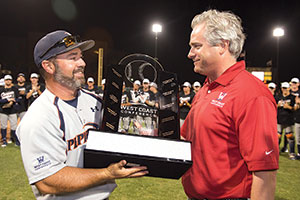 "I just want players to be able to respect the game and to get the best out of what they're capable of, because the next level is not easier," he says. "It becomes cutthroat. It becomes a business. It doesn't really matter who you're playing for. It depends on what they think of you and what they want to do with you, and if they don't like you, then they can release you at any time. It becomes a numbers game for a lot of teams."

The same year he became head coach, Rodriguez became interested in Pepperdine's Online Master of Arts in Educational Technology (renamed the Master of Arts in Learning Technology), when he recognized the impact technology could have on his coaching and on the success of his players.

"I recognized that technology was improving and I knew that at some point, it was going to be a big part of what we were doing on the baseball field as well."

The program also focused on coaching and learning styles, and Rodriguez quickly discovered the tools necessary to take his team to the next level.

"I realized that a lot of people can't change how they learn," he says. "Once you identify a specific learning style in a person, it's just a matter of being able to coach to their needs."

During his 12 seasons at the helm of Pepperdine's baseball program, Rodriguez has led the Waves to three consecutive WCC titles, and his teams have made NCAA Championship appearances in seven of 11 seasons. With 640 games coached in a Pepperdine uniform, Rodriguez has led more games than any other Waves coach and he started the current season in second place on the program's all-time wins list.*

The team reached new heights last year, winning the program's fifth WCC title under Rodriguez, taking the WCC Tournament title to earn a bid to the NCAA Tournament, and then advancing past the regional round for the first time since 1992.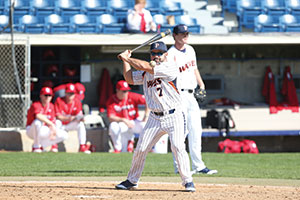 While the team dynamic is constantly changing, Rodriguez stresses the importance of making mistakes and growing and learning from them.

"We're going to win some games, we're going to lose some games, we're going to have some injuries," he says. "That's just the way baseball is. But if we coach them the right way, they're going to play the way they're supposed to and we're going to be fine."

"I want to get the best out of them," Rodriguez continues, "but at the same time, they have to really want to be on the baseball field. I've given them a lot of grace and a lot of opportunities to try to find who they are, and to use baseball as a tool to be able to do that."

TIMELINE

1991, 1992 - Two-time All-American

1992 - Named WCC Player of the Year

2001 - Named one of the West Coast Conference's Top 50 Athletes of All Time

2007 - Honored by the City of Malibu with the Jake Kuredjian Memorial Citizenship Award for his service to the community

2014 - Named WCC Coach of the Year

Follow the Waves baseball season on pepperdinesports.com

* Due to NCAA sanctions against the University, Pepperdine later vacated all wins and NCAA Championship appearances in baseball between the 2008 and 2011 seasons. Pepperdine's adjusted overall NCAA records for each season are 0-19 (2008), 0-23 (2009), 0-30 (2010) and 0-34 (2011). Steve Rodriguez's official NCAA coaching record is now 184-227 (.448).