A Good Samaritan Finds Esperanza
Ileana Abreu strives toward hope.
Ten years ago, then Seaver College senior Ileana Abreu headed to the Caribbean island of the Dominican Republic as a Project Serve volunteer for what would be a life-changing spring break. She worked with The Good Samaritan (TGS), a grassroots nonprofit in the town of Esperanza, that provides educational and social services to impoverished children and adults.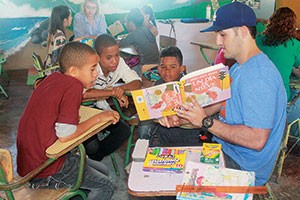 A Project Serve volunteer reads to students at The Good Samaritan in the Dominican Republic.

"I felt very connected, culturally, in the Dominican Republic because my parents are from Cuba," recalls Abreu, who is fluent in Spanish. "I fell in love with service learning and the idea of Christ-like service for personal and social development. I saw that it helped everybody."

In the ensuing years, Abreu traveled, then worked as a project manager for the Hispanic Communications Network in Washington, D.C. overseeing multi-million dollar federal grants for new media technology to benefit vulnerable Latin American populations. She represented Pepperdine and testified before Congress at a Department of Health and Human Services subcommittee hearing on the need for increased funding for higher education. Abreu earned a master's degree in Latin American studies from Stanford University, and completed a fellowship in conflict resolution and negotiation from Stanford Law School. Then, she received an unexpected phone call from the Dominican Republic.

Henry Batista was on the line. Abreu recalled meeting Batista when he had been a TGS project administrator. Batista had grown up at the center after being abandoned there by his parents at age 6. He was now president of TGS, which was struggling to recruit volunteers and raise funding. Abreu agreed to volunteer for a month.

"There was a part of me that was fearful and excited but also peaceful because I would be working to serve others," Abreu recalls.

In additional phone conversations with Batista about his community's needs and his vision, the pair developed a relationship. Abreu kept lengthening her time commitment from a month to six months, to a year, then to marriage.

"We had a very deep, spiritual connection, as if he had never been absent from my life," Abreu recalls. "He represented the people who can make the most magic in the world because they were the orphans, the people on the other side of the fence. That was probably the most inspiring thing for me, what I admired most."

The inital year was challenging as they sought support. Their first benefactors were the parents of Abreu's friend, Pepperdine alumna Lauren Avezzie, who passed away in a 2006 flash flood while traveling with friends in Central America. "Lauren had an amazing love for humanity that was unbridled and a faith so powerful. I continue to be inspired by the talks we had," Abreu says.

Abreu, who has traveled through 28 countries, realized that similar grassroots groups worldwide needed support like TGS. In 2012 she founded Esperanza Means Hope, an independent, United States-based nonprofit that creates international service-learning programs and funds salaries for resident staff.

"Esperanza Means Hope is a Pepperdine-inspired social enterprise that empowers local communities to transform themselves and the students that they host," Abreu explains. "Many of these groups are historically important and central to the well-being of the community but are fragile because of limited resources."

The organization has supported programs in Ghana, Cuba, Central America, and Thailand and works with Project Serve groups from Pepperdine, which sent 12 students during spring break this year. Other Christian universities, including Abilene Christian University and Baylor University, stay connected to Abreu, and have also sent students to serve abroad through Esperanza Means Hope.

"Ileana is an ideal partner with her knowledge of students and how to engage and connect them to the work and needs of the community," says Peter Thompson, Pepperdine Volunteer Center director. "She talks to students about the impact of what this one week can do in their lives."

Kendra Fellows ('13) and Gustavo Tiffer ('13) were the leaders of the Project Serve group that volunteered at TGS during their senior year. They helped to create an on-site library, and taught English to residents. Fellows recalls the close relationship the group quickly developed with Abreu, Batista, and the community, sharing experiences during daily meals together.

"There is a great sense of family and community in Esperanza because people rely on each other to survive," Tiffer says. "Ileana and Henry do a wonderful job hosting and making sure students learn and understand how to use their talents to help others."

Marissa Yoshizawa, a senior psychology major, led this year's Project Serve team to TGS where they coached local children in English language- teaching songs, colors, animals, the alphabet, and food-, and led after school activities like baseball, kite flying, and games.

"Usually when you go on a mission trip, you like to think that you are going to change the world and serve the impoverished, but in my experience, I have come to learn that these trips have changed my world," Yoshizawa says.

The couple splits their time between the U.S. and the Dominican Republic as Abreu is working toward a doctoral degree in education and organizational leadership at Pepperdine, and is currently in the dissertation stage. She and Batista are raising their children and continuing to develop and strengthen Esperanza Means Hope and organizations that can benefit TGS and others like it.

"We feel like we're living our dream," says Abreu, "that this is the mark we want to leave on the world, whatever it takes."

See Esperanza residents and Pepperdine volunteers in action as filmed by alumnus David Chang ('13).