An Illustrated Life
Pepperdine Magazine talks art with Weisman Museum director Michael Zakian.
The most colorful presence at the Frederick R. Weisman Museum of Art is not the ferocious, life-size Gwynn Murrill cougar sculpture that guards the entrance to the building, or the graphic, large-scale self-portraits of artist Chuck Close that scream from the gallery walls. It happens to be that of the museum's director, Michael Zakian, himself.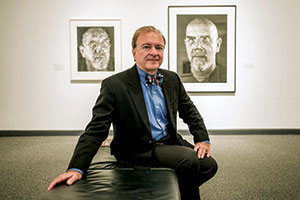 A Zakian-guided tour takes you on a journey through the life and mind of each artist on display, as he leads you from room to room, sharing his seemingly endless knowledge about modern and contemporary art.

Pepperdine Magazine sat down with Zakian, who celebrates 20 years at the University, to talk about the origins of his career, how he helped revitalize the reputation of a once-forgotten artist, and what he hopes visitors experience on a trip to the museum.

Take us through your art background. Where did it all begin?

I was a kid who could draw, but I grew up in a very blue collar neighborhood in New York. My parents encouraged art as a hobby, but none of us knew that you could have a job in the field as a professional. It wasn't until I started college at Columbia that I realized there was a discipline called art history and with an art history degree, you could work in a museum or teach at a university or work at an auction house. It opened up a whole new avenue for me.

Was there a defining moment in the early days of your art career?

I think it was being surrounded by all the museums in New York as a child. In college we were able to take seminars that met at the museums and galleries. We would go to the Metropolitan Museum of Art and look at works hanging in the gallery, as well as works in the storage vaults, and discuss the differences in quality between them. It was that hands-on experience, being surrounded by great works of art, and seeing how professionals worked that made me aware very early on that being a curator was something real and something that I could aspire towards.

What was the most valuable lesson you learned early on?

Learning how to look. We use our eyes all the time, but often we really don't see what is in front of us. In college a teacher made us stand and look at one painting for an hour. It is amazing what you can teach yourself to see. My first job after graduate school was at the Palm Springs Art Museum. I learned a wide variety of museum skills including exhibition design, which they don't teach you at most academic programs. I learned exhibition lighting and how to pack expensive works of art so they can travel with no damage. There were a lot of very practical things that I learned, whereas, if I were at a larger institution where they had a bigger staff, they would have different departments for each.

What does it take to put together an exhibition?

Here at Pepperdine, my primary goal is education. I'm not just showing beautiful things to be admired for their own inherent beauty. I always emphasize that this art was made to convey certain ideas or make a particular point. So one thing I do is be sure that the objects I gather tell that story. Of course, I want to make sure that the exhibition looks good visually. There has to be a proper flow through the exhibition that leads the viewer from room to room. There has to be elements of surprise. When you peek through the door, I want you to suddenly see something that catches your eye that makes you want to go to the next room.

What is the greatest challenge of putting together an exhibition?

Because we are small, I don't have the resources to do a multi-lender exhibition. The art in our exhibitions does not come from a variety of sources. My greatest challenge is that I have to look for single-collection exhibitions, either museums or individuals who have a large holding of art who might be interested in sharing it with us.

Another challenge I face is that, in Malibu, we're slightly off the beaten track. By and large, most of the off-campus visitors are people who make a point of coming to see the exhibition. We function as a destination, and people will have to want to see the art to bother to come up here. The result is that if I do a fascinating exhibition of an incredible artist that no one has heard of, no one comes. In order to maintain attendance I have to feature artists who have a certain amount of name recognition.

What is the impact of a museum on a university campus? What do you think the museum's role is at Pepperdine?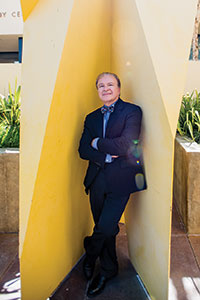 It's considerable. One thing that the arts do, and what I strive to do with my exhibitions, is exhibit art that tells us something about the world. A lot of people think art is just about art. Good art is really about something more. Significant artists are significant, because they are dealing with important ideas and concepts. The Chuck Close exhibit below was particularly inspiring here at the University. Born severely dyslexic, Close used art to overcome his learning disabilities. We received enthusiastic responses to this exhibition from psychology and teacher education classes. That was inspiring to see.

What has been your favorite exhibit at the Weisman thus far?

I think the most important exhibition was one that I did when I first came to Pepperdine. Her name was Agnes Pelton and she is considered California's Georgia O'Keeffe. Her art was similar to O'Keeffe's, but had a powerful Christian message. Before I organized her first retrospective, she had been completely forgotten by the art world. My exhibition revived her reputation. The curator from the Whitney Museum of American Art came here to see the exhibit and eventually purchased a work for their museum. Now her art is in major collections across the country.

What goes through your mind when you look at a piece of art?

I'm a very big believer in something that Fred Weisman always used to say. He used to say that when people look at a work of art, particularly if it's modern or contemporary art, they would often react negatively, and say, "I've never seen anything like that before." Fred would take that same phrase and turn it around and respond enthusiastically, "Wow! I've never seen anything like that before!" The best way to look at works of art is to see each work as part of an individual artist's worldview. What we really admire about Van Gogh's paintings, besides the brush strokes or the color, is that there was something fascinating about the way he understood the world. He made those paintings to share his understanding with us.

I think that's true of every artist and work of art. Each work of art is the gift of an individual and those works of art that society sees to be of great significance over time are those works that do make a very significant statement about the world we live in.

Chuck Close and Personal

Portrait artist Chuck Close's larger-than-life prints were on display at the Weisman Museum this spring.

Considered one of the most important artists working in America today, Chuck Close earned his reputation by experimenting with various techniques and mediums to produce massive-scale, hyperrealistic portraits of his subjects.

From January to April, over 70 of Close's iconic prints were displayed at the Frederick R. Weisman Museum of Art as part of the "Chuck Close: Face Forward" exhibition. The collection offered a rich survey of his printmaking and range of traditional techniques, such as etchings, engravings, woodcuts,

and lithographs, to more unusual materials, like tapestry and handmade paper pulp.

Many of his iconic self-portraits, as well as portraits of friends, such as contemporary composer Phillip Glass, family members, and fellow artists Alex Katz, John Chamberlain, and Lucas Samaras, are arranged in grid- like, geometric patterns, with each cell containing its own work of art.

Close, a big proponent of art education, grew up severely dyslexic and captured the attention of his teachers by expressing himself through his art. Weisman Museum director Michael Zakian says that Close used his art to convey what the world looks like through his eyes. "He said that art was the only thing that made him feel good about himself. Art saved his life."