Life Lessons
Pepperdine students use their education to help real-world enterprise.
Every Thursday at noon, first year law student Corey Miller and homeless shelter resident Greg Williams, 47, meet on the Drescher Graduate Campus, in Malibu to talk business. Through the University's Microenterprise Program, Miller and other students are helping Williams launch his company, Queenie's Creole Pie.

"I spend most of my days in class or studying so to have this human experience and help someone is so valuable," Miller says. "Working with Greg has taught me so many things."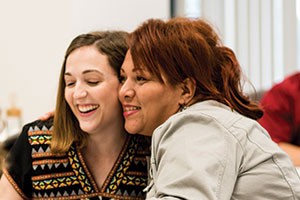 Student Whitney Merritt meets with client Sandra Carrington.

Through the program, undergraduate and graduate students from multiple disciplines University-wide mentor disadvantaged entrepreneurs in establishing microbusinesses or finding employment. The student-client teams meet over lunch to build clients' confidence, focus their business ideas, create business plans, and carry them out. To propel their fledgling businesses forward, clients complete weekly assignments including researching target markets, and conducting industry and competition analysis.

"To be able to impact people's lives is a game changer and an experiential education opportunity for students and for how they live their lives after they graduate," says Doug Pak, program boardmember, and CEO of BLD Brands, in Orange County.

A Pepperdine shuttle picks clients up at Union Station, in downtown Los Angeles each week to bring them to campus. Clients review homework with student teams and are assigned new goals. After students leave, clients attend classes to learn basic principles of financial management, business planning, and accountability, led by faculty and Pepperdine alumni.

The cohort begins in August and concludes with April graduation. During the summer, program leaders meet with shelter caseworkers to identify new candidates who have shown an ability or desire to move forward in their lives, and are interested in entrepreneurship. There is a lengthy application and interview process, run by director Larry Cox, Pepperdine associate professor of entrepreneurship at the Graziadio School of Business and Management, and by Keith Obilana (MBA '13), Microenterprise Program manager. "We are trying to help people who don't have access to resources," says Keith Obilana ('13 ), Microenterprise Program manager. "Many are just out of drug and alcohol rehab. Some have criminal backgrounds so jobs are hard to obtain. Having students bring insight and wisdom is helping these people rebuild their broken lives."

Financial support has come from the University and board members. A Seaver Capstone project involving business students is exploring crowdfunding as a revenue source to help provide funding for clients to rent business space, or purchase equipment. Banc of California recently made a multiyear financial commitment to the program, for administrative costs like client transportation to campus, lunch, and supplies.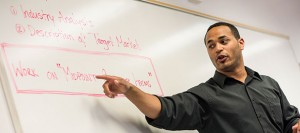 Microenterprise Program manager Keith Obilana leads the experiential education endeavor.

The endeavor was established in 2010 by Pepperdine law professors and students inspired by Nobel Prize winner Muhammad Yunus, who pioneered microfinancing- the provision of collateral-free loans of modest amounts to help the poor in developing countries establish or grow small businesses. The Microenterprise Program was initially run through the University's Palmer Center for Entrepreneurship and the Law at the School of Law.

"We realized that microfinancing in a developing country and microfinancing in a developed country are very different. In a developing country, $200 can finance an entire company but in a place like the U.S., it will barely get you through licenses and legal requirements," Obilana explains.

Successes include the launch of a full-time auto detailing company, as well as part-time ventures in film production, welding, catering, and transportation. "We encourage clients to look at their backgrounds and think about what skill set they have in coming up with a business idea," Obilana says.

Program leaders hope to make the endeavor a national model for other universities. "We've gotten calls from schools and organizations all over the U.S. trying to replicate our program," says Janet Kerr, program founder and Pepperdine Professor of Law Emeritus. Kerr serves on the board along with Pak, Howard Spunt, cofounder of Landmark Reality and the owner of P32 Gallery, and Greg Ellena, former CEO of First National Bank of Santa Fe.

THREE DREAMS IN PROGRESS

Queenie's Creole Pie

The idea for Greg Williams' pie business came to him as he slept in his jail cell in 2009. In the dream, he was a child, back in Louisiana by his mother's side helping her cook traditional Creole recipes, including her beloved sweet potato pie. When he awoke, he wrote down what he remembered of the recipe. "I didn't have a parole date yet. This was just an idea but it was something I should have been doing a long time ago instead of the life decisions and choices I made," Williams says.

After his 2013 prison release, Williams began recreating his mother's pie. "My mom had a very peculiar, secret blend of spices. The pie reminds me of being a little kid at Christmas with no worries," Williams explains.

He heard about the Microenterprise Program from a friend in church. "The program made me see my potential and how the seed of an idea could grow with a little dedication, hard work, and sacrifice," Williams says.

Williams' Microenterprise team is considering initially marketing directly to consumers through farmers markets and street fairs, and then as the business grows, selling wholesale to grocery stores or bakeries. Pricing strategies are being discussed with attention paid to overhead costs.

"I've taken marketing classes but now I'm actually doing something real world," says Matt Bryson, a freshman international business major also working with Williams. "It's been a great experience, really eye-opening, and a lot of work."

Williams baked several pies for a prototype and brought them to class. They were quickly consumed and at Obilana's request, Williams will bake a dozen pies for the Microenterprise graduation where potential investors will be in attendance.

Open Doors

Full time MBA student Whitney Merritt is helping single mom Sandra Carrington, 47, who escaped an abusive relationship and recently moved with her teenage daughter to low-income housing. Carrington's business idea, Open Doors, helps military veterans find housing. Carrington, a veteran herself, came to the program with multiple ideas. The team helped her narrow her focus to a realistic business plan that could eventually expand in other directions. Merritt is finding great value in partnering with two law students to help clients. "Law students are coming from a different perspective, so I am learning as well," Merritt explains.

Through the team's guidance, Carrington registered her business, conducted a competitive analysis, and created a logo and brochure. "Sandra has taken her background and found a niche," Merritt explains.

Carrington recently found rental homes for two veterans and their families. "The students motivate me a lot. I'm really learning how to make the business run," Carrington explains. "The homework we have is the research we need to do for the business."

Carrington's ultimate goal is build a homeless shelter to help others like her.

Eager to share her successes, Carrington smiles and says, "I'm going to write a book. I want my student team to be available to tell about this story," Carrington says, smiling. "I'm going to write a book. Instead of it being painful I want this experience to help others."

One One 80

Tomasa Pereira, 35, immigrated from El Salvador when she was 19 to join her mother who had immigrated to the U.S. when Pereira was six years old. Pereira has struggled financially trying to pursue a career in the fashion industry. Her Microenterprise team is helping her launch a 10 to 15 piece line of women's clothing for summer that includes dresses, tops, bottoms, and accessories in soft, plant-based fabrics using trendy seasonal colors, and comfortable fits. Her business name, One One 80, is her birthday.

"Friends and family kept asking me to make special pieces for them, so I created my own logo and labels," Pereira explains. "I have the talent to make the product but not the knowledge to create a business. This program is guiding me in making it happen."

Tess Sadowsky, a first year law student, is helping Pereira create a business plan, a resume, cover letter, and website to showcase the designs. One of the biggest challenges the team is working on is tracking the time required to design, market and sell a line of clothing in order to set realistic and measurable goals. Other goals include a photo-shoot, an online store, crafting of a presentation of Pereira's designs to bring to boutiques.

Sadowsky believes that Pereira has the product and drive to be successful. Pereira was raised by strong immigrant matriarchs and infuses that confidence into her brand of clothing. "I'm really impressed by Tomasa's ability to explain her product using her personal experience, and her passion for what she loves about fashion," Sadowsky says. "That will help make her business successful."

Sadowsky especially enjoys leaving behind the intensity of her law studies to support Pereira. "When I heard about this program during my first week of law school, I couldn't believe it. Being able to share our resources with the outside world is such a great opportunity to learn," Sadowsky says.

Hear directly from the Microenterprise teams about their collaboration.