Personal Professor Passions
Pepperdine Magazine is the feature magazine for Pepperdine University and its growing community of alumni, students, faculty, staff, and friends.
Pepperdine professors have unique interests beyond their expert academic knowledge. When they are not teaching, writing or researching, here's what some are doing:
MONEY MAVEN: Luisa Blanco, Associate Professor of Public Policy
Money is important in all aspects of Luisa Blanco's life. She teaches economics, has a money collection from 30 countries, and even wears jewelry made with coins.

While other children held pretend tea parties, Luisa Blanco played bank instead using her father's large calculators and old business checks, and standing behind a bar in her grandmother's house that looked like a bank teller window.

Her prized piece is her father's 1916 one-peso bill. "I found it shortly after he passed away a few years ago and it reminded me how much we liked talking about the economy and monetary matters," Blanco said.

Blanco collected money during her travels, and from students from their home countries, and from overseas summer internships. Students have become so enthusiastic about contributing foreign currency that she now exchanges United States dollars for even trade. "Seems that I got myself in the foreign exchange business now," Blanco laughs.

Blanco loves money because the stability of the monetary system is central for the well functioning of the economy and the wellbeing of individuals. "It is one of the most important tools in society," Blanco explains.

FEARLESS FLIER: Judy Ho, Assistant Professor of Psychology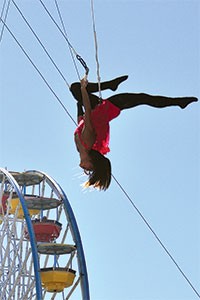 Judy Ho always admired the circus show trapeze act for the performers' artistry and athleticism so trying the art for herself two years ago fulfilled a longtime wish. She loved it and now swings three to four stories about the ground several times a month. Although Ho has a fear of heights, she enjoys the challenge and adrenaline as well as the focus required.

"Once you master one trick, you are on to the next one so you are never comfortable," Ho explains. "It reminds you how to live your life in the moment. You can't be worrying about your day. You have to just focus on what you're doing or you will fall and break your neck."

Her toughest move is the "shooting star" where she launches herself into the air from the swinging trapeze, then reaches for the hands of the catcher coming toward her from a second swinging bar. "It's an exercise in letting go of control, and trusting someone else," Ho says. "Nothing in life is like this- scary and exhilarating at the same time, and brings me indescribable joy."

PLANET PROTECTOR: John G. Mooney, Associate Dean for Academic Affairs and Associate Professor of Information Systems and Technology Management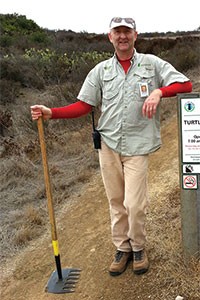 From his home, John Mooney can see the hills of the Irvine Ranch Natural Landmarks, which includes 50,000 acres of permanently preserved open space and rare natural habitats. Upon looking into hiking opportunities, Mooney learned about volunteer opportunities and signed up. That was 10 years ago. Today he has the titles of Lead Trail Boss, Lead Land Steward, and Docent. In 2012 and 2013, Mooney earned recognition as an outstanding volunteer from the park and from Orange County.

He spends about 10 hours a month on "invasive patrols," hiking through various areas searching for and removing invasive plant species that negatively impact the natural ecosystem; and on "trail patrols," maintaining trails that he helped build and for which he is a designated custodian. A common invasive item he often discovers is Mylar birthday balloons.

"We all see them go up when they escape," Mooney says. "Yes, they do come back down and they are a problem!"

STRING KING: Christopher Parkening, Distinguished Professor of Music, Chair of the Guitar Department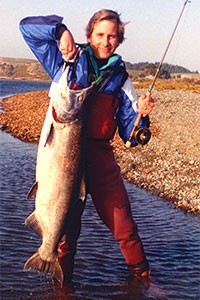 When he's not strumming guitar strings, Christopher Parkening can often be found holding another string instrument, the fishing pole. Parkening is a world class, champion fly-fisherman, and a former winner of the International Gold Cup Tarpon Tournament in the Florida Keys. "Like music, fly fishing takes discipline and hard work to perform well," Parkening explains.

Parkening has been fishing since age six when his father taught him in the High Sierras. He continues to fish there with his own son. "The beauty of God's creation is a special part of the enjoyment I feel when I am fly fishing," Parkening enthuses. "I also love the challenge."

When fishing for tarpon, Parkening uses a stiff rod with over 500 yards of line. "When you hook a big tarpon, it's like being attached to a freight train," Parkening says. "It is extremely challenging."

The largest fish Parkening ever caught was a 6'5, 182 pound tarpon; the biggest salmon he ever snagged was a 40 pound Chinook caught on the Elk River, in Oregon.

A CLASS ACT: Shelley Ross Saxer, Vice Dean and Laure Sudreau-Rippe Endowed Professor of Law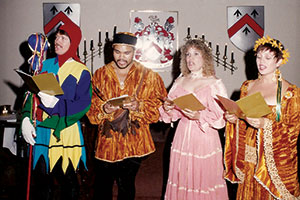 Theater has played an important role in Shelley Ross Saxer's life. An actress and director, the stage is where she met her husband, Gary; spent hours acting with Gary and their children; served as a musical director, and as a long-time volunteer director for a middle school theater program.

"Theater is such a creative release. You become part of a community of diverse people that work together to achieve a goal – with a deadline that cannot be extended," Saxer explains.

Saxer enjoyed seeing how stage experiences changed the lives of children, especially shy kids. "Although working with 80 to 100 middle schoolers was frustrating and difficult, the process and the end results were my most valuable contributions to musical theater," Saxer says.

Alumni from that program are performing in film, in London's West End, and on Broadway, including Saxer's daughter, Jonalyn, who is appearing in "Honeymoon in Vegas."