Speed Racer
Lauren Gibbs (MBA 14) puts a lucrative career on hold to pursue a new dream.
Over the past year, Lauren Gibbs has learned how to best push a 400-pound bobsled for just a few seconds, then jump inside for an icy, one-minute thrill ride along a plunging, twisty, one-mile track at gripping speeds of up to 80 mph.

"You're hurling yourself down a mountain at 80 miles per hour in a tin can and the back of the sled is not the smoothest ride. It's cold, slippery, and you hear rattling," Gibbs says. "There's no other sensation like it. I describe it as really bad turbulence, like a turbulent rollercoaster."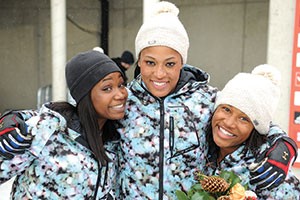 Lauren Gibbs, center, is flanked by fellow USA Women's National Bobsled Team members Cherelle Garrett, left, and Lauryn Williams.

Gibbs is one of eight members of the United States National Women's Bobsled Team and she brings the same drive and determination to the sport that she applied to earn her MBA last year. As the push athlete and brakeman, Gibbs helps power the sled at the start of the race using enormous strength. Her immediate goal is to be good enough to remain on the team for the 2018 Winter Olympics in South Korea: Gibbs must qualify annually. "I'm 30 so if there's ever a time to make it to the Olympics, this is my chance," she says. "If you want something badly enough, you will find a way to prioritize that goal. Anything that's worthwhile takes hard work."

Team USA assistant bobsled coach Mike Kohn, a 2002 Olympic medalist, defines Gibbs as "a raw athlete with a lot of ability who has a great attitude." Ashley Walden, the U.S. Bobsled and Skeleton Federation's operations manager, says Gibbs is a "huge asset to the team."

"When I met Lauren in Lake Placid for the preliminary push championships, she was completely new to the sport and faced a steep learning curve," Walden explains. "This didn't discourage her. In fact, it did the opposite- it challenged and motivated her. She brings enthusiasm and determination to the women's bobsled team that is contagious. She is a true team player."

The national team spent the winter months competing in the World Cup and Intercontinental Cup tours in the United States, Canada, Austria, France, Germany, Norway, and Russia. Gibbs and her racing partner, Olympic Bronze Medalist Jamie Greubel Poser, earned two Bronze Medals in the season opening and closing World Cup races.

A Los Angeles native, Gibbs played soccer as a child, and volleyball in high school. In college, the 5'10 Gibbs served as volleyball captain and hitter for Brown University in Rhode Island, where she was awarded with Academic All-Ivy League honors. After graduating in 2006 with a degree in public and private sector organizations, business, and entrepreneurship, Gibbs maintained her athleticism by becoming active in CrossFit. Bobsled was never even remotely on her radar.

Gibbs was working out in a gym when a friend noticed her tremendous lifting strength and suggested she consider the sport of bobsled. "I didn't take her seriously because I'd never even seen a bobsled race," Gibbs remarks.

Developments rapidly picked up speed. Gibbs attended a bobsled recruitment event in Colorado Springs, Colorado in August, and did so well she was invited to a weeklong push camp at the Olympic Training Center in Lake Placid, New York, in September where she finished the fastest of 10 women. In October she competed in the national push championships in Lake Placid against returning members of the national team, earning second place. In November, she competed in the U.S. selection races in Park City, Utah, where she won a race with Elana Meyers Taylor, the 2014 Olympic Silver Medalist. That success secured Gibbs a spot on the eight-member USA Women's National Bobsled Team.

"When I first started, I was anxious I wasn't going to like it, or that I was going to be scared. I'm not a huge fan of rollercoasters and going fast," Gibbs says. "But I love how hard everybody works, the camaraderie, and jumping in the back of a bobsled and seeing what happens."

Gibbs credits Pepperdine with encouraging her to be confident. Gibbs says she took a chance on the University after being accepted into a number of well-known schools for her master's work. "Those programs were bigger than what I was looking for. I needed something that would fit me better and I liked that Pepperdine's programs focused on presentations and papers. You can't fake your way through that," Gibbs explains. "If it hadn't been for Pepperdine, I'm not sure I would have had the confidence to take the risk and try bobsled."

Regina Korossy (MBA '06), Pepperdine's regional director of executive programs at the Graziadio School of Business and Management, recruited Gibbs for the master's program and served as the athlete's class advisor. "Lauren excelled in her time at Brown, in her career, and was at the top of her MBA class," Korossy explains. "Lauren is a team player in all aspects of her life, so it was no surprise that she was trying out for the bobsled team—if anyone could transition seamlessly into a completely different sport, Lauren would."

After her bobsled gig ends, Gibbs plans to apply the lessons learned from the sport to her business career which includes seven years of experience as a regional manager at several large companies and at a start-up firm. She is considering returning to management, or pursuing consumer satisfaction, life coaching, or public speaking.

"I'd like to work for a company where I can make a true impact in the operation, including consumer satisfaction," Gibbs says. "I like to challenge myself to do things that most others haven't so that maybe people will want to listen to what I have to say."

Watch Gibbs in action.