A Star is Born
At age 73, Jim White (64) is in the spotlight for his quiet work in McFarland, California.
For the past several months, Jim White ('64) traveled around the country to sit in theatres, churches, and schools, and watch a hit Disney film about himself called McFarland USA. No matter where he screened the movie, whether in Florida, Tennessee, Texas, California or elsewhere, it was surreal to see actor Kevin Costner portray him, and actress Maria Bello play his wife, Cheryl.

"We've seen it 14 times and every time we heard clapping and cheering, we thought maybe it's because they know we're there. The audiences are really responding to us, they really love it," White says. "I've heard some of them say, 'Oh, I've got to go and see that again.' It's a wonderful experience for us, a wonderful feeling."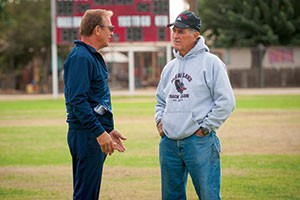 Cross-country Coach Jim White pictured with actor Kevin Costner on the set of McFarland USA.

McFarland USA, which debuted in theatres nationwide in February, is set in 1987 and depicts how White, a public school athletic coach and physical education teacher, changed the lives of his disadvantaged students, their families, and their low income, predominantly Hispanic community, which in turn transformed his own life as well.

With nine state championships earned, White is one of the most successful cross-country coaches ever in California. During the 25 years that he coached McFarland High School's team, athletes earned multiple league and Valley championships, as well as international competitions in China, Germany, Singapore and Taiwan. What makes this particular come-from-behind sports story special is the love that developed between White, and his Latino students whose lives in the Central Valley agricultural town of McFarland, were so different from anything White had experienced.

The film movingly captures the tremendous challenges the coach and athletes experienced in overcoming cultural differences, and how they came to understand and respect one another. White learned to grasp the difficult lives of his athletes who worked to help support their families in the surrounding agricultural fields, rising daily at 4 AM to pick crops before school, returning to work in the fields after school, then attending running practice followed by dinner, chores, and homework. The students learned that White believed in them and wanted to see them succeed, and affectionately called him "Blanco," Spanish for the color white, a play on his last name and skin color.

"We had a small team and we became really close. A family relationship developed," White recalls. "Our success came because of our positive attitude, a lot of hard work, and having a desire to be as good as we could be."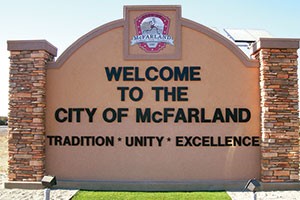 The idea for a film emerged after a slew of publicity about the team and its success. The Los Angeles Times featured White and his champion athletes on the front page; ESPN and the BBC aired stories about the group's wins; and other media outlets covered the McFarland cross country achievements. Hollywood came calling with several studios attempting to make a movie but inadequate funding and poor scripts presented challenges. Then Disney became interested in the story a few years ago.
McFarland, USA producer Gordon Gray was moved by many aspects of the story. "These movies are never really only about sports—the sport is just the canvas on which to tell the journey of the characters," says Gray. "This is really about a man trying to find a home for himself and his family and he found it in McFarland. It's also an opportunity to tell this inspiring story about his bond with this team."

Filming took place in McFarland over three weeks, and included actors raised in and near the town. The film's director, Niki Caro, who directed "Whale Rider," and "North Country," stayed with the Whites for a few days to learn firsthand about the relationships between the coach and community."Niki Caro did a good job. There are some real things in the film that touched my heart," White recalls.

The coach is quick to point out several key inaccuracies in Disney's portrayal. He was never fired; he and Cheryl, actually have three daughters, not two; and White established the team in 1980, seven years before a state championship was created in 1987, the year McFarland High School won and the year the film highlights.

Three members of that 1987 team depicted in the film are David, Damacio, and Danny Diaz. Three other Diaz siblings were also on White's team. All graduated from college and remain in the McFarland area. Following White's example, nearly all went into education.

"We were not just part of Mr. White's team and family, but we all were inspired by Mr. White's example to become mini Mr. Whites," says Danny Diaz, a guidance counselor at McFarland High School. "Mr. White was like a second father to us. I don't know where we would be today if he had not come to McFarland."

One of the biggest challenges for White was the Diaz parents who at first did not support their children's participation in cross country. "Sports were not important to our parents," Danny says. "Number one was God; number two was family; and number three was education; and in between numbers two and three we had to squeeze in work. Luckily, Mr. White came and talked to them."

White remains close with the Diazes as well as many of his former runners, attending milestone celebrations and weekly gatherings. Although he retired a decade ago, White continues to help coach McFarland High's cross-country team, riding his bicycle alongside runners, which include children of the original athletes.

When White graduated from George Pepperdine College with a bachelor's degree in physical education, he knew he wanted to be a public school athletic coach. He and his wife lived in an apartment on campus for two years, and while there welcomed their first daughter. White applied for jobs with school districts statewide. The first response came from McFarland Elementary.

"The principal called and offered me the job on the phone," White recalls. "I always wanted to live in a small community where I could hopefully have a positive effect on people, to better their lives and my own."

The Whites moved to McFarland, and stayed for the next 40 years as White taught science and physical education classes at both the local elementary and middle schools. McFarland is the only place he ever taught.

White tried to convince the McFarland school superintendent to hang the cross-country team's championship banners in the school gym. The superintendent worried that the school's other athletic teams would feel badly that they were not as successful as the cross-country team. "I said, 'It might inspire other programs,'" White explains. "A new superintendent came in around 1996 and put all nine up."

The team's achievements and the film's success have brought prosperity to the town. Disney donated $80,000 for the construction of a new playground that 250 community volunteers built. Every road coming into McFarland now sports a new city logo sign that states "Welcome to McFarland," and features a picture of a runner, and the words "Tradition, Unity, Excellence," a reflection of White and his team's achievements.

In fact, the film has put McFarland on the map, literally. Travelers from throughout the country have come to the off-the-beaten-path town just north of Bakersfield. "A couple recently came in from Texas with their five kids on spring break because they had seen the movie. They visited our school, my parents' house, spent three hours with my mom, came to a school soccer game, then met us all for pizza and met Mr. White," Danny says.

After screenings, White often speaks to audiences about the philosophy he imparted to his athletes. "I probably talk more about attitude because how you feel about things is so important. You can't control a lot of things but you can control your attitude," White explains.

To this day, every McFarland cross-country team shirt is emblazoned with White's motto: It's all in the attitude. "Attitude really does define a champion, not just in sports but in life," Danny says.

White's coaching method was influenced by his own experiences as a high school baseball player. He remembers not being treated well by the coach. "I always wanted to take time to listen to students and give them a chance," recalls White.

The White's daughters also become teachers and, over the years, Cheryl was equally involved with the students, organizing fundraisers to help purchase shoes and books, and listening when they needed someone to talk to.

"Everything that's happened has been been far beyond what we could ever imagine. It's a beautiful story," Cheryl White says. "When you have God in your life you give him all of the glory. When you bless, you get blessed doubly."

White hopes that moviegoers come away from the film understanding the importance of supporting one another, among other themes. "I know they'll see the hard work these kids have to go through to survive. That's not Hollywood," White says. "It's not just a running movie. It's about inspiration, and trying to make a better life out of what you're doing."