Back to the Future - 25 Years Later
Pepperdine Magazine is the feature magazine for Pepperdine University and its growing community of alumni, students, faculty, staff, and friends.
By Michael F. Adams, Chancellor

Suppose like Marty McFly in Back to the Future you had an opportunity to look into your own future and compare it to your current circumstances. In a way, such is the opportunity that president Andrew K. Benton has given me.

I had the opportunity to serve Pepperdine University for nine years in the decade of the '80s as chief development officer and vice president for University Affairs. Following a 25-year stint as president of two colleges, including the past 16 years at the University of Georgia (UGA), President Benton reciprocated with an invitation for me to return to Pepperdine for a career capstone experience. Even though I thought my wife Mary and I had stepped down to spend more time with each other and with our grandchildren, we both agreed we still loved Pepperdine, where our children had grown up, and that the California lifestyle still had a lot of appeal. So, here we are ensconced once again in dear, familiar Malibu. After almost a year back in these environs we have been asked the same question now hundreds of times from former and new friends: "What has changed at Pepperdine and what remains the same?"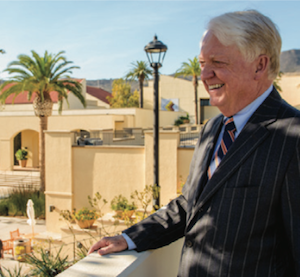 When I took on the role of chancellor, President Benton requested of me two things: 1) help raise money for the University, and 2) provide some advice from my past 25 years of experience to the senior administration team. While I hope to make a lasting impact, I have discovered that many things have changed at Pepperdine since I last roamed these halls.

I must admit this is my first experience with a student body sometimes chanting the initials of the president, "AKB, AKB," at a lecture or ballgame. In other words, the students have never been as much at the central core of the enterprise as they are today. The current administration has insured that. As one of America's top 40 private institutions and one of the top 10 Christian institutions, we are even closer to George Pepperdine's vision of what Pepperdine University should be: first-class academics in a strong Christian environment.

One of the many reasons for this rise is that the academics here are much stronger than they were in the '80s. The faculty is superior, the curriculum is broader, and they are a wonderfully-led group under the example of provost Rick Marrs, who achieved his terminal degree from Johns Hopkins University, one of America's strongest graduate programs.

An increase in the number of specialized programs has contributed to the multifaceted nature of academics at Pepperdine. The establishment of the School of Public Policy, our fifth school, has enabled students searching for ways to enhance their careers in public service to envision positions of public leadership. Add to that the new Institute for Entertainment, Media, and Sports and the Fred Sands Institute of Real Estate, and the curriculum continues to expand, almost endlessly.

The expansion of the Keck Science Center has encouraged a much greater emphasis on research and publishing, along with excellent teaching. The establishment of the Center for Communication and Business has provided opportunities for students to become immersed in the world of entertainment and media, and has facilitated invaluable mentorship relationships with industry professionals. Since I last served Pepperdine, the graduate schools of business, education and psychology, and public policy have finally found a home base in Malibu at the Drescher Graduate Campus, an initiative that was in the planning and zoning phases when I was here last. Great progress has been made here academically over the last 25 years.

Like in my days here in the '80s, the sports program continues to thrive at the highest level of NCAA competition, Division I, with added women's sports in soccer, swimming and diving, and beach volleyball. The basis for strong competitive West Coast Conference teams is self-evident. One area that requires attention is Firestone Fieldhouse, where our once again "top flight basketball program" needs a more suitable place to play. Improving or replacing it is at the top of the list of all of us who work in the senior administration.

But just as "what's past is prologue," as it says over the door of the National Archives in Washington, D.C., a lot of things at Pepperdine have remained the same.

Namely, I see no abdication of the long-term value system about which Mr. Pepperdine spoke in 1937. The spiritual roots in the Church of Christ are as strong, if not stronger, than they have been in decades. Opportunities for spiritual development through student-led worship, chapels, discussion sessions, and day-to-day fellowship have never been more abundant and seem unlimited in scope and growth. Virtually all of the people here, whether students, faculty, or administrators, know who we are and what we are. There is little debate about purpose or focus.

Furthermore, the same entrepreneurial spirit most expressively exemplified by George Pepperdine and Mrs. Frank R. Seaver, is alive and well. Campus dedications to those like Tex Thornton, Morris Pendleton, Richard Rockwell, and Odell McConnell pay tribute to those largely self-made people who dreamed the American dream, invested in American capitalism, and contributed much of their earnings to this great goal. As capable as the men and women of the Pepperdine fundraising enterprise are today, I believe it still remains that their greatest successes are tied to that original entrepreneurial spirit and strong Judeo-Christian ethic exemplified by the names mentioned above and additional names all across the campus.

The institution just fits here better than it did 25 years ago. Improvements to our campus and the relationships we have built with diverse communities have helped bridge the gap between the "institution on the hill" and the city of Malibu—and have even allowed us to grow closer to the city of Los Angeles.

President Benton's patient involvement with the community has borne fruit for both. Yes, there are still the typical town-and- gown challenges and frustrations that there always will be, and while time does not heal everything, it has gone a long way over the past 25 years to engender mutual respect between Pepperdine and its community.

For my family, the opportunity to return to Pepperdine has been a fruitful one. We loved the times of my tenure as president of Centre College and UGA, and we were partly successful at those places because of what we learned here at an early age. I hope during this current experience we will have the opportunity to give back and help strengthen Pepperdine in light of what it has done for us.