Behind the Seams
A risky foray into the world of fashion helped a Graziadio School of Business and Management alumnus discover a world of possibilities.
I am not a fashion guy at all," reveals Michael Won (BSM '09, MBA '10), a bold admission given that the business school alumnus sits at the helm of a global made-to-measure men's clothing subscription service.

In fact, when he walked into his final presentation at the Graziadio School of Business and Management, he discovered that his professor had drawn a scoreboard at the front of the class and was taking votes from his classmates whether he was going to show up to his presentation wearing flip flops.

Won is a surfer, an avid fisherman, and is, most days, attired in clothing and footwear appropriate for more casual pursuits. That his current business venture, 8/Omakase, thrives on outfitting men who aspire to look their best is nothing short of ironic.

"The way want to shop and the way we're forced to shop is different," he contends. "We want to look good, but don't follow fashion trends, so there is a certain level of insecurity in what to buy."

Won believes that the men's shopping experience is broken, a belief that first compelled him to partner with his childhood friend Elbert Song, the former director of operations at The Honest Company, who discovered Thailand's up-and-coming tailoring industry while traveling through Southeast Asia with a U.S.-based nonprofit group.

While a bespoke (custom, made-to-order) suit commissioned in the U.S. costs an average of $2,000 to $6,000, customers spend a fraction of that—only a few hundred dollars—to have one made in Bangkok. Won and Song found opportunity there and developed a plan to partner with the nonprofit organization to not only bring a top-notch product to the U.S., but also to create jobs for local tailors, teach them business basics, and develop a long-term, sustainable income model.

The 8/Omakase concept is simple: men seeking a high-fashion look complete a style profile that includes details like height, weight, neck size, jacket size, pant waist measurement, and sleeve length. Customers receive a tape measure to verify any particular measurement. Won and Song implemented what they call an "Intelligent Sizing" process that uses an algorithm to determine the perfect fit based on the style profile. The details are then assessed by a personal stylist charged with developing a collection of custom-tailored pieces based on the customer's profile, and sends them to a tailor to construct the pieces. Packages are delivered every quarter, each one containing a minimum of four pieces per shipment.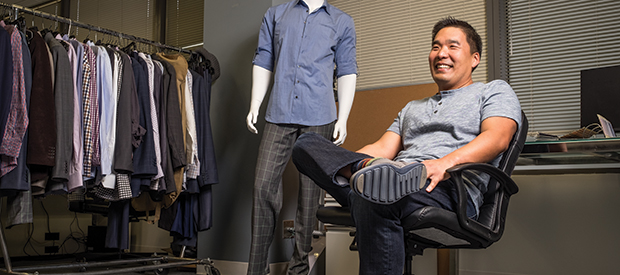 Because 8/Omakase is a zero-inventory business, it makes up for that cost by running a much leaner operation while bringing customers the same quality as more mainstream high-end clothing companies. "Our motto is: 'It's not the label that makes you look good, it's the fit,'" Won says.

The 8/Omakase idea is based on trust, as the Japanese culinary term in its name implies. What the long-standing tradition has offered curious diners for centuries is a unique experience that is determined by the chef, which not only relieves customers of the burden of choice, but also enables them to explore new tastes.

But don't call it a fashion service. Won insists that beyond that, the 8/Omakase business model benefits the organizations and communities in which they operate by providing opportunities that utilize the impactful reach of philanthropy as a product-sourcing channel. He credits Graziadio School professor Larry Cox with putting the duo in contact with another nonprofit in India he has worked with in partnership with his church.

"Instead of hiring a business to find and source products, there are a lot of nonprofits that need assistance overseas," he explains. "Our goal is not only to help these nonprofits expand into fashion, but to become a sales platform for nonprofits."

And in a move typical of the start-up world, they just "went for it." The site went live in beta on a Friday last year and by Saturday, they already had one subscriber without any promotion. On Sunday, two people had subscribed, and for the next few weeks, more and more customers signed up each day.

"We weren't ready," Won admits. "No one had heard about the brand and we hadn't even lined up tailors at that time. What's interesting about the crazy start-up world is that when you have a cause, you have an emotional connection to your product."

Won approaches business with a simple attitude: if a business owner has good fundamentals and can outline a clear problem that can be solved in the market, that skillset is more important to getting a product to market than understanding the ins and outs of the particular industry.

The future of 8/Omakase involves a big step into the world of virtual reality, which includes the use of 3-D imaging to provide the most precise fit possible. Currently going through a renaming process, 8/Omakase will soon relaunch as Dapper Indeed, a play on words that nods to the company's philanthropic mission.

"Fashion is such a legacy industry—it's an old school trade," Won explains. "We think we can be a little more nimble as a small company to develop these technologies to make a much more seamless and friction-free process."