Beyond the Buzz
Almis Udrys (MPP '01) transforms political buzzwords into action for the City of San Diego.
New York City, 1950s: a young man, recently escaped from the Soviet invasion of Lithuania, works as a janitor and teaches himself English as he cleans bathrooms. A few years later in Dearborn, Michigan, a refugee woman from Lithuania goes to work at Ford Motor Company, finding herself in a job in a country she could hardly have imagined, after avoiding deportation to Siberia. And at the end of the war-torn century, their grandson Almis Udrys (MPP '01) grows up in a family haunted by memories of governmental oppression and fired-up for democracy.

"My interest in government emerged at a young age," Udrys remembers. "My immigrant parents grew up with the refugee experience. They worked hard to provide for me and my three siblings, and they also provided an awareness of politics, the perspective that elections have consequences, and the value that I place on the right to vote to this day."

Today, Udrys is the director of the Performance and Analytics Department for the City of San Diego, where he finds ample opportunities to philosophically and strategically enhance the liberties his grandparents so resolutely pursued by, for example, increasing transparency by putting government data directly into the hands of the public and by working hard to streamline expenditures within local government. In 2014 he was handpicked by San Diego mayor Kevin Faulconer to create and lead the brand-new department, now in its second year.

"The best way to describe what our team does is that we take the popular electoral buzzwords—transparency, efficiency, accountability—and we turn them into reality," he says, emphasizing that "setting up the new department has been a blast."

He approaches his role with a private sector- style mindset: that the citizens of San Diego are customers/clients and, as such, deserve the very best of service from their government.

He says, "We are a city of 1.4 million customer citizens (excluding the tens of millions of tourists that visit each year), a $3.25 billion budget, and 11,000 employees. No private business provides the diversity of services a city government provides—the expectations are monumental. So, we survey our customers and we require that our employees take customer service training. It's an awesome time to be working at the City of San Diego."

His parents and grandparents also raised him with what he calls a "profound belief in a merit-driven system; your ideas should win the day based on their merits," he says, and that includes giving a voice to all employees no matter their rung on the ladder.

"have launched some really novel programs like the San Diego Works initiative, through which we asked employees for ideas on improving customer service and efficiency. That program was up and running within six weeks of the formation of the department and, to date, employees have already identified nearly $7 million in savings to the city over the next five years as a result of the ideas," he notes.

In October 2015 Udrys spoke about technology in government at a TEDx community event, which explored the vision for San Diego by 2020. San Diego was the only U.S. city included in National Geographic Channel documentary series World's Smart Cities and Udrys' talk capitalized on its reputation as a city of technological innovation. In front of an audience of 1,500 (and more through live streaming), he explored the question: "Can Streetlights Save Democracy?"

"The streetlight project showcases San Diego as a 'smart city,' the topic also gave me an opportunity to weave in my perspectives on government, the power of data and technology, the decline in youth voting, and the deep need for civic engagement as a backbone of democracy," says Udrys.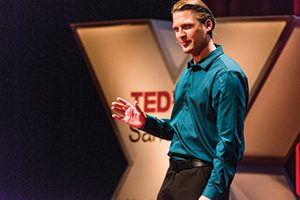 Able to speak or read five languages (including Lithuanian, of course), Udrys earned his bachelor's degree in international business and Spanish from Hillsdale College in Michigan in 1999. He then visited the Pepperdine School of Public Policy to sit in on a few classes before choosing the school for his master's in public policy.

"I admired the professors' approach of teaching not simply how to analyze a problem, but to also contemplate the questions of why, giving consideration to political economics, history, sociology, and philosophy in making public policy choices and recommendations," he reflects. "I take those elements into consideration when making policy recommendations to this day."

Udrys stayed in California following graduation, evaluating problems in health care, correctional institutions, and education for the State of California. He moved on to the California State Assembly in 2005, where he eventually served as a chief budget negotiator in the State Legislature during Arnold Schwarzenegger's final year as governor of California in 2009.

"We had a $20 billion budget hole to plug, so tensions were high and the budget ended up being signed 100 days late," he remembers. Of note, Udrys spoke of the final days in budget negotiations, when one session was held in governor Arnold Schwarzenegger's movie studio in Santa Monica. "My time in that role felt like twice to three times the actual amount of time— and the experiences are ones I would never trade for any others."

He relocated to San Diego in 2011—with his Italian-born wife, whom he met at Pepperdine, and their two children—and became a key policy staffer under former mayor Jerry Sanders, a position in which he led an effort to pass legislation that the City recently used in its proposal to keep its professional football team, the Chargers, in San Diego. He went on to serve Councilman Kersey as his deputy chief of staff, driving the citywide conversation on infrastructure issues that has now resulted in a ballot measure being put in the hands of the voters. Then Mayor Faulconer asked him to build the Performance and Analytics Department.

"My career so far has been a blessing; each one of my opportunities has felt much more like a hobby than like a job," says Udrys. "I'm well aware that not many people get to say they look forward to Monday because they're excited about what the week will bring and because no day is like any other. I keep being able to help enact changes that ultimately improve people's lives or facilitate their connection with—and reinforce their trust in—their government. I'm excited to see what the future will bring."