Mood for Thought
A psychology professor and his former graduate student team up to develop an app that enables users to access cognitive-behavioral therapy in the palm of their hands.
How are you?" The open-ended question is a ubiquitous one and, in most cases, innocuous enough to open a variety of conversations. For users of the Moodnotes mobile app, the question is a gateway for those seeking mental health strategies to identify what they feel, why they feel it, and how to combat harmful thinking patterns.

According to recent research, only 20 to 30 percent of people in need of psychological intervention actually access professional mental health services. One of the reasons is that the traditional models of delivering such services, such as one-on-one therapy, are inherently limited in their reach.

"Only a small proportion of those in need are able to access these types of services due to factors such as cost, their inability to get to the clinic or provider, and even the stigma that continues to be associated with seeking mental health care," says Drew Erhardt, professor of psychology at the Graduate School of Education and Psychology and a licensed clinical psychologist.

Among the greatest needs, Erhardt explains, is trying to identify the treatments and interventions that are most effective in treating various mental health issues and finding ways to distribute them to large numbers of people.

"Whether through online programs or mobile apps that disseminate information, technology has the potential to break down those traditional barriers that keep people from getting the help they need," he says.

In 2010 Erhardt partnered with a former doctoral student, Edrick Dorian (PsyD '03), now a clinical and police psychologist, who shared the same frustration concerning the relative inaccessibility of the effective interventions of clinical psychology. They were both interested in identifying accessible, inexpensive ways to disseminate the tools they found helpful in their clinical work to more people who could benefit from them.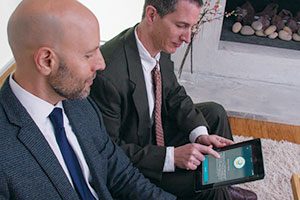 Edrick Dorian and Drew Erhardt demonstrate the features of the Moodnotes app.

"We agreed that cognitive-behavioral therapy, the approach to psychological treatment that has the strongest evidence for its efficacy, should not be something that people can access only by going to see a mental health professional," Erhardt says. "If we can make these tools understandable and relevant to people's everyday lives, and embed them in devices that are virtually always available to them, then they can be incorporated in their daily routines much like diets and exercise are."

"People have made tremendous strides in taking control of their physical health as far as diet, hygiene, and sleep, and as a result, many people have adopted much healthier routines in those domains," adds Dorian. "There has been such an enormous emphasis placed on prevention, that if we can effectively manage symptoms when they emerge, numbers of people may not progress to the point where they need clinical treatments. With the emergence of digital technology, people are able to track various aspects of their health and well-being better than ever before. There's no reason why we can't leverage that technology for mental health variables, as well."

The MoodKit for iOS was born, offering users a mood improvement toolkit to apply effective strategies of professional psychology to their everyday lives through a mobile app. MoodKit presents four core cognitive-behavioral therapy concepts in an app with mainstream appeal. It can be used as a standalone self-help tool or as an adjunctive tool in psychotherapy, offering advantages not only to clients who want to collect data about themselves and share it with a therapist, but also to therapists who can recommend the app like a self-help book to supplement therapy.

MoodKit was released in early 2011 and received organic press from day one. A CNET article appearing soon after the app's release brought considerable attention, and the app has continued to do very well since with respect to downloads, user reviews, and positive press. The challenge was designing something that mainstream audiences would understand, that was gender- and culture-neutral and intuitive, and also offered access to data and tools that therapists would value and use in their work.

"It was a really good challenge, because it's atypical in the health and psychology arena to effectively create products that aren't overly dry, text-heavy, or jargony," says Dorian.

In 2014 British digital product studio, ustwo, on the heels of tremendous success with their award-winning Monument Valley game, were eager to create a mental health-related app. Impressed with MoodKit, they approached Erhardt and Dorian with an offer to collaborate on the development of a new app. A few months later Moodnotes was released for iOS devices, offering a fluid journaling app with cognitive restructuring and positive psychology elements.

Moodnotes is free of clinical or diagnostic terms in order to be as intuitive as possible. Dorian and Erhardt worked with ustwo to determine content based on what is done in a traditional psychotherapy session with a therapist.

"It's this kind of collaboration between technology, design, and subject matter experts that has the potential of creating products with the biggest impact," says Dorian.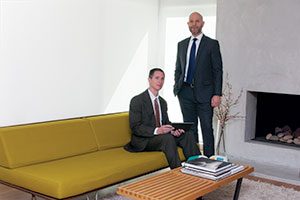 The app launches with a call to action: "How are you?" it prompts, as a smiling face on the screen waits for the user to input his or her mood at the time of use. The face can be adjusted with the swipe of a finger from a big smile to a big frown and everything in between. From that initial data, the app logs a numerical mood rating entry. Users can save their mood entries and see emerging thought patterns through continued use. They also have the opportunity to add details to the mood rating in order to better articulate, understand, and manage their feelings.

Journaling has been a staple of therapy for decades, and is a critical tool in being able to identify specific types of information from a client, explains Dorian, noting that, as users journal, they are able to articulate the specific thoughts and images that go through their minds, and the specific situations that impact their mood shift. Users benefit from noting thoughts, feelings, and observations in real time, as they occur, versus waiting several days or weeks between therapy sessions to discuss. This repeated process is meant to lead to cognitive restructuring, a technique in which users walk through a series of steps to identify, evaluate, and ultimately modify the distress-inducing thoughts related to the bothersome situation.

In cases of depression and anxiety, psychologists have identified a wide range of associated clinical themes and characteristic thinking spirals.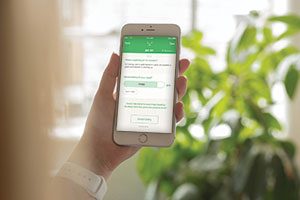 "Most people tend to repeatedly fall into the same thinking traps," says Dorian. "Our goal with Moodnotes is to help them reshape these problematic thinking habits through a guided journaling process. Using the journaling format, the app gradually teaches users about thinking errors, empowers them to modify their own thinking, and helps them see the positive impact of modified thoughts on their overall mood or emotional intensity."

Dorian also enthuses about the app's intuitive interface, which enables users to perform cognitive restructuring on themselves in times of emotional distress. "If they identify a positive mood, the app takes them in a different direction, designed to help sustain or deepen those positive feelings," he explains.

Moodnotes is designed not only to help users identify which thinking traps they are most prone to, but also provides antidotes to help them learn how to respond adaptively to those dysfunctional thinking habits. Although some of the app's tools may, by design, become obsolete when users have developed healthier styles of thinking, the open-ended journaling it provides can continue to benefit people indefinitely.

For the vast majority of people, what happens behind closed doors during professional psychological services remains a mystery. For many, it is associated with clinical disorders, usually severe, and invokes visions of breakdowns, tearful confessions, and hopelessness. Dorian and Erhardt hope that the app will help destigmatize the worlds of clinical psychology and mental health, and that it leads to mental health becoming valued the way physical health has been for decades.

For the price of a cup of coffee, users have access to information normally only found in a clinical setting. The ability to access these resources from every corner of the world is tremendous, as long as one has access to mobile devices and apps.

"The vast majority of people who need services don't have them and may not even have the option of getting them," says Dorian. " is also able to sidestep the stigma that remains in seeking mental health services or in carrying a book around with some sort of prominent psychological title. There is a certain level of discretion in being able to access information on a smartphone."

For that reason, and the ability to respond to the needs of a younger, more tech-savvy generation of patients, Moodnotes, like MoodKit before it, has been embraced by the clinical community.

"Many therapists are hard-pressed to know what to recommend," says Dorian. "These apps are tremendously appreciated by clinicians who are glad to know that such products exist, that they come from licensed professionals, and that ethical and user privacy concerns have been considered."

By design, Moodnotes does not share user- entered data or identities with the developers or third parties, nor is there any interaction between parties. The only communication that comes from the app are prompts to consider making a journal entry.

Moodnotes also helps therapists improve and enhance their offerings, because their clients are able to e-mail data to themselves for archiving or to their therapists, providing more accurate, real-time data regarding their mood, thoughts, and circumstances.

Ultimately, Dorian and Erhardt believe that demystifying the field of psychology can have a transformative impact on people's well-being.

"Many people don't have the initial experience of benefiting from some of the basic content traditional therapy sessions," says Dorian. "What's exciting is to think how this exposure creates 'a-ha' moments for people and makes them more receptive to that initial consult or appointment with a mental health professional, because they now have a better appreciation for the field's offerings."