Pillar of the Community
By her teenage years, Linda Forster ('90) had already made an impact on the disadvantaged community of South Los Angeles.
In the mid-1970s, 7-year-old Linda Forster's neighbor was murdered. When she and her mother, renowned community activist "Sweet" Alice Harris, arrived at the scene, Forster was given three tasks: 1) to find a chair for the victim's mother, Ms. Theresa, to sit on; 2) to take Ms. Theresa to a covered area away from the rain; and 3) to hold up an umbrella to protect Ms. Theresa from seeing her son's body lying at the crime scene.

Hours passed and the youngster's arm grew tired. She can still remember Ms. Theresa's screams as she caught a momentary glimpse of her son's tennis shoes poking out from underneath the white sheet.

"That was my catalyst," Forster recalls. "Just as I attempted to shield Ms. Theresa from the pain of that night, I wanted to shield the community from the pain they were experiencing."

At the time, Forster and her family lived in the Watts area of South Los Angeles, where issues of hopelessness and low self-esteem were beginning to emerge in the primarily African American community, aided by pervasive poverty and the rise of the crack cocaine epidemic. Forster explains that the growing diversity of the population and the language barrier between the different communities also proved to be divisive forces, a matter that the 13-year-old Forster and her mother were determined to address.

"There was a different gang on every other block," Forster recalls, of the difficult times. "Our youth weren't free to walk to the local store or park in fear of encountering a different gang. Even though they weren't actively participating, they were considered a target."

Years of attending a local Catholic school with a high population of Latino students had enabled Forster to develop a conversational aptitude of Spanish, and when Harris started a class for members of the community to learn each other's language, Forster was appointed as a Spanish teacher. The Los Angeles Unified School District (LAUSD) heard about their efforts and sent a representative to evaluate the class.

"If we could assure them that we could maintain 15 students a night, the LAUSD would provide an instructor for the classes," recalls Forster, of the humble beginnings of the social services program, which soon evolved to include a GED program sparked by the limited number of residents in the community with a middle- or high-school education.

Education was a hot topic in Forster's home. Her mother was separated from the school system when she became pregnant at 13 years old and didn't complete junior high. Forster remembers coming home from elementary school to a stack of mail waiting for her to read aloud to her mother.

When Harris learned of a program through the Watts Counseling and Learning Center that worked with local families to improve their lives, she was encouraged to go back and get her education. Harris received her GED in 1977 and later transferred to community college and "has been preaching about education day and night ever since," says Forster.

Forster first experienced Pepperdine as a 4-year-old on a field trip to the Malibu campus organized by the Watts Willowbrook Church of Christ in Compton, California. Thinking the verdant campus was a park, Forster would implore her mother for return trips.

"I was exposed to a college campus at an early age," Forster continues. "We all knew we would obtain our college education. By the time I was in high school, I had asked Mom to sign me up for courses at the local community college."

During her senior year in high school, Forster was determined to apply to Pepperdine, the only school on her list, for the fond memories it held for her and her family. Back then, her school's counseling office didn't have ties to Pepperdine and her college counselor, "Ms. DeLoach," encouraged her to apply to another local school. Though submitting an application to Pepperdine was challenging, Forster received an acceptance letter a few months later, much to DeLoach's surprise.

Through the years Forster found herself immersed in and intoxicated by the promise of social and community service.

She and her family discovered the power of elected officials early on and befriended those creating policies that could impact their community. Forster and Harris worked hand in hand with local, state, and federal officials, including senator Diane Feinstein, mayors Jim Hahn and Tom Bradley—"every local official you can name"—and continue to have relationships with those who could help bring positive changes to their community.

Since the early 1980s Forster and her family, including her four sisters, have brought attention to their resource-deprived community with the Parents of Watts Working with Youth and Adults Multi-Purpose Community Crisis Center, which over the course of over 30 years has established shelters for the homeless and mentally ill, a foster family agency, a child day care and school, a youth center with a computer lab, a 24-hour crisis center, a teen pregnancy home, and a male parolee halfway house.

"Linda's impact on the community is great, because she knows the community and they know her," says Harris, noting that growing up among the people she served allowed Forster to be in touch with their greatest needs. "She can help them, because they are not afraid of her. Most people in this community are careful about who they talk to because they might talk to the wrong person and end up in trouble. But they knew Linda, and when Linda graduated from Pepperdine, she could do more because she knew more and she could help me to do more."

Most recently, Forster has been dedicated to serving those who need extra help reentering society after being incarcerated. The Forster Company, a construction management firm that originally started as a material testing company, was established in October 2004. The company has its roots in a social program launched with the help of the California State Department of Parolees, which assigned Parents of Watts the task of providing housing and rehabilitation to 40 state parolees, and to ensure their successful reintegration in society as law-abiding citizens two years after their release from prison.

As part of the program, the rehabilitated young men were provided individual, group, and family counseling, 12-step programs, and job opportunities. Local companies, however, were hesitant to hire former convicts. One of them—a local construction company— challenged Forster: "If you will hire them, I will hire them."

"Mom always taught us that we are our brother's keeper," Forster explains. "She would say, 'Linda, when you see someone, don't see the behavior, see the individual and see that they are somebody's child.' When you put that in perspective, it really helps you see the need and not be discouraged."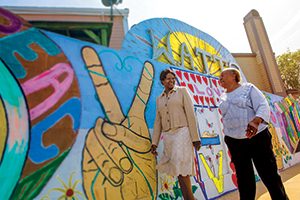 Linda Forster and her mother "Sweet" Alice Harris walk through the Parents of Watts neighborhood.

Forster was determined to start her own company with the solitary goal of hiring ex-cons and training them in material testing— analyzing the soil upon which a building is built before construction in order to ensure that the ground can support the structure. Forster, along with her husband Egerton, were initially mentored by the local construction company to know how to train the young men for future work opportunities with them.

"The agreement was that we would keep them on our payroll for six months," Forster recalls. "When they saw that the men were successful, they would take them in."

Many of the young men went on to obtain their own contractor's licenses and became plumbers, carpenters, mason workers, and electricians. They often return to the Forster Company to train and mentor other individuals who are in positions that they were once in.

"I believe that I have a responsibility to enhance the quality of life of others," Forster says. "I couldn't do what I do without my faith, because there are days that I just want to throw up my hands and say this is too much. But on days when I get burned out and frustrated, I take the time to say a little prayer and reflect on how good God has been to me."

Today, Forster carries with her a gift certificate from a department store given to her by DeLoach at her graduate school commencement. She says it's a daily reminder of beating the odds and "catching the Wave" through the grace of God.

"She said, 'Linda, I'm so sorry for doubting you. You proved me wrong. I never thought a student from Watts, especially from L.A. David Starr Jordan High School' which is surrounded by public housing projects, crime, and drug abuse 'could go to Pepperdine. You make me so proud.' I look at that gift card every day."

"I'm a living testimony that children from Watts can attend Pepperdine University," Forster muses. "I realize that education is the key out of poverty. It was the key for me and I know it will be the key for so many others. I know what Christ has done for me and I know I didn't deserve his mercy and I know I didn't deserve his love or grace. And when I reflect on all that he has done for me, the least I can do is help someone else."