Diving into History
A Pepperdine visiting professor of art serves as Pearl Harbor's first artist in residence and draws attention to the site's historic significance
"There's a comfort to being in the water," says Jane Mi, an avid scuba diver, underwater photographer, and visiting assistant professor of digital arts at Seaver College. "It's like being at home.

As a first-year teacher at Pepperdine Mi is thrilled to work so near the sea—a place that has played a pivotal role in her life and career. Growing up in Taiwan, she would swim with her grandfather, whose love for the ocean infused her psyche. At 14, after moving to Hawaii, Mi learned to scuba dive and began to regularly explore the California coast and its plethora of kelp beds. She studied economics at Claremont McKenna College and engineering at Harvey Mudd College and later received a master's degree in ocean engineering from University of Hawaii at Manoa.

Mi's background is an amalgamation of scientific and artistic influences, all of which have converged to inform her role as an art professor. "I am a scientist and an artist," says Mi. When asked how she ended up in two such disparate fields, she notes, "Engineering and the arts go hand in hand. You see this in the history of Western culture. Leonardo Da Vinci used engineering to make money to fund his art projects because he understood that everything informs everything else. We've become so specialized in contemporary culture, but art and science are a natural pairing."

In addition to her engineering pursuits, Mi also serves as the first artist in residence at World War II Valor in the Pacific National Monument, the national park monument that is home to Pearl Harbor and several other sites of strategic importance to the Pacific front. Just last December, in honor of the 75th anniversary of the attack on Pearl Harbor, Mi was the sole female—and only civilian—to dive with an elite crew of US Navy and National Park Service members to film the underwater interment of two USS Arizona survivors: John Anderson (boatswain's mate, second class) and Clarendon Hetrick (seaman, first class).

The project, which gave Mi unprecedented access to Pearl Harbor and the National Park Service's archive, led her to ponder the creation of a new work focusing on unknown aspects of the location and its history. The Hawaiians called the area Pu'uloa, or long hill, and its three lochs (sea inlets) were home to over 27 fishponds.

For most Americans, Pearl Harbor is synonymous with "infamy" and the "waking of a sleeping giant." But for Mi, having explored the site's underwater depths, the harbor took on new meaning. "What was Pearl Harbor before it was attacked? How significant was it to native Hawaiians and how did it get its name? Living in Hawaii for over a decade and a half, you want to dig deeper," she explains.

Her questions have resulted in a three-part installation called The Eyes of the Gods, which was exhibited at the inaugural Honolulu Biennial from March 8 to May 8, 2017. The Eyes of the Gods includes archival drawings and photographs of Pearl Harbor from the 19th to 20th century as well as Hawaiian woodblock prints of 'anae—the fish found in Pearl Harbor fishponds—which were vital to the local Hawaiians' survival and livelihoods. By showcasing both European and Hawaiian vantage points of Pearl Harbor, Mi invites viewers to examine their own previously held notions about the site and confront any prejudices they may hold.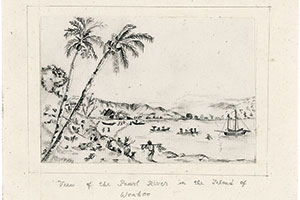 Views of Pearl River (Dampier) 8.5" x 11" drawings from the Bishop Museum Archive

"My interest in archives is to look at history from a different perspective to highlight aspects that may have been overlooked," says Mi. "Historical collections allow us to see how views of a certain place, people, or location change over time."

The last part of Mi's installation, a video work comprised of archival underwater footage, focuses on Pearl Harbor's most recent identity: home of the Joint Intelligence Center, Pacific, a major location for US Department of Defense intelligence and surveillance. In the video, Mi uses an algorithmic technique, similar to the government's face recognition and surveillance systems, to find and compile images of the water around Pearl Harbor—and nothing else. The resulting footage removes people, sea life, and surrounding objects, forcing viewers to confront the power of technology to manipulate what you see: land or water; people or animals; or, if you're the government, enemy or ally.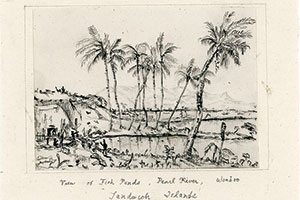 Views of Pearl River (Dampier) 8.5" x 11" drawings from the Bishop Museum Archive

This semester, Mi is having her students do self-portraits around the idea of surveillance. The assignment? To create a portrait that a computer can't recognize.

In her roles as scientist, artist, and teacher, Mi has found ways to give shape to contemporary questions about identity. Her art surrounding Pearl Harbor invites us to consider how, in our own lives, contact with different people and places shapes who we become.

For Mi, art is powerful because it permeates. "When someone looks at art, whether or not they sense it, they naturally begin intuiting what it might mean to them," says Mi. "Art becomes a way to talk about difficult things, without being uncomfortable. And that's why I do it—to enable those conversations."