Of Service
In her new memoir, Peggy Grande ('89) captures the intimate and inspiring moments she shared with President Ronald Reagan as his right-hand woman for a decade
Peggy Grande sat in the lobby of a Century City office building after a successful internship interview, waiting for the hiring manager to return with a validated parking ticket. It was 1989 and the Seaver College senior wasn't sure she had enough cash on hand to pay the fee. She had just breathed a sigh of relief when the far door of the lobby opened and out walked two US Secret Service agents. Walking behind them was the man she enthusiastically hoped to work for.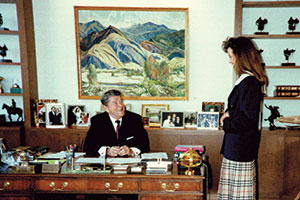 Courtesy of the Ronald Reagan Presidential Foundation

"My heart went into total panic mode," recalls Grande, of the thrill, excitement, and surprise that she felt upon seeing her hero in person for the first time. "I had prepared to meet my interviewer, but in all my preparation it never occurred to me I would actually meet 'him,' and there 'he' was walking toward me."

Out of respect, and so as not to seem threatening, Grande stood up against the wall, put her hand over her heart, and looked off into the distance as former president Ronald Reagan passed, a most sincere reaction revealed in the spontaneity of the moment. Noticing Grande, President Reagan stopped, introduced himself, and asked her for her name.

The self-proclaimed "nerdy little kid from Orange County who loved politics and government and presidents" had always been fascinated by the White House and Washington, DC, and had seen President Reagan once when he had visited Pepperdine's Firestone Fieldhouse for a speaking engagement. Now face-to- face, she couldn't believe she was being considered for an opportunity to work with him on a regular basis.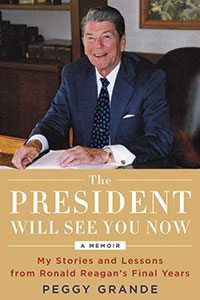 In her debut book, The President Will See You Now, Grande takes readers on a journey of the decade she spent working in President Reagan's office shortly following his presidency, first as an intern and ultimately as his executive assistant. Beyond her professional interactions as his right-hand woman, and sparing details of his politics and policies, Grande's book is an ode to Ronald Reagan the man and his remarkable ability to make everyone he met feel like the most important person in the world.

"Sometimes you have this hero in your mind and are disappointed when you meet them, but he was one of the few people who was put on a pedestal and was better than you could have ever imagined," she explains. "He was known as 'The Great Communicator' and yet I remember the kindness of his actions far more than what he said."

Her greatest writing challenge was being the vehicle by which readers saw his true persona without interrupting his story with her own.

"Not everyone can relate to being president, but everyone can relate to at least one part of my story," she says. "I think in my story, everyone will find a part of their story as well."

Her story, Grande explains,is like that of so many young people's: being thrust into a great big world that is much larger than once thought. It also includes the joys of being a newlywed and a first-time mom, the heartache of witnessing her father lose a hard-fought battle with colon cancer, and juggling the demands of the professional arena.

The President Will See You Now gives readers a behind-the-scenes, unscripted insider's look at a man who Grande affectionately describes as "gentlemanly and gracious and kind and humble." Grande admits that at the outset she thought the tome would honor President Reagan's principles, but in the end it encapsulated what life was like in the former president's California office and the memories she still carries with her— like the rooftop visits on clear, blue days that offered him a few moments of fresh air to gaze at his beloved city through a pair of binoculars.


STORIES COLLIDE

Grande's career began in the former president's public affairs office, where she edited speeches and press releases and ran errands typical of a college intern. As her term came to a close and she was set to graduate from Pepperdine, it became clear to her that the Office of President Ronald Reagan—and the man himself—would play an enormous role in her future.

As it happened, the executive assistant to the chief of staff was planning to move to Washington, DC, and her position became available. Grande quickly jumped at the opportunity to work alongside Reagan's post-presidency chief of staff, Fred Ryan, who had been responsible for managing the establishment and operations of the Century City office and was instrumental in the design, fundraising, planning, and overseeing of the construction of the Ronald Reagan Presidential Library.

"When working for a president, there is no room for error, especially from a security standpoint, but also from a protocol, communications, and image standpoint," she says. Coincidentally, the standards of poise and correspondence she was expected to adhere to as a sales associate at Nordstrom department store prior to her career in the former president's office provided a solid foundation. "It seems like an unlikely preparation, and yet you work with very high-end clientele and some very demanding people. You learn a lot about customer service and how to interact with people, problem solve, and think on your feet, which is in essence diplomacy."

While Reagan was in the White House, he employed hundreds if not thousands of people. Following his term, he was joined at his Century City office by 10 to 12 staffers, a tightly knit group that often wore multiple hats. Grande was frequently the face and voice for Reagan, eager to accurately represent a "man who had spent a lifetime creating goodwill."

"His brand and his image and his name are assets he has built over a lifetime," Grande says. "I never felt pressure from him, but I felt the pressure from myself. It was an invigorating environment."

So invigorating in fact, that Grande's first pregnancy announcement to Reagan while on a business trip in Mexico was interrupted by Secret Service agents bursting into the room to declare that a bomb threat had been made at the venue. She later found a less tense time to share her good news—safely aboard the private plane heading back to California.

After working for the chief of staff for three years, President Reagan's executive assistant announced her retirement and Grande was pegged for the role. She was pregnant with her first child but could not turn down the offer, especially after Mrs. Reagan assured her that they would be willing to wait for Grande to return from her maternity leave to continue in this role.

Through the years Grande's job ran the gamut from greeting Reagan at his car and walking him up the stairs to ushering heads of state and visionary leaders around the office. One of her favorite yet most unexpected roles was serving as President Reagan's post-presidency photographer, which gave her the opportunity to forge a closer relationship with her boss and be the ultimate fly on the wall during private meetings with guests, including Mother Teresa, Margaret Thatcher, Mikhail Gorbachev, and Billy Graham.

"One of the most profound things I noticed about him was that these were all personal relationships, not just political associations," Grande recalls. "After his presidency, these people had no diplomatic reason to visit with him, but they liked him and wanted to spend time with him. That made such an impact on me as a young person, that this is how politics is done at its highest and best."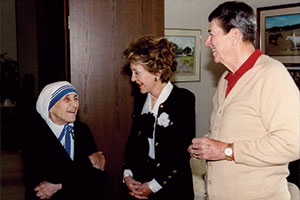 Photo: Peggy Grande courtesy of the Ronald Reagan Presidential Foundation

PUTTING PEN TO PAPER

A little over five years ago, a man approached Grande at one of her speaking engagements and asked if she would ever consider writing a book. She promptly replied that she never would. But he persisted, inspired by her presentation of the timeless leadership principles she learned from the president himself. "He looked me in the eyes and said: 'If there was a woman who sat outside Abraham Lincoln's office door every day for 10 years, don't you think people would want to hear her story? Don't you think she would owe it to history to tell that story?'"

At the time she was running her own portfolio of businesses, traveling around the country for speaking engagements, and looking after her four children. "It was never the right time to write a book," she says. The years go by and you don't realize what's interesting about your own history.
Yet more recently, Grande was inspired and encouraged by RoseMarie Terenzio, personal assistant, publicist, and confidante to John F. Kennedy, Jr. during the last five years of his life, who in 2012 wrote her own memoir titled Fairy Tale Interrupted.

"She handed me a copy of her book and I read it cover to cover on my flight from New York to L.A.," Grande recalls. "I felt like I knew JFK, Jr., better in the end, and I didn't know things that I didn't want to know." Terenzio connected Grande to a literary agent, who then connected her to Hachette Books, where she was encouraged to put her stories into book form.

She explains that there has never been a more important time to share this story about what she describes as "true leadership."

"We have been through a tumultuous election cycle. People feel battered and bruised on both sides of the political aisle," Grande says. "Part of the reason why so many people adore President Reagan is because of who he was and what he represented, even if their politics didn't align with his. We were proud of who we were on the domestic stage and globally in the 1980s. We need a primer and a reminder of what leadership looks like at its highest and best and to realize that strength can coexist with gracious humanity. So much more can be accomplished if we could go back to when diplomacy was based on personal relationships and not political rhetoric."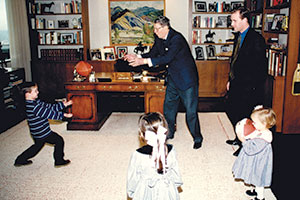 Courtesy of the Ronald Reagan Presidential Foundation

THE ELEGANT DECLINE

On November 5, 1994, President Reagan announced to the American people that he was suffering from Alzheimer's disease, an affliction that would take his life 10 years later. The official announcement was made in a public handwritten letter issued by his office in Los Angeles, the same letter that Grande had been allowed to read aloud to fellow staff just one day prior. As the public started saying their goodbyes, Grande and team still said good morning to him nearly every day for the next five years.

While his illness presented certain challenges professionally, her connection to a boss of whom she was so fond invoked in her feelings of self-doubt, fear, worry, confusion, and, especially, deep sadness. The book describes, in heart-wrenching detail, Grande's final moments with President Reagan, which stirred familiar feelings of losing a father-like figure.

"The positive impact he left on me still has the power to change lives," she continues. "His legacy lives on in part in me, but really in the hearts and minds of anyone who was changed by his life as well. The President Will See You Now is the story of a beautiful life and how you can live life to the fullest with dignity and elegance, all the way to the very end."