Words of the Weiss
A former business major's deep fascination with the afterlife inspires him to transform painful family hardships into award-winning Hollywood scripts
Anne-Marie: Will I ever see you again?

Charlie: Sure. Sure you will. You know, goodbyes aren't forever.

Anne-Marie: Well then, goodbye, Charlie. I love you.

Charlie: Yeah, uh. I love you, too.

Those famous words from the final scene of the 1989 animated classic All Dogs Go to Heaven represent the unshakable, everlasting love that binds families together, and the deep heartbreak of separation caused by death.

For Academy Award- and Emmy-nominated Hollywood screenwriter David N. Weiss ('81), those words are permanent reminders of a future reunion with his mother, who was called to heaven when he was just 19 years old.

The writer of the beloved children's film, Weiss discovered early in his career that the most effective way to overcome emotional pain is to embrace it—a skill he has mastered by continually allowing his real-life experiences to influence his art.

Over the last two decades, he has cowritten a slew of popular television and film scripts, including Rock-A-Doodle,The Story Keepers,Rugrats,Cybill,Shrek 2,Are We There Yet?, andThe Smurfs—all of which contain various, hidden pieces of his private life.

Most recently Weiss cowrote the script for Disenchanted, the highly anticipated sequel to Disney's hit musicalEnchanted, set to hit theatres in 2018.

Now at the height of his career, the member of the Academy of Motion Picture Arts and Sciences who long ago decided that he "didn't want work to do any harm" admits that, in addition to his God- given talent and self-motivated diligence, he owes his success to three distinct components of his life: his spirituality, his family, and his business degree.

A Reform Jew turned evangelical Christian turned Orthodox Jew, he credits his ability to stay grounded in a high-pressure environment to his faith in God.

"There is a correlation between the pursuit of the arts and the need to express oneself. The problem is, if you need continual affirmation in order to be happy or fulfilled, when you get off the stage or finish a project and go home, nobody is there to applaud you in the same ways anymore," Weiss explains.

Instead of seeking affirmation from an audience, he advises that entertainment professionals establish a firm sense of self, ideally one rooted in spirituality, as that will induce a new, strong sense of confidence that will help them accomplish their goals.

The second element of his success originates from his family life, where some profound hardships have inspired him to take a deeper and closer look at the human experience he often portrays in his comedies. This is particularly true for his works on Nickelodeon's Rugrats television series and movies.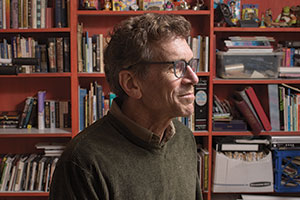 In an episode entitled "Rugrats Chanukah Special," Grandpa Boris and his rival, Shlomo, argue about which one will take on the lead role in an upcoming Chanukah play at their synagogue. As the story unfolds, it is revealed that the root of their feud was based on misplaced, mutual resentment: one man was never able to have children and the other was overwhelmed by the constant presence of his grandchildren.

Weiss, who is now the proud father of Channah and Sam, candidly shares, "My wife and I were struggling to have children while I was writing that, and often as a writer, you solve story problems by looking inside and going towards the pain. And even though it's painful, there's healing that needs to happen there. So I wrote myself into the show."

Weiss' family life is also quietly portrayed in the Primetime Emmy-nominated Rugrats "Mother's Day" episode, as well as Rugrats in Paris: The Movie—both of which explore the character Chuckie's emotions about the loss of his mother, whom he remembers faintly but fondly.

For a man who experienced the death of a parent at a young age, writing his own story as experienced by Chuckie helped guide Weiss through his own grieving and healing processes.

Having a business degree from Seaver College has also become for Weiss a powerful instrument in the writing world, as he explains that the program trains students to maximize opportunities, foster teamwork, and solve problems for clients.

"My business degree from Pepperdine has been such a useful tool to help navigate my career in film," notes Weiss, who credits his education with helping him in his service as a trustee of the Writers Guild of America Healthcare Pension Plan, which manages approximately $2.5 billion. "As a Hollywood writer, I write largely for studios that have a property that they want to convert into a film— whether it's a book or a sequel or a TV show—so it's really about solutions."

For up-and-coming screenwriters, he stresses the value of perseverance and encourages them to look for positive signs as confirmation that they are pursuing the right career path.

"There are people out there who keep trying to sell a screenplay, but have never had any success—ever. That's not a good sign. I would say give it about seven years. If you're just not getting anywhere, then look elsewhere for a career."

Saving money is also crucial because landing the next project can take several months, or even longer.

But his most personal and applicable piece of advice is to always keep a friendly attitude—a gesture that, for him, demonstrates trusting God.

"Some people in this industry aren't nice because they're afraid they're going to get cheated," he says. "But when you realize that God is on your side and everything is going to be okay, that will allow you to feel more relaxed and be kind."