Class Action Hero
During a weekend trip to Comic-Con International, an English professor imagines how to incorporate famous fantasy into academic reality
While he may look like an average New York citizen at first glance, this modern-day superhero with exceptional eyesight spends his spare time fighting crime on the tough streets of Bedford-Stuyvesant, Brooklyn, often encountering dangerous conflicts with the Russian mafia causing trouble in his neighborhood. But he doesn't fight for righteousness alone. He belongs to a special gang of professional—and mysterious—warriors known internationally as the Avengers, who call Barton "Hawkeye."
In a world where physical appearance is not an accurate representation of one's personality or identity, Hawkeye demonstrates that apparent simplicity is often a disguise for covert complexity—not unlike professor Lisa Smith's writing class, which features a special assignment to analyze the 2013 standalone comic book starring the master marksman. Though Hawkeye: My Life As a Weapon is the shortest required reading assignment in Smith's English Composition I class, students discover over the course of the assignment that it is unquestionably the most challenging.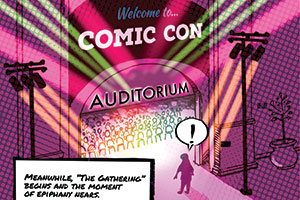 While attending Comic-Con International 2016 in San Diego, Smith fatefully happened upon the convention's Comics Arts Conference. The visiting assistant professor of English was intrigued by the academic focus of the event and the variety of educators and scholars engaged in analyzing the content of comic books on a level deeper than the average fan or reader. Inspired by the thoughtful examination of a medium not often explored in a university setting, Smith began to seriously consider incorporating comic books as a teaching tool for story analysis.
"Comic books push students out of their comfort zones," explains Smith. "They don't have to become comic specialists in my class. They just have to engage in the infrastructure of the stories and understand the theories behind them."
Smith explains that students don't have the same preconceptions about comics as they do about novels or movies that they have read or experienced in the past. "It's difficult to get out of a certain mindset," she explains. "Comics are new and fresh, so it's more exciting for them to analyze."
Smith's personal challenge was learning to master a book with a structure so vastly different from conventional college-level literature. At first read, Smith discovered the nonlinear narrative style and devices typical of comics. "Comics are very visual and force you to jump around on the page. Each page is very different to view and read," says Smith, whose literary expertise lies within traditional storytelling, where events are mostly introduced in chronological order and all descriptive elements are presented through text, as readers are challenged to construct mental pictures to visualize the imagery presented on the page.
In a nonlinear storyline like Hawkeye, the lack of text encourages readers to instead pay close attention to design elements such as color coding to comprehend chronological changes and emotions.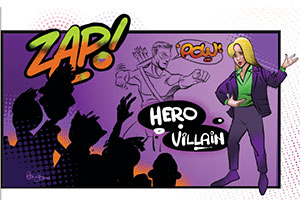 "I emphasize in the course that students must make numerous decisions as writers in order to get their points across," Smith notes. "And there are many choices to be made in writing comics because of all the visual pieces, like the color scheme, illustrations, and the switching back and forth between different time periods. The analysis is a little more demanding."
In July 2017 Smith presented her own pedagogical insights about comic analysis with her peers at the same event that had inspired her just one year prior. Based on a paper she had submitted for consideration, Smith explored "Beyond Strunk & White: Using Comics to Teach Students to Write Analytically."
At the conference, Smith revealed that this specific assignment turned out to be an effective gateway to engaging those students who usually sit quietly in class and are sometimes intimidated to share their thoughts with others. During the first semester with the updated curriculum, one student in particular found that his comic book expertise gave him the confidence to lead class discussions and offer his insightful observations with his classmates.
"I had of course read Hawkeye: My Life As a Weapon before and could not wait to analyze it," says Seaver sophomore Jaibir Nihal Singh, an avid comic book reader who has been enjoying the genre as a pastime since childhood. He admits that even he learned for the first time the tremendous effort that goes into developing these comic books.
"I was always a big fan of Marvel comics and have a huge collection of them," the media production major shares. "But I've only read comics as a fun hobby and never analyzed them before this class. Through this assignment, I learned more about comics than ever before while analyzing them in detail and exploring the different techniques and references that are employed throughout the books."
---
Illustration by RickGibson (MBA '09, PKE 121)