Cooking Up a Storm
During a season often associated with abundance, two alumni travel to the devastated corners of Puerto Rico to serve those who lost everything
On September 20, 2017, Hurricane Maria charged through Puerto Rico and left the tiny island in ruins. As shocked and shaken residents began to face the aftermath of the destruction, everyday necessities like running water and electricity became unaffordable luxuries.
With the holiday season approaching, Michael "Tank" Gonzales (JD '08) knew that his New Year's Eve plans would include an element of service. The financial services attorney and former gang member, who now mentors active gang members in their pursuit of more positive and productive paths, wanted to end the current year and start the new year by giving to others.
On his drive home after Thanksgiving dinner, he called a friend who had served in Puerto Rico soon after Hurricane Maria had made landfall to inquire about how to get started helping the survivors. "She told me, 'Every single set of hands is helpful,'" recalls Gonzales, who recruited his younger sister, Sara, and cousin, David Andrade (MPP '11), for the journey ahead.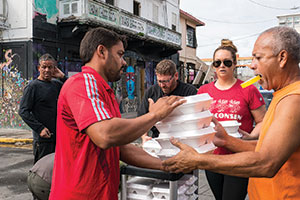 After raising more than $11,000 through a GoFundMe account, and with the help of a strategic social media campaign driven by celebrity tattoo artists, the trio left for San Juan on December 26 to spend 11 days cooking with Fundación El Plato Caliente, a nonprofit organization that provides hundreds of meals per day for the area's homeless and jobless individuals. They spent five hours each day preparing traditional Puerto Rican food—some days up to 400 meals—for the locals of Santurce, a heavily populated, underserved district located in the northeastern region of the island. They delivered the meals to locations experiencing power outages and also made stops along the way to hand out the meals to people they saw on the street.
The volunteer cooks also helped spread their message of global compassion while standing in the kitchen assembly line, posting photos and videos of their experience on social media platforms to encourage assistance and donations. Their photos of Santurce reveal the survival instincts of the townspeople, many of whom—including children—have resorted to carrying weapons to protect themselves and stealing drinking water from one other. These circumstances, coupled with insufficient law enforcement, have pushed Santurce into a perpetual cycle of drugs, theft, and gang violence. According to Andrade, a restaurateur who owns two cafes in the Los Angeles area, "There is a huge gap between the haves and the have-nots, as well as a lack of urgency on the part of fellow Americans to help them."
Months after their return, emergency food supplies in Puerto Rico remain scarce and local cafes and restaurants have been unable to maintain regular operations without consistent access to water and electricity, which has further strained the island's local economy. "If one of us hurts, we all hurt," adds Gonzales, who dedicates one month each year to engaging in international service projects. Over the last several years, he has traveled to 45 countries and explored all seven continents to "serve and spread love."
"If we spend just a little bit of time thinking about how to make other people's journeys better, the world will be such a better place," he says. "Monetary success in your career is great, but there is nothing in this world like touching people's lives at the moment that they need it. And when you help them, you're giving to yourself just as much as you're giving to them."