Dual-Court Advantage
Student-athlete Kevin Hempy ('17) simultaneously excels on two different playing fields
Kevin Hempy understands the value of rules. As an aspiring sports law attorney in his first year at the School of Law, he is fiercely passionate about the federal, national, and local regulations that tactically defend against those who have broken the laws of the land. On a different playing field, Hempy considers practical defense strategies to protect his teammates against their opponents as a forward on the Waves men's basketball team— only the third Pepperdine student-athlete who has attempted to participate in both endeavors simultaneously at the NCAA Division I level.
After transferring to Pepperdine as a sophomore and earning a spot on the men's basketball team after trying out as a senior, the NCAA redshirt rule granted Hempy official permission to continue playing college sports during his fifth year at the University, even after graduating from Seaver College to the School of Law. Basketball, he explains, has always been an important part of his life.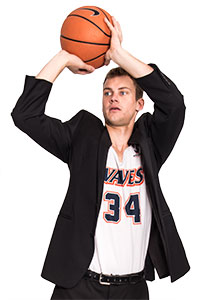 "One of my earliest memories is of my dad teaching me how to shoot on a Little Tikes hoop," Hempy recalls. "Basketball has taught me countless lessons that I have applied to my life both on and off the court. There are a number of external factors that affect the game, like referees and injuries. In those situations, it is better to control what you can, such as your own attitude and effort."
Hempy's unconventional path runs parallel to Pepperdine's philosophy behind both athletics and law, which emphasizes a commitment to ensuring that each move is thoughtful and intentional. At the School of Law, Hempy has exercised this skill most pointedly in his first-year legal research and writing course, which emphasized attention to detail that he hadn't experienced in the past.
"We learned to look at every single word that we write and ask ourselves if it serves a purpose. I've learned to apply that approach to basketball with the plays that we run," he shares. "It has been a good lesson in time management for me," Hempy says about juggling his time between law school and basketball practice, a balancing act that is supported by the law school administration and faculty as well as Waves men's basketball head coach Marty Wilson, the men's basketball staff, and the entire team.
Wilson shares that Hempy is a great role model for his teammates both on and off the court. "Kevin has been a great addition to our team because he exemplifies all that coaches preach about hard work, discipline, being a great teammate, and, more importantly, being a great person to be around," Wilson says. "The lone fact that he is juggling the hours of being a first-year law student and participating as a Division I basketball player is remarkable."
Hempy expresses a deep appreciation for those who encouraged his two interests and provided him with the necessary support and guidance to continue exploring his passions.
"This is what makes Pepperdine such a special place—that the administration, faculty, staff, and coaches are continually trying to make the best possible experience for the students. I am so thankful for the effort that they have all put in to make it work for me."
---
Redshirt Rules
Upon entering their first year of college, NCAA Division I student-athletes are granted five years to play four seasons of sports. This technicality allows student-athletes to take breaks from competing in sports teams in the event of injury or to take advantage of study abroad programs.