Honor Roll
Student veterans share their experiences of combat, camaraderie, and the classroom
During the height of the unrest surrounding the Vietnam War, members of the military became a lightning rod for anti-war protests and returning veterans were heckled and harassed for their involvement in the incredibly divisive international event.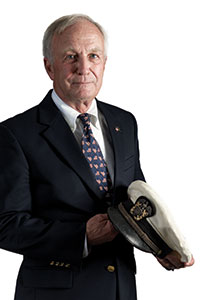 While an undergraduate student at Stanford University, Dan E. Caldwell, distinguished professor of political science at Seaver College and chair of the Pepperdine Committee on Student Veterans, recalls walking into his freshman English class in his Naval Reserve Officer Training Corps (NROTC) uniform and being chastised as if he were single-handedly responsible for the turmoil. Caldwell also remembers someone in a passing vehicle shooting at NROTC midshipmen during a marching drill—the only direct fire he experienced during his entire military career as a United States Navy lieutenant, which lasted from 1971 to 1974.
Later, Leland Stanford's original hunting lodge on "The Farm"—which at the time was used for NROTC classrooms—was burned down, and other university students prevented midshipmen from attending their NROTC classes. In an effort to mitigate further harassment, cadets were subsequently relieved of their requirement to wear their uniforms while attending weekly classes on the Stanford campus.
Over the last few decades, this spiteful attitude against members of the military has shifted dramatically toward one of appreciation and gratitude. As Caldwell points out, "About 2.6 million people served in Iraq and Afghanistan, but people today don't seem to blame the members of the military for causing the wars in those countries."
Today at Pepperdine, the scene is markedly different. Student veterans are welcomed in an atmosphere of mutual respect, where their experiences and the talents they developed while serving in the Armed Forces are considered particularly beneficial to completing a degree from a top academic institution—skills such as effective communication, strong team building, and personal accountability practices.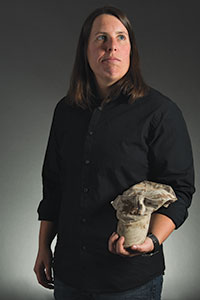 Student veteran Jessica Egan ('15) understands the value of these transferable skills, particularly since leaving the United States Marine Corps to pursue higher education after five years of service. As a psychology major who enrolled at Seaver College as an undergrad at age 25, Egan launched the Pepperdine Student Veterans Organization, an on-campus group that facilitates undergraduates' transition from military to civilian life.
"I had to grow up really fast in the Marines," admits Egan, currently a third-year student at the School of Law and an active member of the school's Veterans Legal Society who served an 11-month deployment in Afghanistan. "There are challenges to coming back. For me and for most people I know, you go from this extreme sense of camaraderie to feeling completely disconnected your peers."
During her service, Egan was a C-130J crew chief who worked on $60 million C-130 aircraft, ensuring that they were safe and ready for takeoff and running missions in the air while the pilots steered the plane.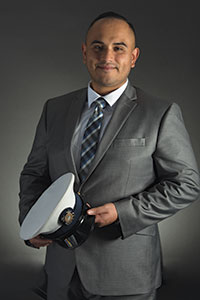 "When I got to Pepperdine, I went from being responsible for a $60 million machine and the lives of my crew, to my biggest responsibility being getting myself to class," says Egan. "It's comforting to know other people who have been through the same experiences as you, which is incredibly valuable because there are so many things to navigate a student. It's nice to have friends at school supporting your transition." Egan happily shares that she has received the utmost respect from other students throughout her years at Pepperdine.
"I encountered a lot of people who were interested in hearing about where I came from, and I was interested in hearing about their lives as well," she says. "Just two weeks before I started at Seaver College I was serving in the Marine Corps, which calls for a vastly different lifestyle. But at Pepperdine, I found a lot of peer support about where I came from before I arrived here."
MBA candidate Luis Murillo also became determined to help student veterans as much as possible after serving in the United States Coast Guard. As president of the Graziadio Veteran's Business Society at the Graziadio Business School, he now has the opportunity to explore the needs of the veterans enrolled in Pepperdine's MBA programs. As Murillo discovered through building relationships with this distinct student population, most people are seeking connections with those in the industries they aspire to join—a goal he also shared when he first came to Pepperdine.
"I have a strong government background, so trying to break into the private sector was a challenge in the beginning, because I wasn't familiar with the job interview process," Murillo shares. He explains that he relied on his connections through the Graziadio Veteran's Business Society to become acquainted with various companies and employers. "Learning to network was a very valuable part of being in the program," he says. "In the past, we have invited veteran alumni working in the private sector to come to Pepperdine and speak to our student veterans about how they got to where they are, offer professional advice, and discuss leadership strategies. It's a great opportunity to meet people and make new connections."
---
Apply Within
Ranked as the 18th-most veteran-friendly school in the nation, Pepperdine is becoming known for its impactful financial assistance and support programs for student veterans. Last year Pepperdine devoted $2.6 million to make up the difference between funds provided by the federal government and actual student costs. With the increasing number of veterans on campus, Pepperdine is also embarking on a new veterans initiative to raise funds for scholarships and access services, such as tutoring and mentoring, that will ensure their success as they transition to an academic setting and prepare for a new future.
Along with the University's recognized efforts to facilitate the enrollment of veteran students—specifically through partnerships with veterans' education offerings such as the Yellow Ribbon Program—Caldwell aims to further enhance the student veteran experience before they even arrive on campus.
When veterans leave the military, they are given a document—called a DD214—that summarizes the service awards they received while on duty and other notable accomplishments throughout their service. According to Caldwell, unless admissions officers are veterans or have worked closely with veterans, they will most likely lack the sufficient background to understand the significance of these records when included on college applications and resumes.
For example, if candidates identify themselves in terms of their positions with the Armed Forces, such as Egan's experience as a crew chief of a C-130 aircraft while serving in the Marines, a civilian admissions counselor could completely overlook the tremendous amount of responsibility that particular job requires and thus disregard candidates who demonstrate superior intelligence and courage under challenging circumstances. This is especially alarming in instances where applicants have lower grade point averages and test scores than traditional students applying for college right out of high school, deeming the veterans less desirable candidates and potentially influencing a university's enrollment decisions.
With this goal in mind, Caldwell recently met with members of the University administration to discuss a new option: reviewing applicants' veteran records along with their regular forms when considering them for enrollment. Plans are underway to establish a special committee at Pepperdine comprising at least one veteran or a person familiar with veterans' accomplishments to review applications from this particular demographic in order to appropriately assess their relevant experience and skills.
"Fire ghters, police of cers, and members of the intelligence services and military are the only members of American society who volunteer to risk and, if necessary, give their lives for their fellow citizens," Caldwell points out. "Institutions should do much more than just rhetorically thank members of the military for their service, especially since they have the opportunity to step up and actually do something tangible to recognize and thank members of the military for their service. Pepperdine alumni should be very proud that their alma mater supports its student veterans in both tangible and intangible ways."
---
More than 200 military veterans are currently enrolled at Pepperdine in pursuit of completing or advancing their education.
Below is the enrollment breakdown by school for the 2017-2018 academic year:
Graduate School of Education and Psychology: 38
Graziadio Business School: 146
School of Law: 28
School of Public Policy: 3
Seaver College: 12