House//Home
Home isn't always sweet, and the barriers to attaining—and maintaining—housing are abundant. Here's what a group of Pepperdine people are doing about it
Elvina Beck ('08) was never allowed to go to slumber parties. "Nothing good happens after midnight," her mother would insist, as she picked up the reluctant youngster at 11:59 PM while her friends continued to laugh and play inside. "So, I grew up and made a business around slumber parties," Beck explains with a laugh from her 50-square-foot living space at PodShare Venice, where she stays with 30 to 40 other "Podestrians"—transplants, tourists, temps, and anybody with $50 who needs a place to crash for the night, a few weeks, or longer. Most nights she sleeps at one of five PodShare locations in the Los Angeles area, communal living facilities built on Beck's desire to provide affordable living spaces for adults. The most recent PodShare location cropped up this spring in Westwood Village, just blocks from the UCLA campus, far from where Beck was first introduced to the idea of shared living.
Like many immigrant stories, Beck's family fled the Soviet Union in 1990 in search of a better life in America. The Cold War had ended and Beck's father knew someone who had settled comfortably into a Russian community in Brooklyn. "We lived with them in a tiny apartment and shared their resources," Beck recalls of the communal living arrangement she experienced from an early age. "They were kind and took us in. It was a shared space where everybody grew as a community."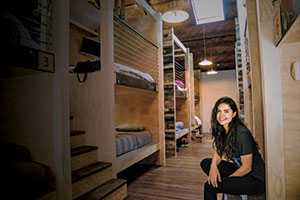 Five years ago, after stepping away from a film production career that she found unfulfilling, Beck tapped into the burgeoning sharing economy that was quickly gaining steam. She learned that more than 57 million people in the US— many of them between 20 and 24 years of age—prefer freelance work to nine-to-five jobs. This emerging model, however, almost ensured that many members of this distinct group were unable to invest in real estate without the stability provided by a traditional job. With the rise of industry-disrupting startups like Uber, AirBnB, and other Silicon Valley superpowers that rede ned the ways that we access basic services, Beck determined that the future of real estate was flexible and accessible—and communal.
"The sharing economy is a self-empowerment movement, and housing needs to model that," Beck says. "The idea is that you can find a home anywhere as long as you share it."
Beck's "pod" is designed to resemble an adult bunk bed with amenities including device charging ports, a 22-inch flat-screen TV programmed with Netflix, Hulu, and games, an LED nightlight, a memory foam mattress, and enough sheets and blankets to accommodate a comfortable stay. She uses the same communal spaces as the patrons, including bathrooms, a fully-stocked kitchen, a creative/work space with computers loaded with Adobe software, and, at the Venice location, a lush backyard decked out with a ping pong table, a basketball court, and enough space for residents to gather and share tales from their travels.
Like Caleb*, a wedding photographer from London coming off of the busy summer season and seeking adventure in the form of a bike tour down the length of the Baja Peninsula. Or Paulina*, a twentysomething Croatian student looking to establish a career in the nonprofit tech world in the US. Or Sam,* a video game and mobile developer from Saudi Arabia who stayed at PodShare's Hollywood location for two weeks while in town for a project. In his country, he drove his mother to the grocery store because she isn't allowed to have a driver's license. At PodShare, he was surprised to learn that the woman sleeping across the way from him drove herself to work every day and came home and cooked pasta for all of the residents.
"PodShare especially opens your eyes by allowing you to live with roommates that are not like you, which in Sam's case would have been all male," Beck explains. "One thing that the sharing economy does, whether it's car sharing, home sharing, or pod sharing, is it subconsciously opens you up to killing all of these 'isms'—racism, ageism, sexism."
---
When Michael Lucarelli (MBA '16) and Paul Sirisuphang (MBA '16) learned that they had been accepted to the full-time MBA program at the Graziadio Business School, they became acutely aware of the supply-demand mismatch seen in many metropolitan areas. Lucarelli and Sirisuphang, who moved to Los Angeles from New York and Thailand, respectively, had a difficult time navigating the increasingly complex and frustrating rental process while relocating.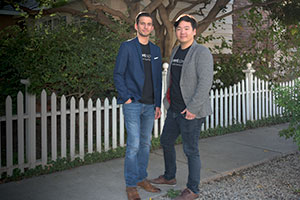 "You have to fill out multiple rental applications to submit them to multiple properties, pay application fees each time, and have your credit run multiple times," says Lucarelli. "It affects your credit score and costs you time and money. We wanted to come up with a solution to help renters," a population that Lucarelli says is at a disadvantage due to low supply and high competition, particularly in Los Angeles.
In their entrepreneurship course at the Graziadio School led by associate professor of entrepreneurship Larry Cox, Lucarelli and Sirisuphang dreamed of developing a universal rental application that renters could fill out once and submit to multiple properties with the click of a button.
Shortly before they graduated in 2016, the duo founded RentSpree, a nationwide online rental application and tenant verification platform that streamlines the lease application process. While initially focused on serving renters, Lucarelli and Sirisuphang shifted their focus to providing tools for real estate agents to screen tenants and collect applications and rental fees in an efficient manner.
The software service that Lucarelli and Sirisuphang engineered, with the help of a team of five developers in Thailand, now gives more than 5,000 real estate agents and property managers instant access to a potential tenant's rental application, their credit report, a full background check, and a national eviction report, whereas real estate agents traditionally work with largely manual processes and very few digital tools.
"While RentSpree is geared towards the property side, the tools help solve many renters' issues that we were trying to tackle initially," says Lucarelli. "We just took a different route to getting there."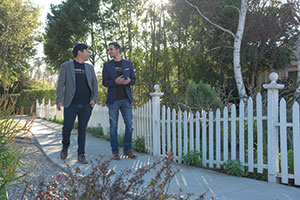 Because the RentSpree platform is utilized by property owners, managers, and agents, the team develops new tools while keeping the interests of all parties in mind. One particular issue sure to impact the housing industry in the near future involves the increasing number of complaints of disability discrimination processed by the California Department of Fair Employment and Housing each year. Sirisuphang says that landlords and property owners are not the only parties susceptible to housing violations and that managers and leasing agents must be careful to avoid unjust discrimination based on FHA regulations.
"Discrimination against renters with service or companion animals is not allowed," he explains. "We restrict the information provided on rental applications so that landlords and managers will not be presented with information related to these type of animals. This will prevent a landlord from inadvertently rejecting a rental applicant due to a service or companion animal."
Sirisuphang, who holds a degree in computer engineering from Chulalongkorn University in Thailand, explains that RentSpree's long-term plan is to become a new standard for online rental applications. Shortly after launching the product, the RentSpree team was contacted by the California Association of REALTORS®, who acknowledged the need for streamlining the rental process for agents and proposed a partnership opportunity, giving RentSpree—and its services—access to more than 180,000 real estate agents in California. Now RentSpree is the only universal rental application and screening tool offered to agents throughout the state.
Their vision also caught the attention of advisors and investors like John Paglia, executive director of the Dan and Coco Peate Center for Entrepreneurship and professor of finance at the Graziadio School; Mike Sims, former executive officer of corporate and external relations for the Graziadio School; Danielle Dutcher ('01), a seasoned real estate professional; and Mary Lou Graziadio.
"Renters often feel like they don't have a lot of leverage to put their best foot forward to secure the rental property that they want," says Lucarelli. "Being able to impact both sides of the industry allows us to address the issues and improve housing conditions for everyone involved."
---
According to a report released by the Department of Regional Planning this January, Los Angeles County is in dire need of at least 17,000 affordable housing units for many low-income communities. In L.A. County alone, nearly 60,000 people are without a home, a statistic that the Los Angeles Times recently called a "national disgrace" and "a grim reminder of man's ability to turn his back on his fellow man." At nonprofit housing agency Brilliant Corners, Derek Day (MPP '16) is part of the organization that prioritizes the chronically homeless population, those transitioning from homelessness and institutional settings, and homeless veterans—particularly those individuals with developmental disabilities and special needs.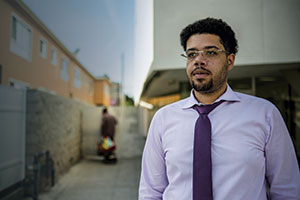 Day is a housing supervisor for the program that was founded on a housing-first ideology—essentially, that providing housing to homeless individuals would improve their access to treatment as well as their quality of life. Long hospital stays and medical treatments can be costly for the county, and without a permanent address, access to case management and care is difficult and oftentimes impossible.
"Providing these types of housing solutions not only keeps people off the streets, but it also saves taxpayers money. As long as Brilliant Corners operates, clients will have a subsidy. The subsidy changes their life," says Day of the more than 3,450 individuals the organization has housed in Los Angeles County. "Most of our residents cooperate with us and are willing to make adjustments to maintain their housing."
While Brilliant Corners offers services to help previously homeless residents transition to self-sufficiency, Day's department is focused on permanent solutions to keep retention rates high and works with homeless individuals to help navigate and overcome common barriers to renting such as eviction, criminal history, and immigration status.
In a year and a half, Day has acquired more than 150 residential units and partnered with both large housing corporations and smaller operations to expand Brilliant Corners' portfolio. Day's priority is locating housing that is both habitable and can accommodate a resident's specific needs, keeping in mind access to transportation, area safety, and proximity to shopping centers, grocery stores, and health services.
Day explains that the residents' greatest challenge is reintegration into society, especially when considering the implications of scattered-site housing—units dispersed throughout residential neighborhoods as opposed to housed within a designated community. "Our participants have to get used to having a place to call their own and dealing with people who come from different backgrounds, especially ones who have never been homeless, and changing some of their habits that may not be conducive to their success," he says.
Day's passion for the nonprofit sector was inspired by his father who graduated with a degree in social work. "That's where my heart is," he says. After completing an internship at the County of Los Angeles Department of Military and Veteran Affairs while at the School of Public Policy, Day encountered daily the complex issues impacting the homeless population. That's when he discovered the link between his passion and the impact he could make in the nonprofit world.
"In some ways, can be more efficient and inspire more innovation than some other organizations," says Day. "There is much more flexibility at Brilliant Corners, and we're able to develop new and trendsetting ideas, which is why we are the top program in L.A. County focusing on homelessness. We have the ability to change processes that some government agencies may not want to change. It's exciting to be part of an organization that creates new ways to tackle problems that may not have been solved yet. We're lucky to have great elected officials in the city that are 100 percent focused on ending homelessness in Los Angeles County."