A Place for All Voices
As audiences demand more diversity in the content they consume, Britta Wilson (MBA '92, EdD '16) is in Pixar's story room to make sure every voice is considered
There's a cultural evolution taking place in organizations across the globe, albeit gradually, and businesses are slowly starting to explore what Britta Wilson has believed for years—that talent goes to waste when diverse employees are sidelined and a perception of belonging does not exist. Advocating for the excluded has been a part of her DNA for as long as she can remember, and finally more and more companies are hiring experts like Wilson to unlock the potential of their workforce by pursuing inclusion and combating ingrained biases.
"The work of inclusion and embracing difference gets done by challenging belief systems that are often invisibly embedded into the organizational behavior and culture," she says. "We have to be willing to explore conversations we've not really had in the workplace before. Setting the tone at the top and creating safe spaces to examine beliefs so that these conversations can occur shows progress and a commitment to development. But this can't be a one- time effort or program. It's something that must be woven into the fabric of the organization."
Wilson is currently the first-ever vice president of inclusion strategies for Pixar Animation Studios, the film studio behind animated favorites such as Toy Story,Up, and, most recently,Coco. The role, which she took on in October 2016, was born out of the studio's desire to empower a wider variety of voices to shape the stories and to ensure that their films will resonate with the broadest audiences possible.
For example: Pixar's most recent release, Coco, celebrates Mexican culture and explores themes of family, community, and tradition. Since its October 2017 release in Mexico, the lm has been a huge hit across the globe. It is the highest-grossing film of all time in Mexico and has achieved unprecedented success in China.Coco was in production before Wilson arrived at Pixar, but its success speaks to a global appetite for compelling diverse stories.
"A great story will resonate across all geographies, allowing for opportunities to reshape narratives about a culture or a group of people," she says. "That is what's exciting about the impact we can have via our storytelling."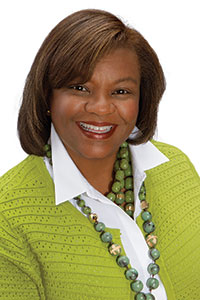 One pervasive industry narrative has been that films about African Americans "don't travel well." In other words, they don't perform well internationally. Wilson calls Disney's February release of Marvel's Black Panther "revolutionary" as the first superhero lm in the franchise to feature an almost-exclusively African American cast. The blockbuster crossed the $1 billion mark in its first month of release and is now the highest-grossing superhero origin story.
"Black Panther not only clearly smashes that narrative and subsequently disrupts belief systems, but it also takes a great step forward to recognize the importance of representation in our culture," she comments. "The opportunity for kids to see a superhero that looks like them, with the beauty and richness of the melanin in their skin along with a story that celebrates their culture—that's worth its weight in gold. I think those opportunities will start to happen more and more as the entertainment industry sees the power, impact, and financial results of embracing diversity."
Wilson's role at Pixar, she says, allows her to poke at default patterns of thinking during story and character development in order to consider broader choices. "If we're discussing a story point about a character assumed to be male, I will raise the question of gender, ethnicity, and race, as well as the physical or even the geographical setting of the story," she explains.
During his acceptance speech for the Academy Award® for Best Animated Feature, Lee Unkrich, the director of Coco, perfectly captured the studio's attempt to think more broadly and inclusively. "WithCoco, we tried to take a step forward toward a world where nonwhite children can grow up seeing characters in movies that look and talk and live like they do," he shared. "Representation matters. Marginalized people deserve to feel like they belong."
It is this thinking and commitment that drew Wilson to Pixar. "There is a plethora of generic diversity jobs out there, but there are only a small handful where I would have an opportunity to contribute to and impact stories that reach a billion eyeballs globally!"
Soon after joining Pixar, Wilson launched studio resource groups to build upon existing communities of affinity and expand and explore opportunities for intersectionality. Wilson has spearheaded and been active in these types of groups for as far back as she can remember and found them personally valuable and professionally impactful, especially in the early days of her career when she recalls feeling quite alone in the workplace.
"There were few faces that looked like mine and even fewer, it seemed, that were also new moms attempting to navigate work and motherhood, so I started a group for working moms of color," Wilson says of the group that was initially meant to offer a safe space to share experiences and resources. When their employer asked for their input on childcare benefits and how to achieve better work-life integration, the group experienced the impact these opportunities could have. "This is the power of inclusion," Wilson remarks. "It reinforces a sense of belonging and knowing that you, your voice, and your contributions matter."
Creating an environment of trust to understand the spectrum of experiences was Wilson's first goal at Pixar. Believing that the work of inclusion occurs at the cultural level, she kicked off a listening tour to make herself available to anyone and everyone who wanted to share.
"I wanted to demonstrate curiosity, understand the company culture through the lens of those who had been experiencing it, and learn how that culture manifested in the organizational beliefs and behavior. I also wanted to ascertain their thoughts on what was needed to achieve inclusion," she explains. Wilson was surprised when one-third of the studio took her up on her offer to chat. "What I learned from talking to a broad cross section of the studio helped inform our strategy."
Part of Wilson's long-term strategy is to expand upon the learning culture at Pixar. In early January this year she hosted a day of learning at the studio featuring workshops and ash-learning courses about topics not usually discussed in the workplace, such as the neuroscience of bias and inclusion, leading in difficult times, and the language of inclusion. The day was designed to launch a series of learnings, conversations, and experiences to informally extend employees' knowledge and satiate their curiosity.
"Requiring people to participate in potentially difficult conversations or even in topics of unfamiliarity seemed counter to our objectives. We went into it knowing we might be throwing a party no one would come to," Wilson laughs. The event yielded an almost 70 percent participation rate and prompted powerful conversations in which people felt emboldened to share their own experiences.
"People said it was the best day they'd ever had at Pixar; that it revalidated and inspired their trust in the power of diversity, generally and in storytelling," she says. "By all accounts it was a super-positive day, and we remain excited about the possibilities now that beliefs are being reformed and apertures are being opened. Pixar is committed to continuing to build on this foundation in its journey to inclusion."
Wilson paused her career to get her doctorate in organizational leadership from the Pepperdine Graduate School of Education and Psychology. Her thesis explored the perceptions and experiences of chief diversity officers in establishing and maintaining an inclusive work environment within large global organizations.
"It is critical for the Hollywood industry and every industry that we recognize voices that have not been in positions of power and haven't always been invited to the table," she says. "In order for us to be the best of ourselves, there has to be a place for all voices."