In Case of Emergency
After enduring a devastating local mass shooting and a destructive wildfire, the Pepperdine community works together to demonstrate its capacity for resilience
Every August residence life director Maura Page gathers the 125 members of her staff for a training session in how to respond to potential campus incidents such as natural disasters, active shooter events, and medical and mental health emergencies. Preparedness exercises include providing each Housing and Residence Life (HRL) student leader with a green Residential Emergency Response Team (RERT) vest to wear during an emergency and an RERT folder with emergency response protocols highlighting the recommended items to pack during an emergency relocation, like medications, passports, and legal documents.
Training protocols also dictate that in the event of an emergency, staff members should be prepared to notify their families that their roles require their presence on campus to support students through event-appropriate response and recovery processes. Because these emergency situations seldom occur, the operations planned during these training sessions remain unexecuted most academic years—until last fall, when Pepperdine was faced with a double tragedy.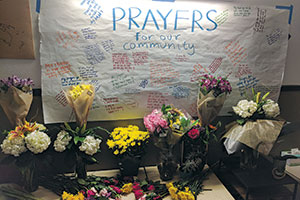 At approximately 11:20 PM on November 7, 2018, a gunman opened fire at Borderline Bar and Grill in Thousand Oaks, a Conejo Valley neighborhood located 20 miles north of Malibu and, statistically, among the safest cities in the nation. Twelve people were fatally shot during the massacre, including Alaina Housley, a first-year Seaver College student who had been enjoying the venue's "college country night" with 15 fellow Pepperdine students and others from nearby colleges. It would be the first time a Pepperdine student was murdered in an act of violence.
As news of the shooting spread through the campus community that evening, HRL staff were present with students who were awake and in need of emotional support.
Members of HRL and Counseling Center staff were stationed at the Howard A. White Center (HAWC), coordinating with the University's Emergency Operations Committee (EOC)—the decision-making body for the University during emergencies composed of administrators across the University—and members of the Department of Public Safety who were at the scene of the crime to provide on-site support.
Staff at the HAWC received the students who were arriving back to campus from Borderline, some of whom were transported by Pepperdine parents. News of Housley's condition was uncertain at this time, and many students experienced emotional turmoil as they awaited updates about her and other classmates who had been hospitalized for their injuries. HRL and Counseling Center staff remained in the hall lounge with residents of DeBell House— Housley's residence hall—overnight and well into the next morning as they awaited updates.
"It was touching how many people came alongside students in the residence halls and offered support that night and the following day," shares Page, referring to staff from the Counseling Center, the Office of the President, Student Activities, Student Affairs, the Office of the Chaplain, and the Department of Public Safety, who promptly conducted welfare checks on students whose parents had called the University to confirm that their children were safe. "Building and valuing relationships is something Pepperdine does well, which was most evident following the shooting at Borderline."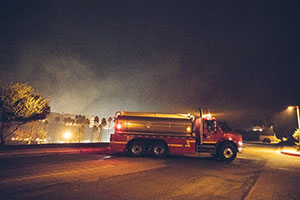 As the campus community gathered for a prayer service at noon the next day at Smothers Theatre—and in overflow spaces at Stauffer Chapel and in the Surfboard Room—Pepperdine officials received the news of Housley's death, and President Andrew K. Benton made the anguished announcement to the somber crowd. Shortly after, members of the EOC began getting word that two wildfires had broken out in Ventura County and were growing rapidly due to high winds. By early Friday morning, the flames had jumped the 101 freeway and were threatening the Malibu campus.
"Historically, we've seen that once a fire jumps the 101, there's not really another spot for the fire department to stop it before it hits the Pacific Ocean," says Jon Weber ('05, MBA '13), interim director of insurance and risk at Pepperdine. "At that point, we knew that it was likely only a matter of hours before it was at the doorstep of the Pepperdine campus."
Within a 90-minute time frame early Friday morning, residential students were relocated to Firestone Fieldhouse and Tyler Campus Center (TCC) as University officials initiated the campus' shelter-in-place protocol while the first plumes of smoke signaling the progress of the Woolsey Fire emerged beyond the hills surrounding campus. This protocol, determined decades prior and tested regularly in partnership with the Los Angeles County Fire Department, relocates campus occupants to safe locations on the premises and encourages them to remain there until authorities deem it safe to return to residences or offices.
"There was a lot of community building and relationship nurturing while sitting together, talking, and playing games," recalls School of Law student Christal Porter, assistant resident director of George Page Residential Complex.
For most of Friday, it appeared that the flames were going to blow west and avoid the Malibu campus altogether. As the Woolsey Fire began to take over parts of Malibu, University chaplain Sara Barton visited and prayed with students, faculty, staff, and their families during the day and slept in her office late at night. Determined to bring a sense of peace to the students, Barton walked through each space to minister to those who desired additional comfort.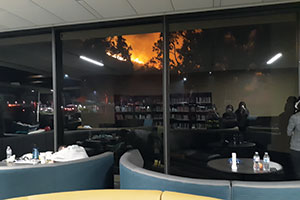 "Being together was comforting for a lot of people, and we intentionally created a low-stress, relaxing atmosphere for everyone," she shares, recalling one student who, while acknowledging that the fire was an unfortunate event, was thankful for the days he spent in fellowship with his friends, particularly as the recent shooting had weighed heavily on his mental health.
As Barton puts it, "Pepperdine is special because of its sense of community. We are a small enough group that we are all aware of each other. Because we continually develop meaningful friendships and share leadership with our students, we have the right staff and skills to lead them through such trying times."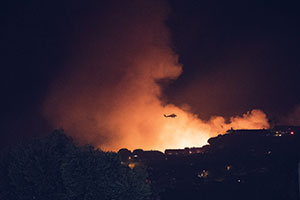 In the early afternoon, L.A. County Fire began air operations in Alumni Park, filling helicopters with water from the ponds to make drops on the fire in surrounding areas of Malibu. But by the evening, the EOC was notified by local law enforcement officials that another finger of the fire had developed and was headed straight toward Pepperdine.
As evening arrived, it soon became apparent that the TCC and Payson Library, with its multi-level space and soft seating options, would be more comfortable venues for the hundreds of students who remained on campus. What University officials didn't realize was that the library's oversized windows, providing panoramic views of Malibu's signature vistas, would give students a front-row seat to the flames that would batter the nearby hillside. In the late hours of Friday and into the early hours of Saturday morning, L.A. County Fire continued running helicopters out of Alumni Park, using water from the pond to make drops in surrounding areas.
As the fire subsided near the Malibu campus by daybreak Saturday, the University announced that it was safe to return to the residence halls. "Everyone was full of happiness, thankfulness, and appreciation that we overcame the situation together," Porter notes. "It was a realization that God is faithful in carrying us through a crisis."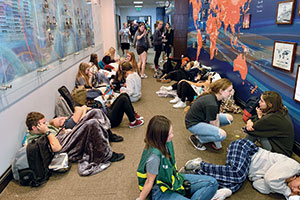 Although many students took advantage of this opportunity to reunite with friends and family off campus, especially as the University canceled all classes scheduled for the following week, Porter stayed behind to keep a watchful eye on the students who chose to stay. Deeply inspired by Psalm 30:5 and God's promise that "rejoicing comes in the morning," Porter collaborated with other faculty and staff during that quiet week on campus to organize the Woolsey Talent Show at the Sandbar, encouraging all who were on campus to participate in any way they desired.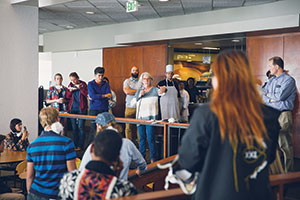 "I wanted us to celebrate by demonstrating the talents that God blessed us with. It was a great way to express gratitude for being protected during such an emotionally trying time," she explains, adding that other students as well as Paula Marrs, wife of Pepperdine provost Rick Marrs, also kept the children of residential faculty and staff entertained each day by planning family-friendly events, such as arts-and crafts sessions and superhero movie marathons.
Reflecting on that time, Porter describes it as "one of my best weeks at Pepperdine because there was so much community and companionship on campus. We all supported one another, nonstop, every single day."
---
Jeffrey Baker, associate clinical professor of law and director of clinical education at the School of Law, is among the faculty who resides at the Malibu campus with his family and was present throughout the 24-hour relocation.
Having developed extensive experience providing remote clinical services to victims of Hurricane Harvey in Texas and the Thomas Fire in Ventura County in 2017, Baker felt instinctively compelled to deliver these same services to those in local communities whose homes had been destroyed by the Woolsey Fire.
"When we heard helicopters battling the fires all around us, I felt vulnerable and helpless, but also full of respect for the firefighters that were helping us," expresses Baker. "People who have just lost their homes have to navigate a scavenger hunt of forms, regulations, insurance policies, and bureaucracies. We have assisted our neighbors by helping them move through all these complex decisions in a time of heavy stress."
With about 150 School of Law students, faculty, and staff remaining on campus once the fire subsided, Baker and his colleagues organized operations of the Disaster Relief Clinic, one of 11 clinics at the School of Law, designed to provide students with practical field experience prior to graduation.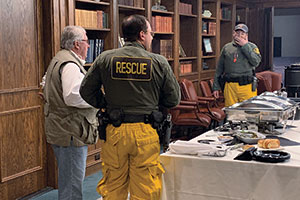 Baker's first initiative was to recruit a sufficient number of volunteer attorneys interested in providing limited scope services on a pro bono basis. By announcements made through Pepperdine alumni networks, the State Bar of California, social media, clinical colleagues, and pro bono websites, Baker successfully enlisted 20 volunteer lawyers in just a few days. Six weeks after the fire, the Disaster Relief Clinic had connected more than 100 clients with 80 volunteer attorneys.
Before the end of 2018, the Disaster Relief Clinic hosted a handful of large community gatherings at churches in Malibu and Oak Park, each session drawing between 20 and 80 attendees. During these group meetings, Baker and other volunteer attorneys would lead 60- to 120-minute presentations to help neighbors make sense of their insurance policies, understand Federal Emergency Management Agency guidelines, and explore temporary housing options. As a result of its positive social impact on the local community, the Disaster Relief Clinic became an official course at the School of Law during the spring semester, allowing students to provide direct legal services under faculty supervision.
"It is an expression of the Pepperdine mission to serve our community in different ways," says Baker. "Now our students are better equipped to help real people with real cases during real emergencies."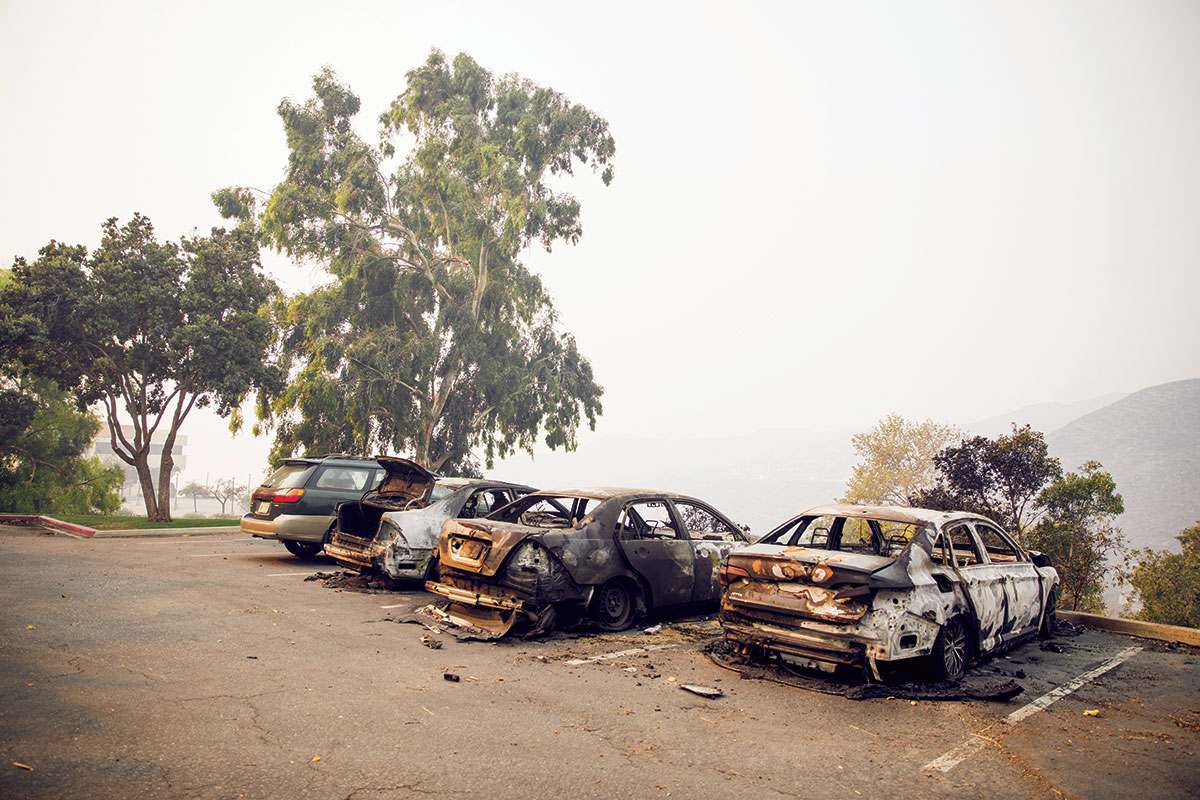 As chair of the Student Care Team, a cross-disciplinary team composed of representatives from Housing and Residence Life, the Counseling Center, and OneStop, La Shonda Coleman, associate dean of student affairs and Title IX coordinator for students, worked around the clock to coordinate campus response. This effort included corresponding with parents, ensuring students were being paired with the appropriate case management staff, and assisting students with finding help for preexisting conditions exacerbated by the shooting and fire, as well as the anxiety brought upon by the circumstances of both events.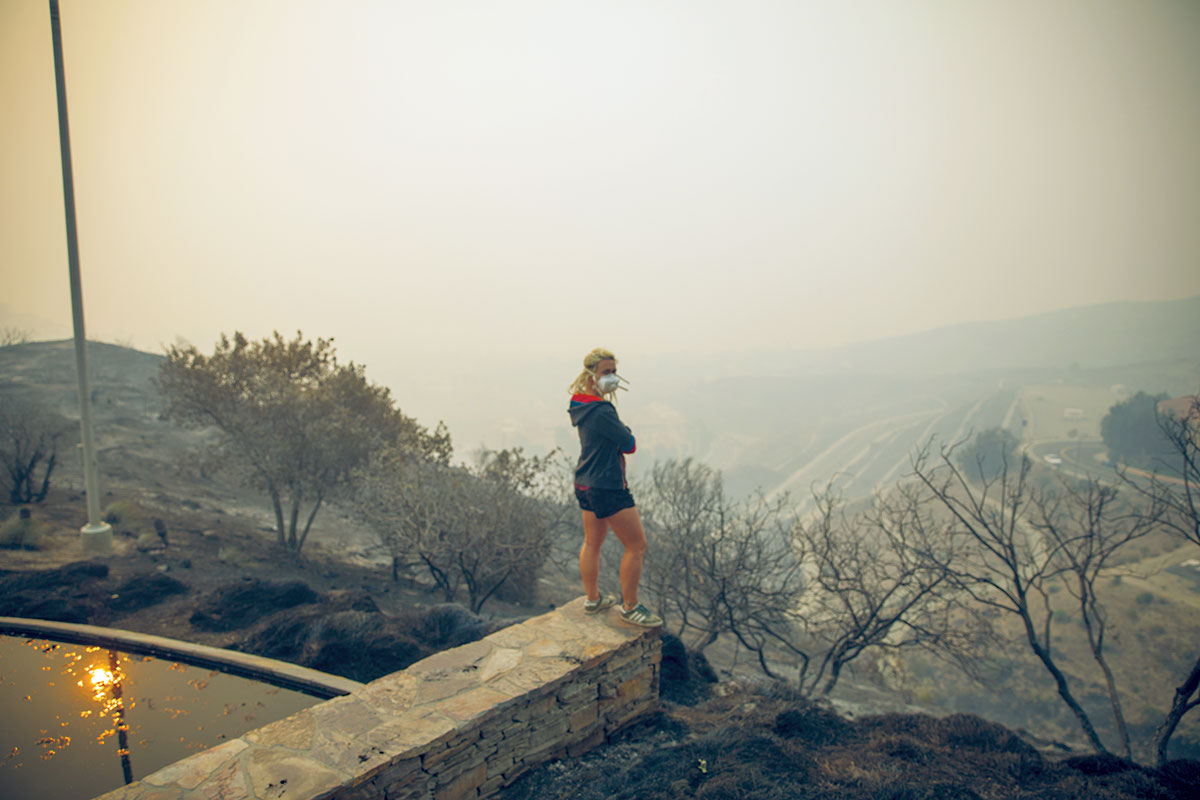 "I remember the fear and the prayers and the trust," Coleman says. "The students trusted that the University was going to take care of them and always had their safety in mind. We weren't Borderline with our students, and we were limited in what we could do during the fires, but I could see what God was able to do through us even during the most heartbreaking of moments. Our faith informed everything that was done and will continue to be done for our students."
Now several months later, members of the Student Care Team, including Connie Horton ('82), vice president for student affairs, continue to visit with the victims of the Borderline shooting and those who experienced the trauma of the Woolsey Fire, ensuring they are still receiving the care they need. While policies and practices continue to be evaluated and tested in preparation for future responses to crises, the team is engaged in discussions with students, faculty, and staff from around the University about resilience and how it is developed, promoted, and implemented on campus.
"When you think of resilience and what that looks like, it sometimes looks like a group of students singing in the cafeteria when there are flames behind them and smoke in the air. It looks like people sitting together and sharing a blanket," says Coleman.
As a result of the deep and broad impact of the care delivered during the double tragedy and the positive feedback collected in the months following, plans are in place to implement ongoing, sustainable, intensive resilience programming that incorporates a range of physical, emotional, spiritual, and social curricula to increase optimism and well- being throughout daily life and especially through life's inevitable challenges.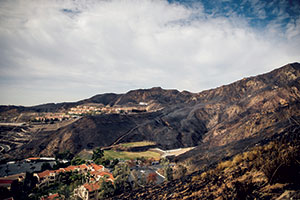 "We have been responding to immediate, major traumas, but these skills are also critical for everyday life," Horton explains. "How do you bounce back when your friend dies or you lose your home or your major is not working out or you had a devastating breakup or your parents divorce? Life is hard, and this cohort is struggling with these issues, but we are built to do hard things."
Ongoing efforts to promote resilience on campus also include discussions of a service component using research that demonstrates the positive impact of outward-focused activities and the mental health benefits of helping others.
"Many individuals dealing with depression become inwardly focused and sink deeper into a dark place," Horton explains. "Serving others in dire situations, whether that's homelessness or a traumatic event, can inspire hope and confidence in your own ability to recover from tragedy. Staying in motion is an important part of recovery."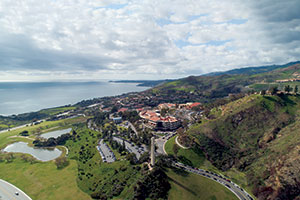 While trauma and tragedy have the power to test individuals' faith and mental health to a point of crisis, Horton identifies these moments as opportunities to reinforce the principles of resilience and engage every member of the community in the healing process.
"There is a spiritual growth that happens in times of crisis," she says. "Working through it often leads to growth and connections between different people who take comfort in that shared loss."
"There is still a sadness in the air at Pepperdine, and people are still grieving," Horton continues. "When life is at its most profound and challenging, who are we as a community? Who do you want to be as a person? How you respond to tragedy in an authentic but resilient way? We can demonstrate these principles in a classroom, but in this case, our students saw resilience in action. It was a true teachable moment.
---
Thanks to the generous photographic contributions of:
Cecily Breeding ('10, MA '18)
Tim Horton
Grant Dillion
Maura Page
Nate Ethell ('08, MBA '13)