Color Story
A young entrepreneur takes the reins of the family business and lends his own personal style to an iconic brand
It hits you as soon as you round the corner at Dayton Way and Rodeo Drive in Beverly Hills: that yellow facade—"Bijan Yellow" to be exact—a not-quite-neon but veritably vibrant hue that can only be described as "rich."
It might be the color-matched Bugatti Veyron 16.4 Grand Sport and Rolls-Royce Phantom permanently planted curbside that invoke an air of luxury synonymous with the decades-old brand. Or the Baccarat crystal chandelier festooned with 1,000 bottles of Bijan cologne glistening just beyond the glossy shop windows that invites the curious gaze of thousands of passersby on the legendary strip each day.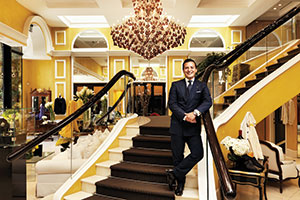 The enigmatic House of Bijan boutique embraces and celebrates its status as the most expensive store in the world, and the golden shade is a nod to the legacy of luxury cultivated by the brand's founder, Tehran-born Bijan Pakzad, known to most as Bijan, who opened the legendary store in 1976 after refining his distinctive personal style in fashion houses throughout Europe.
When Bijan passed away in 2011, his son, Nicolas Pakzad, a student at Seaver College at the time, stepped into the role he had been groomed for his entire life. As a retail mogul on the rise, the current Graziadio Business School student has big plans to plant his own flag in the luxury retail space, staying true to the brand's longtime clientele while catering to a new crop of devotees with an appetite for superior style.
"He was such an incredible personality," Pakzad remembers. "Not just as a father, but as a marketer, designer, and businessman. I'm representing something that's much bigger than myself. It's a beautiful legacy, and I have to always be sure to maintain that."
In 2018 Pakzad was named one of Forbes' 30 Under 30, a cohort of the brightest young stars dominating such arenas as art, style, retail, health, science, and social entrepreneurship. Recognized for his vision for revitalizing the Bijan brand and extending its reach, Pakzad has already expanded its retail footprint beyond its by-appointment-only Rodeo Drive flagship with plans to influence a new generation at the Waldorf Astoria Beverly Hills as well as at the newly opened boutique at the Wynn hotel in Las Vegas, famous for drawing high rollers from Latin America, Eastern Europe, the Middle East, and Asia.
"The Wynn store is a great way to introduce our brand to that new generation of consumers and that new Bijan client that may have never walked through the 16-and-a-half-foot mahogany door on Rodeo Drive, never made an appointment, or never thought 'What's going on in there?' but never walked in," he explains. "In the one year that store has been open, a majority of the clients have been first-time customers."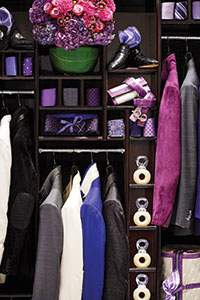 Pakzad points to the brand's latest partnership with Gennady Golovkin, the former middleweight world champion of boxing, as a strategy for maintaining relevance across demographics. It is also a nod to his father's legendary campaign featuring Michael Jordan in the 1980s—"two athletes at the top of their game who demonstrate the Bijan image," he says.
True to the decades-long commitment to a high-touch brand experience, Pakzad remains laser focused on maintaining Bijan's service-oriented culture for clientele accustomed to investing in a one-of-a-kind bespoke suit. Clients include US presidents, heads of state, dignitaries, celebrities, athletes, and others with an eye for timeless design. While many may balk at the staggering price tag, Pakzad is a firm believer in the value of owning something with value, referring to the 200-some suits he inherited from his father that have been retailored and taken up residence in his own closet.
"It's exciting to see how many young people are interested in fashion of quality because the conventional wisdom disagrees with that," he says. "People think millennials don't care about luxury or craftsmanship or history. That they want fast fashion and prefer shopping online. But from what I've seen, and of course my view is a bit biased, it's the contrary."
Pakzad says that being the new face of the brand and stepping into his father's shoes—and the giant Bijan billboard on Santa Monica Boulevard—have been both big learning experiences and big honors. "Assuming that position when he passed away was a big responsibility," he says. "We have a great group of people that has worked within our company for the last 30-some years, many of whom have been working for Bijan longer than I've been alive. Just learning from them and working with them have been my goals for the last almost eight years."
"We're not in the business of trends," Pakzad says. "Our cut is timeless and classic, and as long as we maintain that we'll remain a successful company for the next four decades just like we have been for the last four decades. We stay true to the philosophies that our brand was founded on: quality, exclusivity, attention to detail, exceptional customer service, and, of course, color."
---
Cover Photo: Ethan Pines
Photos: Bijan