Passport to Pepperdine
A decades-long passion for assisting international students inspires an administrator to develop new programming at Pepperdine to ease the transition to college life in the US
When Sheean Hanlan boarded her flight from the Bahamas to Los Angeles, she was nervously on her way to study at a university where the values instilled by her parents, both ministers, would continue to be nurtured. Determined to arrive at the first-year residence halls in style, she persuaded her parents to rent a sleek black BMW to mark the occasion. Fighting back tears as she hugged her parents goodbye, Hanlan reminded herself that Christmas was just a few short months away and that she would soon be reunited with her family in Nassau.
But adjusting to a new and markedly different life in America, especially while navigating the college experience in Southern California, presented Hanlan with challenges she had not anticipated. Her Bahamian accent, the result of a Caribbean dialect heavily influenced by British English and various African languages, presented communication barriers between her and her new friends at Pepperdine. For the first time, she found herself manipulating her speech patterns to be more comprehensible to her classmates and professors—a staggering realization for the English major.
Hanlan was also faced with the awareness of the financial inequality between her and her peers resulting from the limitations of government-based financial assistance programs for international students. When her father, upon whom she relied for financial support, became unemployed during her junior year, Hanlan took a leave of absence from school to return to the Bahamas to assist her father with his job search. While this enabled her father to re-enter the workforce—which he did, a few months later—it further distinguished her college experience from her peers'.
After Hanlan returned to Malibu and resumed her studies at Seaver College, she worked on developing close relationships with friends on campus who, she was happy to discover, celebrated her unique cultural qualities.
"When you share components of your culture, you're helping other students become more culturally competent," says Hanlan. "It's crucial to make friends beyond your ethnic group and engage in conversations that might initially feel uncomfortable because that's how we stay curious, develop our cultural understanding, and expand our worldviews."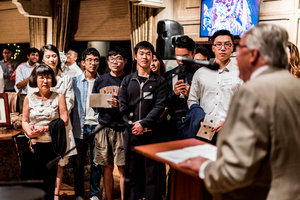 Brooke Cutler, director of the Pepperdine Office of International Student Services (OISS), agrees that culture is a significant component of a person's identity and must be nurtured, especially on a college campus where a sense of belonging is vital to thriving as a member of a community.
Having visited 85 countries, a handful of which she lived in while enrolled in college and graduate school, Cutler's travels abroad have significantly deepened her understanding of the nuances of the international student experience—a cause for which she has advocated since she was a student-worker at Michigan State University's Office for International Students and Scholars.
"While studying abroad, I learned that it's one thing to learn book Spanish at home and another thing to live with a Mexican family in Oaxaca and shop at the market alone," Cutler reveals. "That type of discrepancy is what many of our international students initially experience."
Upon joining OISS four years ago, Cutler consulted research provided in connection with NAFSA: Association of International Educators and discovered a wide gap between what college faculty and staff believe international students need and what that demographic actually needs. Cutler felt compelled to incorporate student voices in OISS initiatives, convinced that their feedback would be critical in restructuring the office's range of responsibilities in a way that best serves international students.
Having launched a similar initiative at her previous university, in fall 2015 Cutler established the International Student Advisory Council (ISAC)—a group of faculty, staff, and students from all five Pepperdine schools composed of five subcommittees under the advisement of OISS and dedicated to identifying and addressing the myriad unique challenges international students encounter when first arriving in the United States. By providing their peers with a centralized platform to discuss current trends impacting international students, ISAC members strive to work as a grassroots team to resolve potential problems before they arise.
"Colleagues across the University are now communicating with their counterparts at the different schools, which allows them to share and learn from each other," says Cutler. "It's comforting knowing that those in other departments have the same insights or concerns."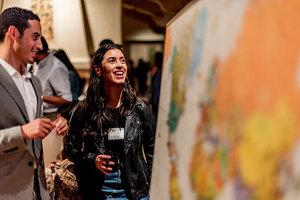 OISS launched the inaugural cohort of the International Student Ambassador Program (ISAP), a cadre of six international upper-division students at Seaver College selected to serve as the 2018–19 ambassadors of the various regions of the world that they represent: Europe; the Middle East and North Africa; Canada, Latin America, and the Caribbean; East Asia; South and Central Asia and Oceania; and sub- Saharan Africa.
Inaugurated in fall 2018, these six ambassadors—including Hanlan—support international undergraduate and graduate students as they transition from the familiar comforts of their home countries to the distinctive academic, social, spiritual, and cultural dynamics of the American collegiate lifestyle. As the ambassadors connect with their Pepperdine peers, they maintain regular contact with OISS to express the conditions and concerns of the greater international student body. This information is discussed at ISAC subcommittee meetings, providing faculty and staff with valuable assessments to which they may not have otherwise been privy. With the ultimate goal of connecting international students at Pepperdine, the ambassadors are committed to hosting one grand-scale event each semester where graduate and undergraduate international students can meet and mingle.
During ISAP's first semester in these leadership roles, the fall social event took place at Brock House where president Andrew K. Benton hosted "Your Home, My Home," the University's first-ever reception for international students. Through social media promotion and word-of- mouth invitations, the celebration garnered the attendance of approximately 200 students across all five Pepperdine schools, many of whom met for the first time. Throughout the evening, OISS staff and ambassadors introduced themselves and their services to the crowd and encouraged international students to reach out to them for support when needed.
"Since becoming an ambassador, I have felt more comfortable on campus myself," admits Heet Ghodasara, a native of India who had difficulty adjusting from the constant companionship of a collectivist culture to one where people prioritize alone time. "As a junior, I see what the first-year international students are going through," she said. "It's critical for me to prevent them from experiencing the same struggles I faced when I was new."
In collaboration with the Office of the Chaplain, the ambassadors have also established inclusive opportunities that explore students' spiritual foundations. For Reem Al Zubair, an Omani-British ambassador who lived in both Muscat and London prior to studying in Malibu, examining spiritual ideologies among other students on campus has proven educational and crucial to her spiritual development.
"Exposure to other religious perspectives has been tremendously eye-opening," says Al Zubair, who identifies as Muslim. "Pepperdine lines up with my beliefs more than people realize. Here we are encouraged to actively explore our faith and to open ourselves up to the philosophy of why we believe what we believe."
OISS will soon implement a mentorship program wherein ambassadors will coach other international students on how to reach out to those who may feel too shy or intimidated to ask for assistance. Cutler also reveals that the 2019 group of student ambassadors hopes to include a seventh member who will meet a critical need by representing "third-culture kids"—students with American citizenship or permanent residency who have spent a significant part of their lives outside of the US.
Describing OISS as a lighthouse for international students who need guidance, Cutler is delighted that "there is at least one office that recognizes their unique needs and will lead them in the right direction. We want all of our international students to feel welcome here, and finding fellowship with one another is critical to feeling at home."