Screen Saver
A GSEP alumna provides parents with the resources and the support to live a screenless lifestyle
Screen-free Parenting
Yes, you read that right.
Sixty-six percent of parents worry that their children spend too much time on screens, but many parents also say that limiting screen time is a constant battle. Alumna Meghan Owenz (MA '08), psychologist, professor, and mother of two, has made it her mission to support parents who want to offer their kids a screen-free (or relatively screen-free) home life.
The reasons for limiting screen time, or even eliminating it altogether for young kids, are compelling. According to Owenz, one of the negative associations with too much screen time is loss of sleep. Other negative associations include an increased risk of obesity and decreased attention. One study found that each hour per day that a child under age 3 spent in front of the television correlated with a 10 percent greater risk of an attention problem by the time they went to school.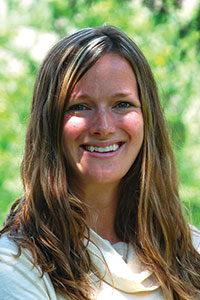 Excessive screen time also has the potential to increase relational aggression in young children. Owenz relates a study about an episode of the animated children's TV series Clifford the Big Red Dog in which Clifford and his friends mistreat a three-legged pooch. While the lesson at the show's conclusion encourages viewers to be kind to everyone, researchers found that young viewers missed the message entirely. Owenz explains that story lines meant to inspire feelings of empathy in children and enhance their social skills can move too quickly on the screen, and without personal reinforcement of the message by a parent, the sentiment has a low chance of resonating with young viewers.
Owenz offers an antidote to the screen. She and her husband, Adam, created screenfreeparenting.com, a website devoted to tech-wise parenting information and activities for kids and families that not only keep children occupied, but encourage their emotional, intellectual, physical, and artistic growth. They call their program the SPOIL system.
"As humans," says Owenz, "we can't stay motivated by something that's negative, but we can stay motivated by an approach goal—the type of parent we want to be, the type of kid we want our kid to be."
The acronym SPOIL serves as a simple method for parents to recall the most fruitful activities for children. S stands for social—time with parents and peers to practice relating and relationship building, and P stands for play—particularly free, fantasy play that involves sustained attention and problem solving, executive functioning skills crucial to success in school. O is for outdoors, where time spent provides not just vitamin D and exercise, but also keeps children's biological clocks in good order so they sleep better. I stands for independence. Asking children to be responsible for one or more chores around the house helps fulfill their desire for accomplishment and meaning. The L in SPOIL stands for literacy. "Whereas screens have been found to delay language acquisition," says Owenz, "books enhance it. They offer new ideas and new vocabulary, and because they're slower paced than a television show, children are likely to discuss them with whoever is reading to them." And unlike the moral of a Clifford episode, the lesson at the end of a children's book has a chance to resonate with a child.
Owenz argues that when parents hand their child an iPad to keep them occupied, they're telling the child that they have no confidence in their ability to entertain themselves. "I'm going to be busy for 15 minutes. I believe that you can find something valuable to do with your time; the playroom is that way," is a much more empowering message, she says. And parents who follow her advice and make the move to limit screen time are invariably amazed at how quickly their children adapt. Parents relate that they begin to draw and engage in all sorts of creative, self-directed play. SPOIL is not just a helpful acronym. It sums up the premise of Owenz' parenting approach. "Parents often feel like they're spoiling their kids by giving them a lot of screen time, and I say that we should spoil our kids by giving them time with the activities associated with positive child development."
---
Photo: Adam Owenz