Visionary in Chief
From his formative years in Kansas to his final days in Malibu, President Andrew K. Benton's legacy of leadership casts a long shadow on the future of Pepperdine
The year was 1999. Pepperdine's Board of Regents had obtained all the necessary permits to commence the development of the Drescher Graduate Campus, a 50-acre plot of land located behind the School of Law and the future home of the graduate schools of business, education, psychology, and public policy on the Malibu campus. The construction of the five-building, $80 million project was thought impossible by some of the finest attorneys and planners in Los Angeles, but Pepperdine was one step closer to becoming a global hub for executive education.
An air of uncertainty swirled through the Brock House board meeting held to work through the lingering challenges and doubts surrounding the project. If we build it, will they come? Can we afford it? How can we possibly borrow that much money and make it work for Pepperdine?
The University was considering walking away from the promise of a dynamic graduate campus that would indelibly transform the footprint of the Malibu campus and further position Pepperdine as an institution that offered students in all stages of life the opportunity to pursue superior higher education. Andrew K. Benton, then the executive vice president of the University, sat back, listening, squirming in his seat. It was an era, he remembers, when staff wouldn't dare interrupt— and especially not challenge—deliberations among more senior leadership.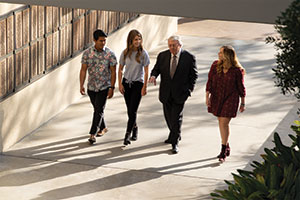 Unable to contain his conviction, Benton finally raised his hand. Thomas G. Bost, then chair of the board, recognized him and asked, "Would you like to speak?"
"I think I must," Benton replied. He proceeded to illustrate to the room, in his quiet, confident candor, the urgency of the campus development and the possibility of losing the opportunity entirely due to legal challenges that were gathering force. "We must build now."
Under Benton's careful and intentional direction, the Drescher Graduate Campus was built six months ahead of schedule and $10 million under budget. Shortly thereafter, when sitting president David Davenport announced that he would be stepping down from the presidency after nearly 15 years of service, Benton was presented with the opportunity to compete for the position, an offer that he believes was influenced by his sincerity and earnestness in the room that day.
In his 2000 inaugural speech entitled "Promises to Keep," Benton boldly yet humbly uttered the phrase, "I'm seldom the smartest person in the room, but I'm often the most committed person in the room, and I think that makes a difference."
"I was not timid that day," he recalls, of his tenacious position at Brock House nearly two decades ago. "I might have been timid about other things, but I was not at all timid about the future of Pepperdine."
---
During the presidential search that concluded with Benton's appointment, Board of Regents chair Edwin L. Biggers, then a member of the board and of its executive committee, received a phone call from a Los Angeles Times reporter asking what Pepperdine was looking for in an incoming president. He responded, "We are looking for a servant leader. Someone who follows the nature of Christ. A Christian example."
Today, after more than three decades of friendship and countless opportunities to witness his faith in action, Biggers can still count on Benton's steady disposition. "Andy is a humble man and a man of highest integrity," he says. "He can be trusted no matter what."
Benton discovered his penchant for empathetic, persuasive, and faith-driven leadership at a young age and became aware of the power of his influence early in life. An understated young man from Lawrence, Kansas, Benton's extracurricular pursuits in high school veered toward track athlete or wrestler. But an interaction with two friends persuaded him to take on a more public role: running for a position on the executive committee of the student senate. "'What, really? Me? I'm not that kind of guy,'" Benton remembers thinking. It was the first time he would be required to develop a campaign that communicated his values to a large group.
Benton came of age during the fraught Vietnam War era, a time that included the signing of the Civil Rights Act of 1964 and the assassination of Robert Kennedy. He recalls being required at a fairly young age to exercise maturity and to think beyond his small Kansas town.
"It was so good for me," he remembers. "I'm so sorry for the strife and the pain of that era, but it was very shaping for me."
The next race that he won was vice president of the student senate, and then when the president stepped down in the middle of Benton's junior year, he was promoted to the top spot. He went on to win the title again in his senior year, and the pattern continued in college. He transferred from the University of Kansas to a small college in Oklahoma and ran for student senate president twice and—to his surprise—won both times.
"I found, rather humorously, that I liked the view from the front of the pack rather than from the back of the pack," says Benton. "I liked being a leader. I liked being trusted and keeping my promises and doing interesting things."
Perhaps it was those early experiences that influenced Benton's identity as the "students' president" and his passion for integrating young people in transformational experiences that consciously and observably instill values of academic excellence and a commitment to faith.
"His raison d'etre of higher education is the opportunity for individuals to reach potentials they didn't know they had and to be prepared for the exceptionally complicated world in which they are both living in now and will live in for the rest of their lifetimes," says David Warren, president of the National Association of Independent Colleges and Universities (NAICU), an organization that Benton has served in various capacities, most recently as chair. "He is incredibly passionate about this institution playing a critical and pivotal role for the students."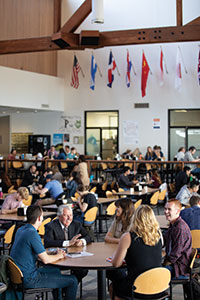 In his three years of service to NAICU, Benton was instrumental in organizing 1,000 colleges to face a proposal by the president of the United States to reduce federal student aid by $150 billion. The hearing was part of an ongoing effort to strengthen federal higher education policies to better serve students, families, and taxpayers. While he was essential in the appropriations tax piece, Benton also testified before Congress on the issue of student data use for purposes beyond the intent of law, during which he presented a compelling testimony in front of the House Subcommittee on Higher Education and Workforce Development. The spirited exchange was highlighted by Benton's position that the security of student data is a matter of fundamental privacy and considered to be a covenant between the college and the student. He went on to say that at Pepperdine, this was essential to the relationship to learning and teaching and to the education enterprise.
"He, on a national level, made a case for all private higher education on this really critical issue," Warren says. "As we read in the paper every day, there's a larger and more determined reach into the private data of individuals, and he really planted a flag in this issue for higher education."
Throughout his tenure Benton has consistently demonstrated his commitment to the best interests of the University, including leading Pepperdine to prominence among the nation's top universities and overseeing key initiatives such as the construction of the Drescher Graduate Campus and identifying headquarters for the Graziadio Business School and Graduate School of Education and Psychology at a new campus in West Los Angeles. Progress during his tenure is also marked by the opening of new international campuses in Lausanne, Shanghai, and Washington, DC; the completion of facilities like the Center for Communication and Business and Keck Science Center; the dedication of Mullin Town Square and the Runnels Sports and Recreation Village; and the endowment and creation of more than a dozen centers and institutes across the institution.
During his years serving in executive leadership roles at Pepperdine, including assistant vice president, vice president for administration, vice president for university affairs, and executive vice president, he played a central part in managing the University's relations with the State of California, County of Los Angeles, and the City of Malibu, and he was an essential voice in the approval of Pepperdine's Long Range Development Plan for the Malibu campus.
"My greatest hope," Benton says, "is that the next president focuses on tripling our endowment. We've also experienced a great awakening academically, and we need more resources and research opportunities for faculty and students. And I hope that alumni continue to come home to Pepperdine and own the future of their alma mater."
"Ultimately," he concludes, "I'd like for Pepperdine to be very well regarded as a place of ethics and values and that we tell the truth, but we tell the truth and we follow up on our promises. Heart and conviction are two words that I hope show up somewhere in my epilogue."
---
As Davenport prepared to transition out of his presidential role at Pepperdine in 1999, Currents Magazine, a student-run publication led by the Communication Division at Seaver College, published a Q&A with Benton to introduce readers to the "man behind the suit." One question asked, "How long do you see yourself serving as president?"
"A president serves as long as his style of leadership makes sense," he responded. "I'd like for this to be my last job—the capstone of my career. I hope and pray that I'll have the wisdom to know when that period of time is up."
While Benton is the longest-serving president in Pepperdine's 82-year history, just surpassing Hugh Tiner's 18-year term, his decision to step down from the presidency was not guided by the satisfaction of superseding that milestone.
"What guided me was doing the right thing in the right way at the right time," he explains, referencing the advice outlined in a congratulatory letter written to him by former president Bill Banowsky on the occasion of his appointment as the seventh president of Pepperdine.
To Benton, doing the right thing meant giving Pepperdine a chance for new leadership and handing off a healthy, thriving university to the incoming president. The right way meant allowing the University community the opportunity to prepare for and process the prospect of a Benton-less Pepperdine, and to allay any fears of change. And while he remains committed to departing at the right time, Benton is ever- committed to serving Pepperdine far beyond the conclusion of his tenure.
He jokes that if Pepperdine has no use for him after he shuts the stately double doors at Brock House and heads down President's Drive for the last time, he will likely pursue the path of a Bible school teacher. Or aim for the title of world-class grandfather. Or perhaps build a killer treehouse.
As he prepares to pass the baton to President-elect Jim Gash (JD '93), who was announced as the eighth president of Pepperdine this February, Benton remains dutifully and inexhaustibly convicted about continuing to care for the people and the place that have defined the arc of his life.
"I still have ideas, I still have energy, I still have some unfinished business," he says. "Maybe I'll continue to work on that. Wherever I am, whatever I am doing, I will always look for ways to advance Pepperdine."
---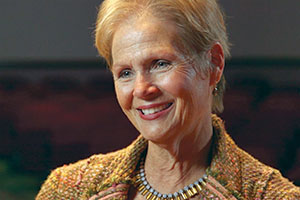 Hail to the Chief of Staff
Prior to assuming the position of vice president and chief of staff for President Benton 12 years ago, Marnie Duke Mitze studied music performance at the undergraduate and graduate levels and found professional success in the field of arts administration. She worked in Cambridge, Massachusetts, at a community music school and later came to California and settled into roles at the University of Redlands and University of California, Riverside. While at a conference in New York in the early 1990s, she met Tom Gabbard, the director of the Center for the Arts at Pepperdine at the time, who mentioned he was leaving his post to pursue a new opportunity. He recommended that she throw her hat in the ring.
President Benton, then executive vice president, was on the hiring committee and offered Mitze the job. The Center for the Arts had just opened when she signed on in 1992, and she was tasked with creating the ARTSReach program, which provides free performances to more than 5,000 schoolchildren each year.
When her son entered his teenage years, Mitze shared with Benton her interest in changing careers while reinforcing her passion for the University. A few months later, following a departmental reorganization, he called her into his office to discuss the option of hiring her as chief of staff. Together they created the position and wrote the job description for the role—the first of its kind at Pepperdine. Here, Mitze shares the principles that have guided her leadership journey and offers an inside look at President Benton's impact on Pepperdine.
On her early days in the president's office
The scariest moments were the first two or three years in my role because I had very little experience in certain areas, like working with the Board of Regents and with governance. After all these years, my work with the board is probably my greatest contribution and the capacity through which I am most resourceful. It takes time, and it's complex, but I've developed a solid relationship with the board, and I look forward to helping the next president establish those relationships during the transition.
On her inspiration
I was blessed to have grown up with a professional working mother back in the '60s. My mother was a powerhouse. People sometimes say I intimidate them. I say you should have met my mother. I had always aspired to a professional career and started working fresh out of college. I've worked every day since. I love working, and I like working with people. It's nice to see the things you've worked on be successful.
On President Benton's dedication to faculty
One of the things that people really don't know about Andy's legacy is what he has done for the academy and to push for additional resources into faculty hiring. He insists on interviewing and hiring faculty who are experts in their fields and pursuing their own academic research while also being mission driven and caring for our students.
On women in leadership
Developing women in leadership is an important aspect of my role as chief of staff. We also need to have more men directly involved in mentoring women. We need to remember everybody has a unique style and, to a certain degree, behavior. But I try not to give a lot of attention to whether you're male or female. I just need to know what you can do.
On President Benton's leadership qualities
Two things make Andy's leadership distinctive. The first is his brilliant mind. He is a Renaissance man and extraordinarily well read with a broad list of interests. Second is his humble nature. He is ultimately a servant leader. Bottom line: he's a really good guy. And I speak volumes when I say that. How many people in CEO leadership positions can you say that about?
On what makes President Benton successful
Andy has an exceptional ability to listen to different voices and to give each of them equal time but to ultimately be able to make the call. At a university, the number of differing voices is extraordinary. You are working with a very complex group of constituents and everybody wants him to choose a side, but he listens to all sides.
On the presidential transition
Andy has never been in a stronger position as president, and the University has never been in a stronger position as an institution. It's the perfect time to step aside and let someone else take the reins. In show business, you have to exit the stage leaving people wanting more. Andy's ready for change. I couldn't be more excited about the future of Pepperdine.
---
Photos: Mallory Holcomb ('15)