46 Years of Field Notes
Biology professor Stephen D. Davis will retire this spring after 46 years of service to the Seaver College Natural Science Division, leaving a legacy of mentorship and ministry
PLANT BIOLOGIST STEVE DAVIS joined the Pepperdine University faculty in 1974 at its newly opened Malibu campus, eager to begin research on the lush vegetation of the Santa Monica Mountains.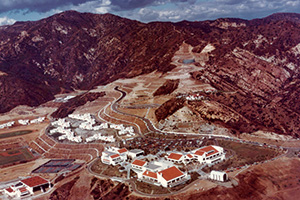 ---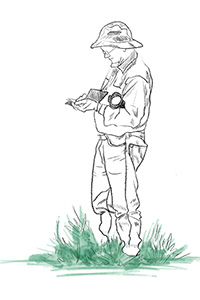 As Pepperdine's foremost EXPERT ON THE VEGETATION OF THE SANTA MONICA MOUNTAINS, especially how plants recover after fires, Davis' work has been critical to understanding the resilience of the local landscape. He has studied 10 Malibu wildfires throughout his Pepperdine career.
---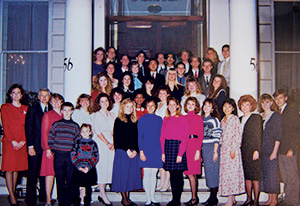 In 1988 Seaver College sent its SECOND COHORT to Pepperdine's London house at 56 Princes Gate. Here, Davis and his family pose with fellow faculty to kick off the opening of the academic year, marking the first of Davis' many appointments abroad.
---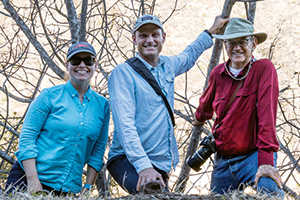 FROM MENTOR TO FRIEND: Davis and alumni Anna Jacobsen ('03) and her husband, Brandon Pratt ('98), reunite for a hike through Pepperdine's research sites in 2016. The trio have collaborated on research publications since their first undergraduate labs led by Davis.
---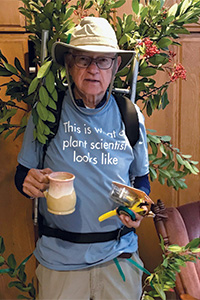 BEYOND THE BIOME: plant science has expanded from Davis' career into his personal lifestyle through cycling excursions with his wife, Janet, and even in his Halloween costumes.
---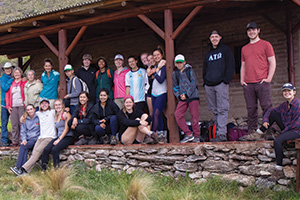 DAVIS' SCHOLARSHIP has aided Pepperdine in acquiring funding from nearly 20 grants that have supported transformative programs such as the Summer Undergraduate Research in Biology and First-year Students as Scholars programs.
---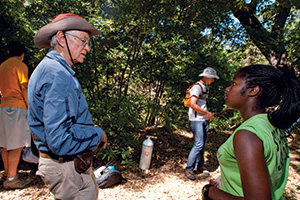 Davis' teaching philosophy ALWAYS PUTS STUDENTS FIRST. In 2008 Baylor University honored Davis with the Robert Foster Cherry Award for Great Teaching, the only national teaching award presented by a college or university to an individual for exceptional teaching.
---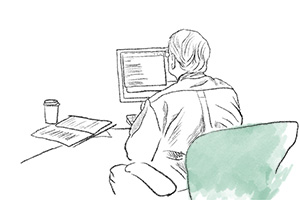 DAVIS HAS AUTHORED AND COAUTHORED more than 70 publications, nearly 30 of them listing undergraduates as the first author, demonstrating Davis' commitment to championing students' research pursuits.
---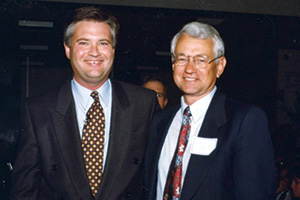 Davis celebrated 20 YEARS OF SERVICE to Pepperdine at the 1994 Faculty and Staff Appreciation dinner, posing here with then president David Davenport. Just three years later, Davis is named Distinguished Professor of Biology at Seaver College.
---