Ace of Waves
A Seaver College student-athlete converts time off the court to success on the court
The summer leading up to her senior year, Ashley Lahey, captain of the Pepperdine women's tennis team, took a break from the baseline. Instead of practicing, she traveled to Nairobi, Kenya, to study the biological and physiological effects of malnutrition on the human body with Pepperdine's Kenya Summer Program. The sports medicine major, along with 18 other students, worked with Made in the Streets, an organization that offers education and housing for children living in the slums of Nairobi.
When she returned to Malibu in the fall, energized and with a renewed outlook on her priorities, Lahey made Pepperdine history as the first Wave to win the Oracle/ITA Masters tournament when she beat a University of California, Los Angeles rival in straight sets. She ended her shortened season—an unexpected result of the coronavirus pandemic—with a 26-1 singles record and as the top-ranked Division I women's singles player in the nation. A summer away from the sport she had spent a lifetime mastering proved to be the winning move for her throughout the fall season.
"For the first time in a really long time, I didn't feel any pressure," she shares. "But after taking some time off, I was excited to come back and play. I was so happy to get back on the court and prepare to compete."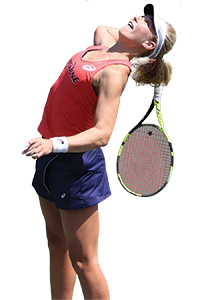 While Lahey's hard work has paid off in her final year as a Pepperdine athlete, the road to success has not been free of challenges. Having started college at just 16, she had to learn how to balance an intense academic workload and busy training schedule, all while learning how to transition from playing as an individual to playing as part of a team. Per Nilsson, coach of the women's tennis team, recalls Lahey being "a wild horse when she came in. She goes 120 miles per hour in everything she does, so we had to find time for her to breathe and relax."
Though Lahey has been playing tennis since before she was born—her mom often played while pregnant with the Seaver star—she has had to remain disciplined and determined in order to be successful both on and off the court. Her desire to succeed in all that she does has helped her maintain a 3.95 GPA, and she feels blessed to be able to both study a subject and play a sport that she loves. She attributes her love of learning and of the game to her success in both areas.
"I really enjoy science and the challenges it brings," Lahey says. "I love thinking about the world in a molecular, scientific way, and it's fun to get good at something that's so difficult."
Coaching Lahey, the first-ever Pepperdine women's tennis player to reach the NCAA Singles Championship, has been fun for Nilsson and his team. "She's awesome to have on court because she can do so many things," he shares. "She's strong and wants to do really well."
While Lahey's senior year was interrupted, she will return to Pepperdine next year as a result of the NCAA's extension of eligibility for spring sport student-athletes. With an ultimate goal of competing in the pro tour, she is excited to be able to continue training alongside her beloved teammates and coaching staff.
Looking forward to both a professional tennis career and one in the medical field, Lahey plans to "take breaks and reset as needed and focus on the people around me—letting them inspire me and taking the time to inspire them."