The Ascending Story
From Malibu to Masindi, Jim Gash (JD '93) shares an extraordinary path to the presidency as he becomes the faithful narrator of Pepperdine's next chapter
With an uncanny ability to recall the most important details about nearly everyone he encounters, a desire to connect deeply with others, and a genuine enthusiasm for inspiring those around him to take action, President Jim Gash can navigate the peaks and valleys of a narrative in ways you can never see coming.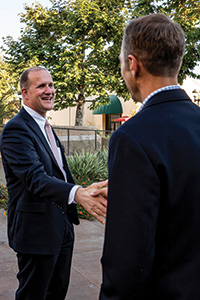 When speaking publicly, Gash often abandons the podium to engage more fully with the audience, not just with his voice but with his entire body, to make it clear to everyone in the room that telling a story is the most important thing he could be doing at that moment. But Gash's approach isn't self-serving. His purpose in his life and leadership is to develop meaningful relationships with those around him and to encourage them to live up to their full potential with the power of a personal tale.
In 2017 Deloitte's Center for Higher Education Excellence and Georgia Tech's Center for 21st Century Universities examined the ways in which changing dynamics in higher education are driving the demand for a new set of skills and capabilities in university leadership.
The study asked, "As institutions look to hire the next generation of leaders, what skill sets should they be looking for?" A corresponding survey of 165 presidents of four-year colleges and universities rated the top three traits needed most when presidents assume office. Numbers one and three—strategist and fundraiser, respectively—were fairly obvious. The second-most important attribute noted by the respondents was, perhaps, a little less so: communicator and storyteller.
Prior to stepping into his role as the eighth president and CEO of Pepperdine this past August, Gash embarked on a multi-city listening tour to get to know Pepperdine community members around the country. He also met privately with the University's senior leadership, academic deans, and various faculty members to find out who they were on a profoundly personal level.
"I want to know where people derive meaning, what they value, where they spend their time, and what gets them up in the morning," he says. "That time one- on-one, in a place of comfort for those individuals, was indispensable."
Gash's other goal was to introduce people to what matters most to him: his relationship with Jesus, his devotion to his family, and his deeply rooted and enduring love for Pepperdine.
"All three of those are combined into one job," he muses, on what he refers to as "the best job in the world." "I get to do the things that matter to me all day, every day, with people that I love and trust."
Gash has woven the thread of storytelling and relationship building into the fabric of his leadership philosophy, one that, he explains, is relational, collaborative, deliberative, and decisive.
"Everything starts with relationships," he says, and in his world, it has been those relationships that have enabled him to have a far- and wide-reaching impact on the students in his torts classes at the Caruso School of Law, on the faculty, staff, and students that he led for years as dean of students and associate dean for strategic planning and external relations at the law school, and on the imprisoned juveniles of Uganda for whom he advocated tirelessly throughout his global justice work.
While Gash inherited a leadership team that had been assembled very carefully and strategically under President Emeritus Andrew K. Benton, he was eager to build upon the relationships with those who were ready to continue to work together in the next era of leadership at Pepperdine.
And so, in the first days of his presidency, Gash made his way down the hallway of the fourth floor of the Thornton Administrative Center, asking his colleagues—fellow University Church of Christ congregants, former committee members, and parents of his children's friends, among other associates he'd connected with in his 20 years at Pepperdine: "I know you. I trust you. Will you run with us?"
---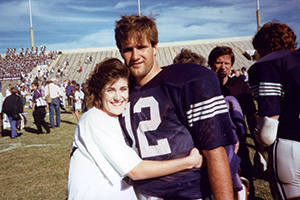 Gash's Pepperdine story began in the early 1960s, when his parents, John and Rosella, were students at the University's original Los Angeles campus. His father met his mother during his first week at Pepperdine, and immediately fell in love. She then brought him to church where he discovered and deepened his relationship with the Lord that first semester. One of Gash's earliest memories is attending a Waves basketball game in San Francisco to watch Pepperdine take on the University of San Francisco. They went every year when the team was in town.
An alumnus of Abilene Christian University (ACU), Gash says, "It was always a goal to go to Pepperdine someday, but I was a football player and there was no football at Pepperdine at that time."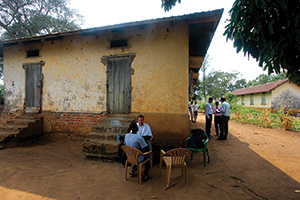 Gash was a quarterback for the ACU Wildcats and graduated summa cum laude. In his senior year Gash's business law professor announced that the dean of the Pepperdine law school—at the time Ron Phillips—was coming to campus. Inspired by his parents' Pepperdine story, the finance major thought that perhaps law school could be the right path for him. Pepperdine was the only law school Gash applied to. In 1990, along with his new wife, Joline ('92), who he had met at church in their hometown of Santa Rosa, California, when they were both in their teens, he moved to Malibu to start the next chapter of his Pepperdine story.
Gash graduated Pepperdine Law in 1993 with a juris doctor, summa cum laude, and finished first in his class while also serving as the editor in chief of the Pepperdine Law Review. Over the course of his three years at the law school, Gash aspired to return to Pepperdine after graduating to join the law school faculty. In 1999, after six years of practicing law, the opportunity to return as an associate professor presented itself.
"It was the only law school I applied to for my JD and the only law school I applied to to teach," says Gash. "This is where we knew we were supposed to be."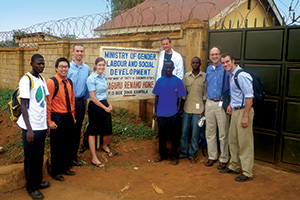 In 2005 he became the school's associate dean for student life, and in 2017 the associate dean for strategic planning and external relations. His first trip to Africa was in 2010, three years after a campus visit by Bob Goff, the founder of Love Does, a nonprofit human rights organization operating in Uganda, India, Iraq, Nepal, Afghanistan, and Somalia. Goff's talk inspired a group of students eager to pursue a calling to support a country in need to travel to Masindi, Uganda. After the students' third trip, they returned with ideas about developing a more robust justice system for Ugandan citizens—and to convince their dean of students to join them on their next journey.
"That turned into a relationship with a couple of members of the Ugandan judiciary, which turned into a relationship with the country, which turned into us moving there, which turned into a lifelong investment in a country that we love and has loved my family," says Gash.
Gash's practice area of torts began to expand into international human rights law as he explored more deeply the developing world and the challenges certain countries faced in their public justice systems. With zero experience in criminal law in the United States—Gash had never been inside of a criminal court until he went to Africa—he got to know Ugandan law and the Ugandan judicial system and started working with them on the reformation of their criminal justice system.
Gash's story—told in both his book, Divine Collision, and the filmREMAND—of his impact on the Ugandan judiciary is well documented. Most notably, his dedication to the case of a teenage boy named Henry wrongfully convicted of murdering a local herdsman inspired justice reform for an entire country. Gash became the first American lawyer ever to plead a case in a Ugandan court, and two years after the appeal, Henry was exonerated when the court found that Henry had not had a fair hearing.
Closer to home, Gash applies that same warmth and care and concern for Pepperdine and the varied student body that makes up the tapestry of the campus community.
"My hope is not that our diverse student population will congregate in packs of people who look like them and whose experiences are like theirs, but instead that there can be this belonging, this unity in diversity," says Gash. "Student Affairs, the president's office, and the student leaders on campus have frank discussions about how to create opportunities for students to interact with each other in groups that are unfamiliar to them. Part of creating opportunities for students to interact with each other in groups that are unfamiliar to them is storytelling."
---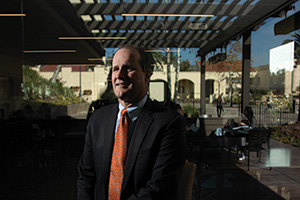 The university of the future—and the requirements of a university president that influences the leaders of the future—is markedly different from the kind Gash came up in. It has changed significantly as recently as the last few months, as college and university leaders have grappled with the unprecedented and vast impact of the coronavirus pandemic on the health of the school, both at the institutional level as well as in the bonds of community.
In the last decade, the president as fiscal agent has slowly expanded to the need for multidimensional leaders who can navigate a rapidly changing social environment and the increasing demands of a diverse constituency. A public health crisis is the perfect storm in which a leader's resolve and ability to pivot, sometimes moment to moment, is tested beyond expectation.
The results of a recent survey of higher education leaders' priorities amid pandemic planning revealed new insights. In an article in Diverse Education, the principal researcher of the survey explained that college and university presidents must focus on collaboration, equity, inclusion, and a renewed effort at transparency. He says this "time of shaking out" is likely to "induce innovation" in the face of declining revenue, situational personnel decision making, and changes in tuition and room and board fees.
According to Gash, innovation is already showing up at Pepperdine, both in process and substance as the entire University works together to discover new and creative ways to deliver a superior academic experience to students. Seaver College leadership has already developed a new online summer session that uses Pepperdine's newly expanded online instruction capability, and admission teams around the University have also imagined new ways to connect with prospective students through virtual tours and enhanced and personalized communications. As far as strategic leadership, other institutions of higher education are seeking the guidance of the University's crisis response procedures as the Pepperdine Emergency Operations Committee demonstrates daily its effectiveness and agility in gathering facts and data and centralizing decision-making.
"Our communication philosophy is to enhance trust by informing our community at every turn—transparently and vulnerably— what we have decided, why we made our decision, and how we reached our decision," Gash explains.
While Gash's priorities—"providing students with a world-class academic, faith- infused transformational education within a supportive and encouraging community"— have not shifted as a result of dynamic university response requirements, his focus has adjusted during what will likely become the season that defines his presidency.
"Right now the health and safety of our Pepperdine community and their families is our highest priority and the factor most heavily weighted in our decision-making," he explains. "My second focal point is to communicate in ways that hold our community together and keep our people encouraged and resourced to respond to the needs of our students."
Among Gash's primary concerns is bringing students back to campus. As the University investigates and determines the pandemic's long-term impacts on the student, faculty, and staff experience, Pepperdine, and institutions of higher education worldwide, will remain focused on the massive role distance learning and telecommuting will play in its future.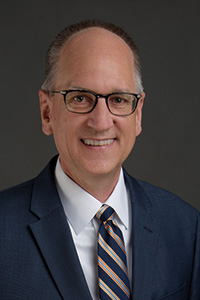 To Tim Perrin, senior vice president for strategic implementation and a key member of the University's leadership team, strategic planning is a dynamic process that is in constant response to changing circumstances and to new opportunities and challenges. While he admits this particular moment and the developments connected to COVID-19 have introduced uncertainty and complexity as the University makes plans for the fall semester and as University leadership evaluates potential financial impacts on the University, the strategic planning process continues forward unabated.
"We are looking to a longer term horizon—2030 and beyond—and we are focused on enduring aspects of Pepperdine, including our mission to strengthen students for lives of purpose, service, and leadership," Perrin says. "We have a great opportunity to rethink how we've always done things and to develop new and innovative ways to stay connected, to build community, and to engage in learning."
In April, Perrin, who worked for two decades at Pepperdine, serving as associate provost of the University from 2003 to 2007 and the law school's inaugural vice dean from 2007 to 2012, met with more than 100 Seaver College faculty for a two-hour strategic planning session via Zoom, one of many such sessions with members of the Pepperdine community, to consider together their shared hopes and dreams for the future. "As we think strategically about the University's future, we are carefully listening and watching," he continues, "while at the same time moving forward with confidence and courage."
---
In Gash's inauguration speech at Alumni Park on September 25, 2019, the newly minted president and CEO explained that the collective dreams for the next chapter of Pepperdine are so grand and unbounded, they are like a mighty mountain beckoning us to climb. "The higher we climb, the farther we can see," he said. Indeed, Gash's inauguration theme, Ascend Together, is apparent now, more than ever, as the Pepperdine community begins to adjust to a new reality, the future of which is still unknown.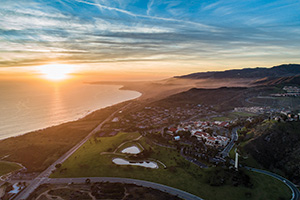 "Everything about what we are going through right now is about 'together,'" he says. "From my vantage point, it is clear to me that 'together' is the dominant theme in this chapter, as Pepperdine's DNA is on full display. Our people are rising to the occasion at every turn and in every way. This 'ascent' is a shining light illuminating the path forward toward Pepperdine's brightest days. That is who we are and that is who we aspire to be as we ascend together."
And in the midst of both triumph and tragedy, Gash remains committed to the power of storytelling and the connections it enables.
"Pepperdine is a compelling overarching story composed of innumerable individual stories of challenges and trials where the character traits of faith and resilience and trust and honor that emerge to overcome those trials are often the most inspiring parts of the story," he says. "I'm convinced that we will look back on this current episode and see and recognize these same animating character traits, as well. My job, as I see it, is to remind us of the best of who we are, and to live that out each day with courage and conviction. If we are able to do that, I believe we will have a powerful story to tell the world."