Caruso's Law
After building a real estate empire, law alumnus Rick Caruso establishes a new legacy with the largest alumni gift in Pepperdine history
Walking into the office of real estate developer Rick Caruso (JD '83) at the new Palisades Village in Pacific Palisades, California, you could be forgiven for thinking you had stumbled into the wrong place. Known as The Coach House, Caruso's personal office at the mixed-use retail and residential village spans more than an eye-popping 8,000 square feet, coming to life as a gallery where an unmistakable love of architecture and design meets a spectacular display of nearly a dozen classic cars. For Caruso, however, these colorful automotive masterpieces are more than just machines; they're works of art, each with a story that drives his sense of purpose.
"I want to encourage everybody to be an observer, to watch the world and see it around them, and then disrupt it," explains the Pepperdine Law alumnus, who made Pepperdine history last fall with the largest-ever alumni gift to the University. "These cars are part of that inspiration."
Caruso, in fact, has a long history with automobiles. His late father, Hank, a well- known Los Angeles businessman and the son of Italian immigrants, founded the successful rental car company Dollar Rent A Car in 1965. It was at Hank's behest that Caruso made the decision to go to law school instead of business school following his graduation from the University of Southern California in 1980.
"I did not want to go and did not intend to go," shares Caruso, laughing as he recalls the decisive conversation with his father that landed him at Pepperdine. "But I was a very compliant son for the most part, and I'm clearly glad I went. It was the best decision that was ever forced upon me."
Following Caruso's graduation from Pepperdine Law in 1983, he began his career as a real estate lawyer working in corporate finance. By 1987 he had made the transition to pursue his lifelong passion for development and at just 28 years old founded Caruso Affiliated Holdings, now known simply as Caruso.
The company's building boom in the 1990s changed the retail game in Southern California, defined by an innovative approach toward guests with signature properties including Village at Moorpark, The Promenade at Westlake, and The Commons at Calabasas. Today the company boasts 16 properties in its portfolio, with its new development 333 La Cienega—located where Caruso opened his first retail project in 1992—currently underway.
---

Community by Caruso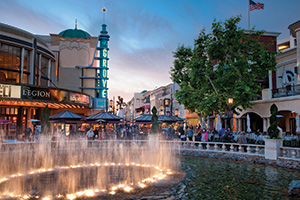 If you take a stroll through The Grove, Caruso's flagship property in the bustling Fairfax neighborhood of Los Angeles, Caruso's intention for his properties is clear: build for the people. Previously cited by the Wall Street Journal as a retail mastermind, among countless other accolades, Caruso's award-winning development approach is and has always been deeply respectful of the ethos imbued within the sacred idea of community.
"Part of it is just the way I'm made," says Caruso. "It's in my DNA that I love people. I love a sense of community."
That authentic emotional connection to community is the cornerstone of the Caruso company's experiential ideology, informing the design language and sensory experience for each of its properties. From dancing fountains and cobblestone streets to the allure of green lawns that invite guests to stay for a while—or all day—these are spaces meant to delight the senses, inspire wonder, and, most importantly, bring people together.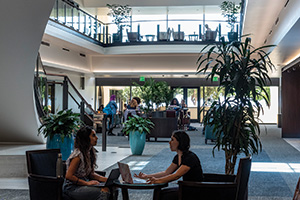 "I'm a big believer in spaces where communities can come together and do the most fundamental thing that we do as human beings, which is to really share each other. That's one of the most beautiful things about being alive."
That need for a sense of place, Caruso says, is especially important in higher education. "You create spaces for people to come together, to share, to contemplate, to think, to laugh, to mourn. Universities in general probably don't have enough of that space."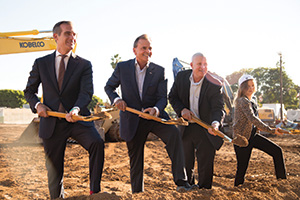 Caruso was an early champion and donor for Pepperdine's plans to renovate the law school's most central meeting and academic spaces, plans offered, in part, to create more welcoming areas that would counter a decidedly lackluster sense of community inside the building. The 16-month renovation, formally unveiled in September 2018, provided a wholesale revitalization to the school's largest lecture hall, the Henry J. and Gloria Caruso Auditorium (named for his parents), as well as the highly trafficked Lon V. Smith Atrium, which has become a fully envisioned hub of interaction, activity, and student use.
"Today's society is much lonelier, but the fundamental need or desire for community hasn't changed," Caruso says. "It's innately connected to being human, so there's a greater need to come together in these great spaces and just congregate."
---

Native Son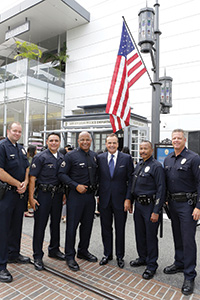 Beyond his real estate ventures, Caruso has devoted his life to building community in Los Angeles. Growing up in the Hollywood Hills and Beverly Hills, he is driven not only by his deep ties to the city and its inhabitants, but also by his convictions to serve.
"Everybody has an obligation to give back and serve their community, period," Caruso insists with an air of determination.
At age 25 Caruso became the youngest commissioner in the city's history when Mayor Tom Bradley appointed him commissioner for the L.A. Department of Water and Power. He was selected as president of the L.A. Police Commission following his appointment in 2001 where he led the effort to overhaul the police department and recruited William Bratton as police chief. Their work together helped reduce the city's crime rate to its lowest level in more than a half century.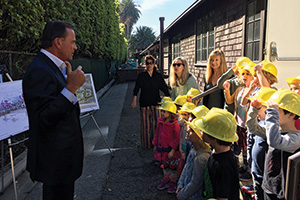 "Everybody needs to have a higher purpose in their lives and in business," Caruso declares. "For me, it's been community engagement and donating my time in areas in which I really believed I could make a fundamental difference in people's lives."
And if his civic contributions to the city demonstrate his resolve, Caruso's philanthropy to its people reveals his heart. Through the Caruso Family Foundation, which he and his wife, Tina, founded in 1991, they've shown a deep commitment to numerous causes in the Southland, but especially access to educational opportunities for at-risk children living at or below poverty levels.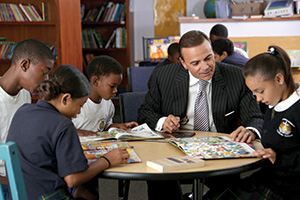 Included among the nonprofits that Caruso supports are Operation Progress LA, which guides at-risk students in Watts to and through college, and Para Los Niños, which provides healthcare, education, and social services to Angeleno youth living in poverty. He is also actively involved with other academic institutions, including St. Lawrence of Brindisi School, St. Mary's Academy, and Verbum Dei High School— schools focused on the historically underserved areas of Los Angeles.
These children, Caruso says, inspire his entire philanthropic philosophy. "Help those who are most in need, who for some reason society has forgotten about," he implores. "I see how these young kids have immense barriers in their lives, surrounded by some of the most tragic, heartbreaking conditions in the world, and somehow so many get past them. I look up to them with so much admiration and respect."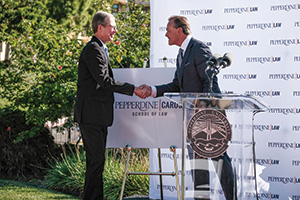 When it comes to "showing up in the streets," the oft-quoted mantra to which Pepperdine tethers its service mission, Caruso wants to help the University play a larger role in Los Angeles too. "Like any great institution of higher learning, Pepperdine needs to be an active participant in solving the problems of the community," he remarks.
"Pepperdine is not a Malibu university. It's a Los Angeles-based university. There is opportunity for Pepperdine to fully ingrain itself, open up its doors, invite city leaders to let it help solve problems, and donate its intellect back to the city. It only makes the University stronger."
---

Give until it Hurts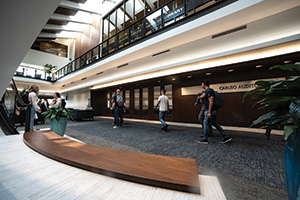 A longtime member of the law school's Board of Advisors, Caruso and his family have supported the school through numerous programs in the last three decades, including the Rick J. Caruso
Research Fellows Program, the Caruso Family Chair in Law, and the Caruso Family Loan Forgiveness Fund. Caruso's son, Alex (JD '17), now an active alumnus, also co-created the Student Emergency Fund, an initiative that provides financial support to law students in need of critical aid during difficult times in their lives.
Further embracing social causes about which Caruso is most passionate, the school's namesake gift, a transformative $50 million commitment, will drive a series of academic excellence initiatives homing in on two big ideas: expanding access to exceptional, historically underserved student populations—a hallmark of the Caruso family's philanthropy—and reducing barriers of entry into public service, including those around student debt.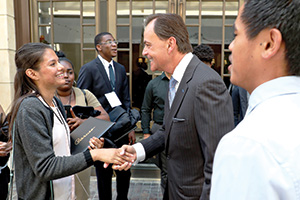 "Everybody has to go to where their heart goes," says Caruso. "The old saying to give until it hurts is an important thing. Make it meaningful."
This gift will support each of those goals with a new Caruso scholars program and the expansion of the school's loan forgiveness program. The gift will also provide funding to key initiatives around bar passage and job placement programs for students, as well as faculty research, collaboration, and hiring.
"In order for philanthropy to be successful, it needs to be targeted," Caruso continues. "The more dollars you can target and direct, the more effective they will be. The opportunity at Pepperdine has allowed Tina and me to give a significant amount to one focused cause to make real change."
Early data already suggests this to be true. Shannon Phillips, dean of admissions and student services for the law school, reports that application volume for next fall's class surged up 33 percent, compared to a national increase of just 1.8 percent and a decline of 0.3 percent in the Far West region. Just 13 law schools in the nation, Pepperdine among them, experienced an increase of 30 percent or more in applications this cycle.
"The data speaks loudly and clearly that interest in Pepperdine Caruso Law is continuously increasing," says Phillips. "The gift has directed a well-deserved spotlight on the mission of the University."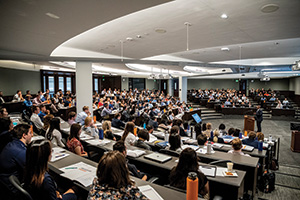 Now Caruso is just getting started as he embarks upon a new quest to help the law school raise an additional $50 million in endowment funds over the next decade. The key to raising that money: share Pepperdine's story.
"We not only shape students in a way that no other law school does," he says, "but we also bring in those that would not otherwise have the opportunity to come to law school. That's a cool thing."
The milestone gift comes on an auspicious occasion for the law school, which celebrated its 50th anniversary in 2019. As for Caruso, he's already looking to the decades ahead, deeply committed to the Caruso School of Law's rise as one of the best law schools in the US as it maintains its unbending sense of integrity and humanity that he prizes.
"Pepperdine has an incredible spirit," he says, "but it also has an alignment with my values. Faith is important. Hard work is important. Doing the right thing is important. Every bit of it is basic, but it's also shining light in a very complicated world."