Character Training
Pepperdine's commitment to esports prepares students for success in the growing billion-dollar gaming industry
Grace Ramsey's post- millennial generation upbringing in Arlington, Texas, didn't include much digital entertainment. Ramsey and her siblings were encouraged to focus on their academic pursuits and, like many school-age children, were discouraged from spending too much time playing video games. But when Ramsey was given her own laptop to research topics for her high school's speech and debate team, she discovered the thrill of playing online games and settled upon a career goal years before it seemed possible.
"The moment I started playing my first game, I knew I had to incorporate online gaming into my future career," Ramsey recalls, explaining that at age 15, she was considered a latecomer to the field. "Many people imagine gaming as a bunch of sweaty guys sitting on a couch wasting time, but it can lead to a respectable living," she says.
Now a Seaver College junior studying communication, philosophy, and religion, Ramsey manages Pepperdine's esports team, part of the University's innovative esports program launched in fall 2019.
---
Pepperdine isn't the only academic institution taking notice of the billion- dollar industry's potential. Last year the National Association of Collegiate Esports reported the existence of more than 130 active collegiate varsity esports teams in the United States, which has launched a new generation of students with professional pursuits related to the emerging field. By 2022 the projected global esports market revenue will reach $1.79 billion, just in time for a new generation of scholar-gamers to enter the workforce.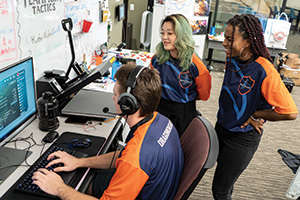 At Pepperdine Robb Bolton, the program's staff advisor and newly appointed director of campus recreation and esports, treats esports like a traditional athletics team, incorporating a lifestyle component into the program that requires team members to engage in physical exercise together, maintain their grades, explore spiritual life opportunities, and nurture healthy face-to-face social relationships.
"We teach them important life skills so they don't just play video games for 10 hours straight, chug energy drinks, eat junk food, and avoid sleep, because that's not a sustainable path once they leave college and get full-time jobs," explains Bolton, adding that referring to these students as "scholar-gamers" rather than merely "gamers" enhances the public perception of video game participants and boosts students' confidence. "While they are deeply interested in video games, they are also invested scholars," he explains.
In fact, Bolton has discussed with University leadership the idea of incorporating esports into an academic track, starting with a first-year seminar course on gaming and technology, followed by the eventual launch of certificate, minor, undergraduate, and graduate degree programs.
According to Landon Phillips ('08, MA '15), codirector and lead instructional designer of the Genesis Lab at Payson Library, when it comes to esports as a legitimate career path, marketers, announcers, merchandisers, arena construction consultants, coaches, and public relations agents are continually joining the industry.
As he puts it, "For us to ignore an entire industry because it's based around what many mistakenly relegate to fond memories of their childhood would be a disservice to our students."
Phillips, who has expressed a desire to teach the inaugural first-year seminar, explains that, "The classroom experience would prepare students interested in all aspects of the industry—not just on the player side. Reviewing case studies, studying marketing and corporate trends, and hearing from guest speakers will educate them on the unique needs of the industry."
Intentionally designed to foster students' communication, marketing, business, and critical-thinking skills, the esports program launched last spring when a group of students posted flyers around the Malibu campus to gauge student interest in joining a potential gaming club or esports team. The campaign generated more than 100 responses.
In June Pepperdine Career Services provided Bolton and a handful of Seaver College students with tickets to attend the E3 Expo gaming convention in Los Angeles. Without an official team to represent the University, participants strategically networked with faculty, staff, and students from other universities, gathering ideas about how to start their own sponsored esports program. Pepperdine made such a positive impression that students were invited to participate in the Los Angeles Valiant Road to Kit Kat Rivalry Weekend collegiate tournament in August.
Just a few weeks later, Pepperdine hired two coaches who held tryouts in the Genesis Lab to choose the top 12 students to join the esports team, with six members playing League of Legends and six playingOverwatch, two of whom are women, including the team captain—a fact that Bolton says will encourage future female Waves to try out for and join the esports team.
Last December, in its first-ever appearance, the Pepperdine esports team won the West Coast Conference Preseason Invitational Championship after competing undefeated in the playoffs.
---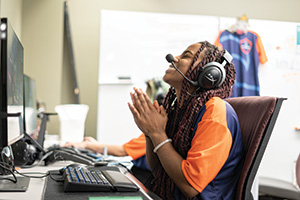 "Leading an esports group has been a longtime dream of mine, and to be honest, I thought it would always remain just a dream," says Yelim Lee, captain of Pepperdine's Overwatch team who fell in love with gaming 14 years ago when she picked up her older brother's controller one day. "Even outsiders know esports is a male-dominated field, and I receive a lot of positive feedback for earning a seat where you would normally expect to see a man."
Lee's favorite game has also brought about a professional esports team known as the Overwatch League, comprising nearly 200 players and 40 million viewers worldwide. Lee recalls the fateful day when she met a prominent female player in the league—Kim Se-yeon, known professionally as Geguri— who she admires as a role model. "I hope my position on the team will inspire my fellow female gamers to follow in my path and realize they are also more than capable of succeeding like Geguri," she says.
Danecia "Dani" Kearney, a sports medicine major who plays on the Overwatch team, hopes that her position on the team encourages other women to be more open about their gaming hobbies. "It's another world to get lost in, and I love it," says the Seaver College senior, who watched her brothers and father play video games so frequently that she eventually felt the call to join the fun. For female students interested in club or team membership, she notes that "Pepperdine esports would love to see more representation of women moving forward."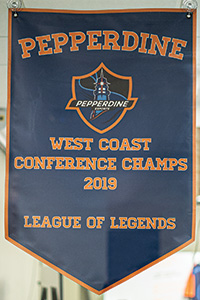 Despite their impressive skill levels, women who engage in online games are often viciously harassed over voice communications by male players—a practice referred to as "toxicity." To combat this verbal abuse, many female players mute their voice communications during games.
"There isn't a lot of representation of girls and women in competitive play, so they feel like they don't belong in this space," says Ramsey, who further explains that most women who choose to make their online presence known often take on support characters who assist the heroes, rather than playing the heroes. "While it's okay that women tend to take on supporting roles," she says, "the problem is that when compared with lead roles, supportive roles are markedly undervalued in our society."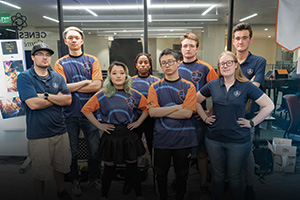 As is typical in the digital space, the repercussions of bullying fellow gamers can last a lifetime, especially because online players are required to log in under a unique username, referred to as a gamer tag. Perpetrators may be banned from playing certain games, a punishment that will become permanently attached to their gamer tag. Years later, if they apply for jobs at technology or gaming corporations, employers who request their gamer tags for background checks will notice the bans, which in most cases leads to automatic disqualification of employment.
"Our program has recognized these negative aspects of gaming and is very intentionally addressing them to minimize and help solve harmful attitudes and behaviors in the gaming world," says Bolton. "We hope to become leaders in inclusion and promote a gaming environment free of toxicity."
In order to promote a sense of community for gamers on campus, and to include the hundreds of students who want to participate in esports but are not on the University's official team, Bolton spearheaded the launch of the Pepperdine Gaming Club, which consists of noncompetitive players as well as spectators.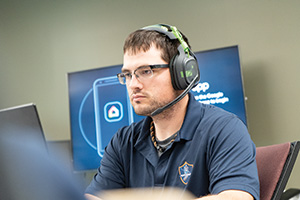 Junior Roy Ng, vice president of the Pepperdine Gaming Club and assistant maker at the Genesis Lab, strives to make weekly club meetings a safe and comfortable environment for all members. While incorporating themes into each of the sessions, like Jeopardy! andMario Kart, the business administration major's top priority is for members to gain the confidence to speak more freely and publicly with others about their passion for gaming. He also encourages anyone interested in trying out the gaming computers, consoles, and 3D printers to visit the Genesis Lab without hesitation.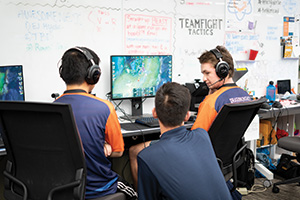 "I want the club to become a community where no one will judge you if you want to geek out," says Ng, who has noticed that some members are intimidated by the notion that perhaps their skills aren't advanced enough to play, leaving them worried that their participation will ruin the games for others. "I bring games that are fun and noncompetitive so that people will feel comfortable playing together, discussing game logistics, and seeking gaming-related careers through networking."
For both current members and those interested in joining, Ng shares an encouraging message: "Our goal is not to turn you into the best player in the world. It is to show you that Pepperdine offers new, cutting- edge, and stress-free opportunities to take advantage of in the gaming space. Everyone is welcome here!