Full Circle
A Seaver College senior embarks on a train journey around India in the name of social entrepreneurship
"Yaaron chalo!"
The room erupts into singing and dancing as the first geet, a traditional Indian song reserved for heralding memorable occasions, ceremoniously launches the 12th annual Jagriti Yatra, an 8,000-kilometer train journey around India. The trip is held each year to inspire and empower young people in the region to build the country through enterprise. On the first of 15 days together, Heet Ghodasara, a Seaver College senior, and Amy Johnson ('90, MA '13), Seaver College executive in residence, stand elbow to elbow with 500 other Jagriti Yatra participants and sing along to the welcome tune that translates, appropriately, as "Let's go, friends!
In his welcome message to the group, Shashank Mani, chair of Jagriti Yatra, announces, "We are seeking leaders who have the audacity to return to communities in need," and Ghodasara realizes that she is exactly where she is meant to be.
Jagriti Yatra is one of the largest train journeys in the world, both in distance and number of participants. Each year, program participants—known as yatris—travel to 12 destinations across the country to meet social and corporate entrepreneurs, gain unique perspectives into their operations and outcomes, and attain the knowledge and inspiration to build their own initiatives or join established social enterprises. More than 50 percent of yatris remain involved in service and nation development after their experience comes to an end.
Today the impact of Jagriti Yatra has spread beyond the borders of India, as its model has been replicated in the United States, the United Kingdom, and Europe. Beyond the quantifiable impacts, yatris leave with powerful relationships and resources—in essence increased social capital—that were so difficult to find before.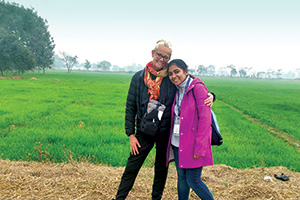 Growing up in Rajkot, an urban city in the western Indian state of Gujarat, Ghodasara cannot remember a time when she was not involved in service to others. Encouraged by India's collectivist culture to put community needs before individual needs, she participated for six years in Interact, a Rotary International service club focused on educating young people in world cultures and international understanding, and was also involved in the development of social responsibility efforts at her father's business rooted in the development of his rural village of Khorasa.
"Despite the patriarchal culture grew up in, through his words and actions, my father empowered my sister and me from a young age to pursue every passion—from being involved in the family businesses to going to university abroad," Ghodasara reflects.
When she began her first-year seminar course at Pepperdine led by Juanie Walker ('84, MA '87), Seaver College associate professor of communication, she did not expect it would become the guiding influence of her academic focus on social entrepreneurship. The course was Ghodasara's first exposure to the interplay between service and business, and it led to her three-year interdisciplinary research on identifying social, cultural, and environmental solutions for Indian entrepreneurs. It was also the first time she would explore the global experience offered by Jagriti Yatra.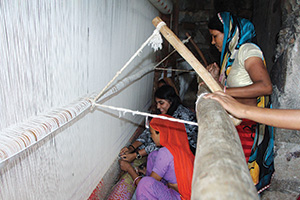 The summer after her first year at Pepperdine, Ghodasara visited Jaipur Rugs, an Indian enterprise that helps women achieve economic mobility, to add primary research to a case study that she and Walker were collaborating on back in Malibu. Throughout her sophomore year, Ghodasara also interviewed 20 local social entrepreneurs while interning in Washington, DC, yet she longed to hear from more Indian business owners.
India faces a host of societal issues including widespread poverty and institutionalized inequality, affecting those from particular castes and most pointedly, women. Women living in India face significant barriers to proper education, adequate healthcare, and decision-making power. Middle India, home to more than 58 percent of the country's population and 11 percent of the global population, holds incredible potential to address these development needs through innovative enterprises. According to a 2012 Gallup poll, more than 60 percent of India's population possesses strong entrepreneurial skills such as optimism through difficulties and creative problem solving.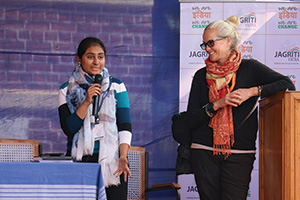 "There is so much talent and passion India, but it is met with societal and cultural pressures that keep those individuals from achieving their hopes," shares Johnson, whose research has focused on the philosophy of servant leadership and empowering women in rural villages. With little access to resources and social capital, talented individuals are unable to set up enterprises that could solve development problems in their communities. With different priorities set for women in rural India, they face even greater challenges in gaining access to resources and capital.
Jagriti Yatra addresses this lack of resources by elevating enterprises rooted in Indian values and helping young people connect with their leaders. During the 15- day journey, the yatris visit 12 organizations in different sectors of development—water and sanitation, education, arts and culture, technology, healthcare, manufacturing, and more. In December 2019 Ghodasara fulfilled her mission of visiting with these organizations throughout India, an experience she considers an "abode of inspiration."
Despite the discomforts of the train—cockroaches, rats, and cold showers—yatris found their spirits revived every time they sang "Yaaron Chalo," which became the anthem of the journey. The train traversed different states each day, and, at each stop, a new language would blare through the train's speakers and a different regional cuisine would be served. Days blended together with booked itineraries. Johnson, leading a cohort of six young women including Ghodasara, reserved time for reflection each night with "wow moments," a practice she brought from her Pepperdine courses.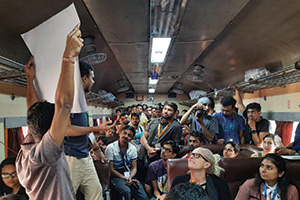 One of Ghodasara's fondest memories is of meeting Joe Madiath, founder of Gram Vikas, a Ganjam district-based enterprise. Gram Vikas addresses institutionalized inequality including practices such as barring certain groups from accessing clean water and sanitation centers. It was one of the organizations Ghodasara analyzed, along with Jaipur Rugs, in her recently published case study.
"The highlight of my trip was handing him my published article and seeing the impact of his organization in the village," Ghodasara says.
Intrigued by the duo's research in servant leadership and women's empowerment, Jagriti Yatra chair Mani invited them to contribute to the development of a center focused on supporting women entrepreneurs with relevant resources and incubation programs. With just a few minutes before the yatris gathered to hear from Madiath, Mani asked Ghodasara and Johnson to speak on servant leadership.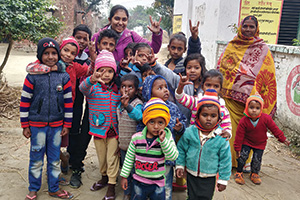 "journey is, in essence, a 15-day master's program in servant leadership," shares Johnson.
After an emotional closing ceremony, the yatris, dressed in traditional garb, said their goodbyes and began reflecting on the overwhelming inspiration they received in the last two weeks, each bringing back what they gained to the communities they call home. Johnson hopes to explore how some of the successful models they encountered in India could be applied in lower-income communities in Los Angeles and elsewhere.
Ghodasara, armed with this powerful network and a deeper understanding of social enterprise in India, says, "I can't wait to go back and create something myself." From Rajkot to Pepperdine to social entrepreneurship research to the Jagriti Yatra, Ghodasara shares, "I feel I've come full circle."