Our Daily Bread
Partners across the University unite to address food insecurity on campus
Do you know where your next meal is coming from? Can you think of a time when you didn't?
Food insecurity, defined by the US government as lacking access to adequate food due to insufficient money or other resources, is a largely unexplored problem on college campuses. Traditionally, explains Kym Dildine ('03, MBA '08), chief administrative officer of the Central California Food Bank, data regarding food insecurity is collected on adults and children. "College students are a relatively ignored population. We're just starting to catch on that they need to be treated like a different category," she says.
At Pepperdine, Stacy Montgomery (EdD '14), the University's associate dean of student affairs for transfer and commuter students, learned that some students were struggling with food insecurity while she was serving on the Student Care Team. She discovered that some students were eating only two meals a day, and one student was having just one. "They might choose to forgo a meal because they needed money for books, gas, or for other life expenses," she explains.
Montgomery worked with the Student Care Team to find ways to best help each student, providing them with grocery store gift cards, loading dining hall guest meal cards, and adding meal points to their Pepperdine ID card. To focus on the problem, she and her colleagues started the food insecurity committee and enlisted the researchers at Pepperdine's Office of Institutional Effectiveness (OIE) to better understand its extent.
In OIE they found the perfect partner. Jazmin Zane, the department's director of institutional research, had a passion for public health and responded enthusiastically to the request. Zane quickly got to work with the committee to create a survey that was easy for students to understand and complete and for her colleagues to get the data that they needed. The preliminary data from the survey,sent to all the students at the School of Public Policy and to a random sample of students at the other four schools, revealed that out of the 470 students who completed the survey, 11 percent report currently struggling with not having enough resources to buy food.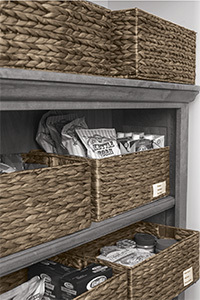 Pepperdine's food insecurity committee members will use the data to guide them in their next steps, but they haven't been idle while collecting it. Chaired by Montgomery, the committee includes representatives from Student Affairs, Business Services, Dining Services, and Seaver's Student Government Association; students representing the Food Recovery Network and Swipe Out Hunger (both student-led nonprofits devoted to addressing food insecurity); and faculty members Steve Bauer and Loan Kim. Together committee members have already found ways to ease the difficulties of food-insecure students.
One concrete step was to open four food cabinets during the Fall 2019 semester located in different areas of campus where students could help themselves to packaged products such as pasta and sauce, rice, and fruit snacks, as well as gluten-free and vegan items. A fifth location was added in the beginning of the spring 2020 semester. Committee members seek feedback from students—on-campus residents, for example, have asked for more foods that require only the addition of water, rather than canned goods or packaged items that need butter or milk added. All students are welcome to help themselves to the cabinets' contents; there is no need to sign in or even have a conversation with a staff member.
As Dildine points out, "People don't typically mention that they're struggling with hunger," so easy, and relatively anonymous access to food is part of the food insecurity committee's plan. Montgomery says, "We want to be respectful toward students who have food needs and empower them to get the support they need. I always try to normalize it by inviting them to take a look at the food cabinet informally and without expectation." And students have responded with gratitude.
Says one junior at Seaver, the cabinets "act not only as a great resource for students; they serve as a great reminder of God's call for us to serve one another with compassion and mercy. I would like to thank all the wonderful people at Pepperdine who were instrumental in making the food cabinets available to students. This grassroots mission has aided tremendously in the effort to combat food insecurity on campus."