Back to School
After 25 years of shepherd leadership at Pepperdine, Rick R. Marrs makes a long-awaited return to teaching and his own scholarship
As spring concludes and another class of graduates completes its scholastic experience, Rick R. Marrs, the provost and chief academic officer of Pepperdine University, will begin a transition of his own. Serving for nearly three decades in various capacities that have made a significant impact on Pepperdine's academic enterprise, Marrs has illustrated how effortlessly his faith, teaching, scholarly research, and leadership are braided together. As he makes his long-awaited return to the classroom in fall 2022 after a yearlong sabbatical, he continues to shape his legacy at the University.
When Marrs began his own academic journey as an undergraduate in 1970, he expected to live and work in Latin America upon his graduation from Abilene Christian University (ACU). Influenced and mentored by notable professors—such as Old Testament scholar John T. Willis, beloved theologian Thomas Olbricht, Churches of Christ historian Everett Ferguson, and especially his Greek language professor R. L. Johnston—Marrs was encouraged to instead focus his major on Koine Greek to gain a deeper knowledge of the Bible's original texts.
"They were all incredible teachers in the classroom and wonderful mentors outside the classroom," Marrs reflects. "I remember thinking I would love to become a professor like them."
Their relationships were marked with an energy for scholarship and research and bolstered by the intersection of their scholarly work with their faith and lifelong vocation. Each mentor recognized and reinforced Marrs' talent for research and love for languages that informed his deep understanding of original texts.
"Each of them came alongside me, offered patient feedback, and kept pushing me forward in my academic career," Marrs says. Their continued encouragement led him to complete his master of divinity at ACU, allowing him to strengthen his scholarship in Old Testament literature, history, and theology before he pursued his PhD at Johns Hopkins University (JHU), known as the nation's first research university and widely acclaimed as one of its top research institutions. At Johns Hopkins, he gained yet another lifelong mentor and friend, J. J. M. Roberts, who prepared Marrs to contribute original research with the potential to make lasting impacts on his discipline.
After receiving his PhD, Marrs held various teaching positions at St. Mary's Seminary and University, Villa Julie College, and the Institute for Christian Studies at the University of Texas to name a few. As he developed his unique teaching style informed by each of his mentors, he continued to regularly publish exceptional scholarship, speak at conferences, serve in his local churches, and guest preach at Church of Christ congregations across the nation.
In 1987 Marrs began making his first mark on Pepperdine's history. Olbricht, his mentor and friend, was then serving as the chair of Pepperdine's Religion Division and encouraged Marrs to join the University's small group of religion faculty. Already an experienced educator and nationally recognized scholar, Marrs quickly became a paramount member of the division. As an associate professor of religion, Marrs jumped into his classrooms with energy and passion and engaged with undergraduate and graduate students in unforgettable ways.
In 1993 Pepperdine began one of its most unique international educational experiences—the biblical sites tours. In this inaugural year, a little more than a dozen students completed two of their religion courses abroad and experienced eye-opening tours of biblical sites throughout Greece, Turkey, and Israel. Harnessing an adventurous spirit, Marrs hiked alongside students, spelunking in ancient caves and revealing to them the historical and cultural contexts of the ancient Near East.
Though the setting of the tours certainly added to Marrs' energy while teaching, his specialization in Old Testament literature, history, and theology paired with his fluency in ancient Near Eastern languages also brought deep, meaningful connections to his classrooms in Malibu. As the sites, sounds, and people of the Bible came to life in the classroom, so became apparent God's heart for justice and calling to support those disenfranchised.
"Seeing students interact with the eighth-century prophets, especially Amos, is thrilling," Marrs shares. "You can see them find their callings for social justice and connect today's issues with their faith."
With his continued devotion to his scholarship, Marrs was constantly updating his approaches to course material. Even in large classrooms, he was expertly able to connect the course material to relevant themes for students no matter their background with the text. Their classroom discussions would form an almost symbiotic relationship between the reading and Marrs' own scholarship—the two feeding and contributing to each other, every day creating a lively classroom.
---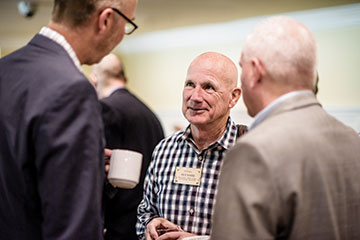 Just as his research wove its way through his teaching, it intertwined itself into his time as an administrator and leader, setting the tone for each day he stepped into the office. At the heart of Marrs' motivation to move from professor to administrator was always the hope to elevate faculty members, whether in their teaching, their research, or in their pursuit of career advancement.
"I was supported by every scholar-teacher throughout my career. So when I transitioned into administration, particularly into my role as provost," he shares, "I felt a unique calling to start returning that same support to younger scholars as they began expanding their careers."
With his broad experience as both a faculty member and administrator, Marrs had a deep understanding of the University. In 1996 he was appointed the chair of the Religion Division. Then in 2003, he served as the associate dean of Seaver College before stepping into the role of dean when W. David Baird retired in 2008. After six years of strategically elevating the college by securing both internal and external funding, expanding programs, and supporting faculty, staff, and students, Marrs was eager to serve the University as provost in 2014.
Informed by each of his mentors and inspired by JHU's principle that exceptional teaching and research are fundamental to a top-tier university, he had an exceptional understanding of what Pepperdine would need to rank as one of the nation's leading universities. His position was that teaching and research needed to coexist, and that success in one didn't mean the other had to falter. To support educators in their efforts, he championed faculty research and professional mentorship programs.
"It goes beyond recruiting exceptional faculty, as important as that is. We also need to make sure they have the resources they need to keep going," Marrs says.
He also took note of how Pepperdine's five schools were often working independently instead of as one cohesive unit. Marrs began pursuing initiatives that increased collaboration across all five schools. Among these initiatives were the Pepperdine Cross-School Collaborative Research Program and Community-Based Research Program. Both of these programs award up to three grants each year for joint research efforts and have allowed faculty to interface with peers and colleagues across all schools while also allowing students to gain experience in executing original research.
"I live vicariously through our faculty's achievements and seeing students discover something new about themselves or their disciplines that eventually encourages them to go on to do even more," Marrs shares with a smile and a gleam in his eyes. "It's been thrilling to see us expand research initiatives this way and see faculty pursue more complex and innovative projects with increased resources."
---

Though Marrs' tenure gives us much to celebrate, his years as provost have not been free of challenges. When he first stepped into the role, the US was still recovering from the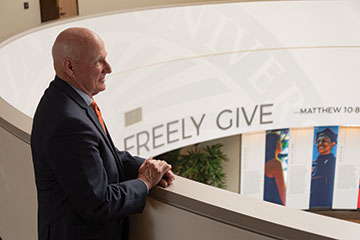 steepest economic decline since the Great Depression, a decline that put the spotlight on the value of higher education and what it means for social mobility. To find Pepperdine's place in the midst of this new critique of academia, Marrs recruited and mentored the deans of each of the five schools to further his commitment to strategically position the University and continue to prepare students for life after graduation.
This year, as the COVID-19 pandemic required widespread transitions to remote instruction to protect the health and well-being of the campus community, questions arose about how to deliver rigorous coursework and excellence in research as community members were scattered across the globe. Under Marrs' leadership, research and scholarly activity did not waver. Faculty have continued to produce exceptional research alongside student collaborators while also incorporating new technology to improve pedagogical practices in a remote setting.
In the face of these challenges, Pepperdine continues to rise in the academic ranks. With the focus on academic excellence in the context of a Christian university, Marrs believes this expands the University's conversations about vocation, service, and global social impact while also allowing for more impactful relationships between faculty and students.
"One of the major ongoing challenges will continue to be how Pepperdine strives to be a top-tier institution academically in the quickly changing landscape of education,"
Marrs shares. "The next steps from here will likely be even more challenging, although not insurmountable."
---
As graciously and passionately as he led each day as an administrator, "you could tell teaching was his first love and something he had every intention of returning to," shares Lindsay Jacobs (MA '16), who worked alongside Marrs for six years, from his last few months as the dean of Seaver College through his time as provost. "On the rare occasions that he was able to teach while in the provost role, I could sense a notable shift in his demeanor on the day of his classes."
In 2019 Marrs took a short time away from his duties as the University's chief academic officer to join the four-week summer international program—another installment of the biblical sites tour. Seaver College student Ashtyn Adams remembers how dynamic his classrooms were and how his energy fueled the enthusiasm of her fellow students every day.
The four-week intensive program covered a wide range of material in a short time frame, but Marrs always checked in with his students and reassessed the activities to ensure every student was cared for and understood.
When they trekked through their tours in Turkey, Greece, and Israel, Adams remembers Marrs walking right along with students, turning his ear to them and asking them what intrigued them or what was standing out to them. He shared stories and offered cultural insights. While everyone leaned in to hear more, they saw the historical landscape of the ancient Near East come alive around them.
At the time, Adams was majoring in biology and had plans to attend medical school after completing her undergraduate studies. Near the end of their program, Marrs, just as his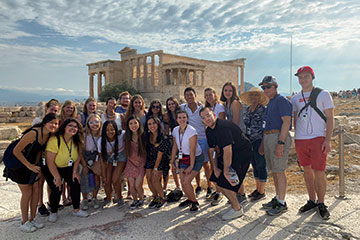 mentors did for him, took note of Adams' talent for connecting religious studies to her vocation and the world around her and encouraged her to continue her work in the field.
"He saw something in me that I didn't quite see in myself," shares Adams. Now nearly two years later, she has shifted her major to religion, but still plans to pursue the medical field. "He helped me see myself incorporating my faith, serving my community through medicine, and looking back to his classes to reorient myself."
Without question, his impact on Pepperdine as an institution—steering its trajectory to rank as a top-tier university and leaving it with the tools to continue that journey—is exemplary. However, his impact on Pepperdine as a community of people—each person contributing to the pursuit of academic excellence—is arguably even more extraordinary and unforgettable.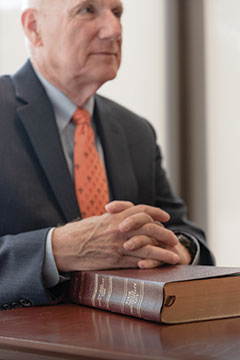 "If you asked him what he considered his legacy to be, I don't think he would answer," shares Jacobs. "He was and is a faith-informed educator through and through. His heart has always been set on how he could best serve."
Kindalee De Long ('87, MDiv '94), who currently serves as associate dean for student and faculty development and professor of religion at Seaver College, joined that first biblical sites tour as a graduate assistant. "He encouraged me to continue in academia and pursue a PhD at a time when there weren't many women in the field," De Long reflects. "Now as a New Testament scholar who seeks to understand the New Testament in the context of Israel's story, I still draw on his Old Testament classes, particularly what I learned about God's mercy and concern for social justice."
Ron Cox (MDiv '96), who serves as associate dean of international programs and professor of religion at Seaver College, also recalls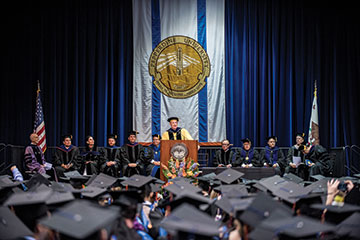 Marrs' impact on his life. "I remember specifically his seminar on the Psalms changed the way I interact with the Bible," shares Cox. "He has been a patient and gracious mentor to me throughout the years, offering invaluable feedback to improve my teaching and balance my faith, service, and my career."
As Marrs wraps up decades of service to Pepperdine's leadership, he is eager to return to the classroom to develop a new cadre of young scholars. Through his exemplary teaching, Marrs will, as he has proven in the past, contribute masterful pedagogies, distinguished scholarly work, and unforgettable mentorship to students. While Pepperdine's leadership will lose an irreplaceable voice, it has been left with the tools to continue on a path of ever-greater distinction.
"When you step into administration, you unfortunately get further away from our students each day. Their energy and passion as they begin to impact their communities is one of the most exciting things to witness," Marrs reflects. "After so many years not in the classroom regularly, I have a lot of catching up to do, and I can't wait to get started."