Beyond the 'Bu
Away from the classroom and their typical learning environment, students engage in scientific research in their own backyards
Teaching ecology at Seaver College comes with a big perk—the University's expansive location surrounded by the diverse ecological wonderland of the Santa Monica Mountains and Pacific Ocean. Javier Monzón, associate professor of biology, typically fosters students' research by taking advantage of Pepperdine's unique setting and focusing on the local landscape or seascape.
In fall 2020, however, he and co-professor Helen Holmlund, assistant professor of biology, had to pivot from the standard curriculum and create a learning plan that included remote field trips and virtual check-ins with 14 student research groups that had relocated to their respective homes across the country.
While the remote environment required adaptability and navigating working through different time zones and varying terrain, it also offered a unique opportunity. "When you have students working in teams in different states, you can ask questions that you could never have asked on the Malibu campus," Holmlund shares.
Discover how two groups of students participated in valuable scientific discovery in their remote learning environments.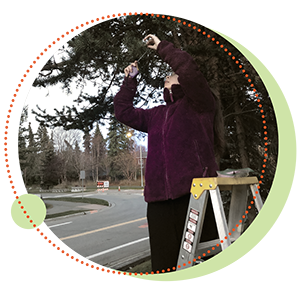 Phenotypic Plasticity in Ponderosa Pine Needles Across Biomes
Student Researchers: Yu-Jin Choi, John Komas, Remi Ogunremi, Annie Rogers
Hypothesis
Temperature and precipitation cause ponderosa pine needles to vary in length.
Method
Ecology students in Alaska, California, Montana, and Texas sought to determine if natural weather affects the length of ponderosa pine needles, the most widespread pine species in North America. With their limited research tools—a ruler and an iPhone—students measured and recorded the length of pine needles observed in their local environments.
Student researcher and junior Yu-Jin Choi recalls the most challenging aspect of the research project: finding a species that is native in all four states. Despite the difficulties, she says, "We took this as an opportunity to conduct a research project that would not have been possible if it were a normal semester at Malibu."
Conclusion
Although pine needles were found to be the longest in Texas and California, needle length and precipitation were not found to have a significant relationship.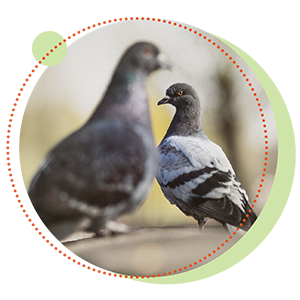 How Does Noise Alter the Foraging Behavior of Birds Across North American Cities?
Student Researchers: Chris Jenkins, Keliya Perry, Catelyn Price, Chelsea Puncochar, Roan Ramsdall
Hypothesis
The intensity of foraging behavior by urban birds is highest at an intermediate noise level, regardless of location.
Method
Students observed and noted how noise affected the foraging behavior of various types of local urban birds, including pigeons, crows, and geese. To ensure birds were exposed to the same type of noise, students played the song "Blinding Lights" by the Weeknd on their iPhones. As the song played, students in California, Hawaii, Indiana, Nebraska, and Washington observed the birds for an extended period of time. On a weekly basis, researchers gathered together to share their notes and brainstorm about ways to overcome obstacles, such as attracting the birds to their experimental site. Working through time zone challenges, the weekly meetings were a fun way to hear about everyone's experiences because "we all had stories to tell," Puncochar shares.
Conclusion
While the data supported the hypothesis in some cities, it could not be verified in all participating locations.