The Color of Money
Alumni and faculty illuminate the persistent inequality that has suppressed economic opportunity for historically marginalized groups
When aerospace engineer Agustín García emigrated from Mexico to the United States in 1968 to help develop the Boeing B-1 Bomber and AH-64 Apache helicopters, he initiated a chain of events that, many years later, would launch his family's decades-long pursuit of economic equity for Black, Indigenous, and people of color (BIPOC) communities. In 1982 Agustin's son, Cesar, was desperate to provide for his wife and children following a serious back injury. He opened a printing business that inspired a new passion for supporting BIPOC-owned businesses in the midst of corporate competition and the disparate distribution of wealth among working-class Americans.
"Hardships create strength, and these men are shining examples of how immigrants are a vital part of our nation's history," says Chris García ('11) about his grandfather and father. Inspired by their lifelong sacrifices, García was motivated to continue their legacy by creating several US-based manufacturing companies that have employed thousands of people of color over the years.
In 2020, in anticipation of the severe shortage of personal protective equipment (PPE) caused by the coronavirus pandemic, and witnessing nurses like his mother reuse their worn-out safety gear, García launched Health Supply US (HSUS), an American-based PPE-manufacturing company. After supplying dozens of hospitals and making substantial investments in facilities, equipment, and research and development, HSUS was awarded a $194 million contract by the US government to manufacture American-made PPE for the Strategic National Stockpile. Through its US operations, which include partnerships with small, BIPOC- and women-owned factories across five states, HSUS now produces medical supplies from sustainable, domestic sources. The company supports more than 5,300 direct and indirect jobs—an especially noteworthy accomplishment during a time when countless families are struggling to make ends meet and many manufacturing jobs are either on hiatus or gone altogether due to mandatory shutdowns.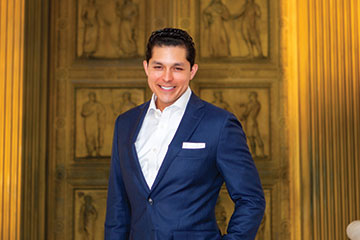 According to García, small businesses and businesses owned by underrepresented groups—who have historically encountered bias-related barriers to accessing the capital required to run their companies—are disproportionately impacted by the pandemic, as families cut down on discretionary spending while the costs associated with business operations continue to increase. Pointing out that US-based businesses owned by people of color are American businesses, he asserts that as the US continues to increase its competitiveness in the global economy, America's BIPOC-owned companies with strong domestic relationships and multiple language capabilities are perfectly positioned to lead that charge.
"Our goal is to showcase that when given a fair and level playing field, these businesses can compete on the global stage," shares García. "For decades, unfair competition from nonmarket economies decimated our domestic manufacturing capabilities for critical products like gowns, masks, gloves, and other PPE used in the fight against COVID-19. With these investments—and clear examples of the quality work we produce—we are creating a more resilient public health supply chain for immediate and future needs."
Kim Folsom (MBA '02) can relate. A 25-year serial entrepreneur who began her career in the 1980s as a software engineer, Folsom is the cofounder and CEO of her seventh company, Founders First Capital Partners LLC. The virtual small-business growth accelerator and revenue-based venture fund is focused on helping businesses run by people of color, women, and military veterans, as well as companies located in low- to moderate-income locations—all of which have traditionally faced unfair obstacles when seeking capital to start their businesses.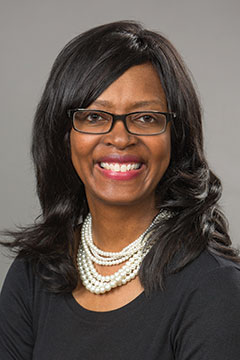 With dreams to launch and operate large companies like Microsoft or CNN, Folsom immediately noticed that those in C-level positions were almost never women or people of color. Against seemingly insurmountable odds, Folsom, who was balancing the responsibilities of motherhood while working full time outside the home, was determined to break these barriers and one day manage a $50 million corporation. In 2019 Founders First, which Folsom categorizes as a social-racial economic equity company, received $100 million in debt funding to help its clients navigate the business world.
"I was tired of seeing that I was always the only woman of color in this space, and I realized that there must be many other people of color who need the same opportunities I have had," shares Folsom about her early years in corporate administration, an opportunity she dedicated to making diverse leadership hires.
As a business insider, Folsom reveals that growth capital is often granted to a small group of mostly technology-based companies, whereas most diverse founders start their businesses in the services and manufacturing industries. She explains that, with the right resources, Founders First seeks to help revenue-generating companies grow into $50 million businesses, which allows them to create jobs in underserved communities and fill the social-racial economic equity gap.
"My parents raised me in a way to use my blessings to serve others," Folsom says. "There are many first-generation college students in underserved communities with unique challenges that hinder their success as they embark upon their careers, and I am fortunate to be able to help people like that."
---

Mother Country
According to Luisa Blanco Raynal, economist and professor of public policy at the School of Public Policy, the economic devastation of COVID-19 has affected Black women and Latinas more than any other groups because they are more likely to work in sectors significantly affected by COVID-19 and have young children, which presents childcare challenges due to school closures. Blanco Raynal, who has researched the financial impact of COVID-19 on Latinx families, has labeled these devastating financial circumstances a "she-cession."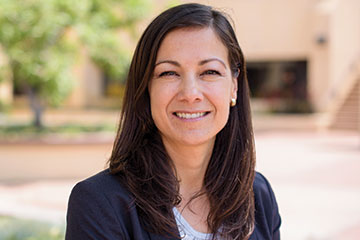 In fall 2020, unemployment rates among Black women and Latinas were estimated at 8 and 9 percent, respectively. Blanco Raynal contends that these women have become victims of occupational segregation, as they are more likely to be employed in the hospitality and retail sectors—industries that have suffered tremendous financial loss since shutdowns have been enforced by statewide and local government agencies. Because these jobs are far less likely to offer remote work options, many of these women have had to choose between their income and their health, which has resulted in higher rates of them contracting COVID-19 while on the job.
With school campus closures still in effect, many Black women and Latinas who previously relied on in-person education have also been forced to quit their jobs to look after their young children during the day. In fact, a 2020 Hispanic Economic Outlook report, to which Blanco Raynal contributed, reveals that Latinas cite family-related reasons for quitting their jobs at noticeably higher rates than white women.
"According to data from the Current Population Survey, Black women and Latinas are also more likely to be single parents and have young children living with them at home, so family circumstances create a different set of challenges for them," Blanco Raynal says.
While men of color are also less likely to have jobs that allow them the flexibility to work from home, social and cultural norms demand a heavier reliance on women as their children's primary caretakers.
To combat these financial issues, Blanco Raynal suggests that policy makers in Washington, DC, collaborate with state government officials with the purpose of arranging for the safe reopening of schools so that these women can soon rejoin the workforce. "Ensuring that women of color can return to the labor force should be a top priority for the current administration, not only for economic reasons but also for health reasons," she says. "The reopening of schools can help diminish financial stressors on low-income women of color to a large degree, given that childcare challenges have been a major factor explaining why these women are not able to work."
Blanco Raynal notes that based on data she collected in November 2020 among 84 low- and moderate-income Latinx families in California, families of color are experiencing high levels of stress from a combination of financial hardships and the demands of distance learning.
Beyond vaccinating individuals in the education sector, she contends that addressing vaccine hesitancy in communities of color should be included in this program to ensure that these communities reach herd immunity. Blanco Raynal notes, however, that educating these groups on the importance of vaccination is crucial in reengaging them in employment. "People of color and residents of underserved communities have historically distrusted government endorsements of mass immunization," she says, "and undocumented individuals are especially afraid of receiving the COVID-19 vaccine."
---

Keep the Change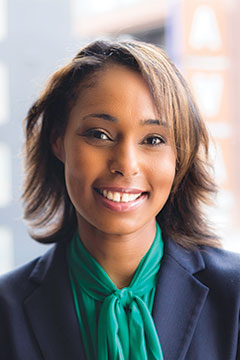 Kaci Patterson ('01), owner of Social Good Solutions, senior director of LA Partnership for Early Childhood Investment, chief strategist at the Black Equity Initiative, and founder of the Black Equity Collective, cites two converging pandemics that have gripped Black communities especially severely: the disproportionate impact of COVID-19 and the systemic racial, educational, and socioeconomic inequality that they experience every day.
"Black people continue to suffer, get sick, and die unnecessarily because, like an uncontained virus, racism spreads and mutates," she says. "A mountain of data on any one of these issues demonstrates that racial injustice is a destructive force in society, undermining our economy, humanity, and self-professed values of liberty and justice for all."
Amid systematic discrimination and lack of government protection, Patterson explains that Black-led and Black-empowering nonprofit organizations are key elements in the fight against ongoing discriminatory practices such as voter suppression and labor exploitation that limit the ability of people of color to thrive in their communities.
"These organizations, many of which are staffed by people from the community, are on the frontlines serving as 'first responders' to social crises resulting from oppression, political harm, and systemic neglect," Patterson says. "They live the daily realities of inequity as they seek funding from a philanthropic sector whose very definition is 'love of humanity.'"
Referencing published data from 2011, 2017, and 2020, Patterson notes that while Black-led organizations are deprived of the resources they require to thrive and are often subjected to the same racism the broader community experiences, they still continue to support, heal, and love people in their pursuit of social justice. Patterson explains that the COVID-19 pandemic has forced these organizations to suddenly have to pivot their routine operations, which has highlighted the fragility of their infrastructure.
"For Black-led organizations—many of which have been operating at razor-thin capacity due to pernicious underinvestment—the compounding effects of COVID-19 and persistent racism pose a threat to their long-term sustainability and even their future existence," she warns.
Through dedicated giving, Patterson explains that diverse communities can become allied in purpose and provision by supporting and funding Black-led nonprofit organizations. "Direct gifts, donor-advised funds, and partnership networks," she says, "can support these organizations' advancement while ultimately bringing forth the positive social changes that Jesus has called us to pursue."