A Writing Marvel
Screenwriter, producer, and Emmy Award–winner Michael Waldron (MFA '14) shares how his younger self set the stage for his success in drama and science fiction writing
Given the chance to go back in time, what would you change about your past?
Some of us would dedicate more time to hobbies, read more books, or spend more time with loved ones. Michael Waldron (MFA '14), who has built his career creating worlds of wonder and fantasy, would join his younger self in the living room and tell him to consume more television. "Watch more," he says. "Maybe watch less Star Wars and pick up a comic book once in a while. But watching wrestling on pay-per-view is going to pay off."
In the years following, during breaks from consuming the stories that transfixed him, Waldron began to write his own, gradually building his narrative talent until he wondered if his thirst for storytelling could become a deeper and more impactful endeavor. Today Waldron is known for developing fan-favorite tales of competitive families, complex antiheroes, dubious time travel, and unlimited dimensions of possibility—not unlike the ones he devoured as a child.


---

My job is to put my personal touch on these well-developed characters and push them into storylines that haven't been explored before.
On the road to shaping his career, Waldron enrolled in Pepperdine's master of fine arts (MFA) in screenwriting program. Under the mentorship of seasoned screenwriter and playwright professor Ken LaZebnik, Waldron wrote his first television pilot, a TV-wrestling themed drama that became Heels. The story follows two brothers— one the hero, one the "heel"—whose interpersonal and professional challenges as wrestlers transcend the ring and trickle into their daily lives. It debuted on the STARZ network in 2021.
"Wrestling is such a creative ritual involving characters struggling to tell their own powerful stories, fighting with their egos, and also living outside of the ring," he says. "Writing that is surreal. It all hits a bit too close to home."
Waldron credits the exceptional mentorship of Pepperdine's MFA program faculty for everything they taught him about tapping into his own creative process. From Emmy Award–winning sketch comedy writers Dick Blasucci and Chris Cluess, Waldron learned the art of quippy dialogue and a perfectly timed punchline in his two short years in the MFA program. He also mastered drama alongside now mentor and friend Sheryl J. Anderson, known for her recent success as the showrunner for the Netflix drama series Sweet Magnolias.
With the help of a classmate, Waldron secured an internship with Rick and Morty, the animated science fiction show that had not yet made its debut on Adult Swim. Between the less glamorous moments of the internship, Waldron took advantage of his front-row seat to the cult hit show's writers' room and would sneak peeks at the scripts, gleaning all he could. While there, he developed a friendship with the show's creator, Dan Harmon, who eventually asked Waldron to join the staff at NBC to support the fifth season of the sitcom Community as a writer's production assistant. As he continued to build his relationship with Harmon and gain valuable professional experience at what he considered his first "real" job in show business, Waldron connected with an assistant at a management agency who would later become his own manager.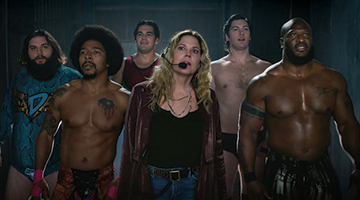 Heels courtesy of STARZ
Together, Waldron and his manager tirelessly developed the Heels pilot before they began the grueling work of pitching it to studios. Eventually, the breakout writer sold the pilot to STARZ and landed not only his first job in the writers' room but his first job at the head of the table.
"I had no idea what I was doing," Waldron recalls. "The only person I could technically advise was a writer's production assistant because it was the only other job I'd had. I was wildly insecure because we hired these brilliant writers who were all older than me and more experienced. But we wrote a great first season."
---
Despite a book of season one scripts, Heels could not secure a cast to put the show into production. While STARZ committed to holding on to the pro-wrestling drama until a cast was confirmed, Waldron took a step back from the helm of a writers' room and returned to Rick and Morty as a writer and producer alongside Harmon. As a staff writer for the show's fourth season, he learned how an effective writers' room functions and continued to hone his talents in working alongside a lineup of passionate talent.
"Any writers' room is a constant conversation and collaboration between writers along with their negotiation with the showrunner executing that vision," Waldron says. "It's like a basketball team. The showrunner is trying to figure out how to bring out their best and encourage them to use their strengths."
A time of learning and experience was not the only thing Waldron achieved that season. He and fellow Pepperdine alumnus Jeff Loveness ('10) wrote "The Vat of Acid Episode" for Rick and Morty, which follows the show's stars as they debate the importance of choice and taking responsibility for one's actions, even across multiple dimensions. The episode, which aired in May 2020, received an Emmy Award for Outstanding Animated Program, earning Waldron his first Emmy and recognizing his strength in science fiction television writing.
When one of his feature-length scripts, which packed the time-travel science fiction, romantic-comedy, and action-adventure genres into one film, landed on the 2018 Black List, Hollywood's catalog of the year's most highly regarded unproduced screenplays, it caught the attention of Marvel producers exploring a time-travel-heavy series featuring the Loki character of the Marvel Cinematic Universe (MCU).
With a Disney+ deal confirmed to lead the Loki series, Waldron stepped to the head of the writers' room once again. Every day Waldron and his team of writers walked into the room eager to debate the rules and workings of time travel and the series' Time Variance Authority tasked with regulating it.
The room began to resemble a conspiracy theorist's office with lines drawn on whiteboards and notes scrawled in any margin available. Their efforts paid off with a series that challenged everything fans expected from an MCU story, uncovered how demigod Loki struggled with human concepts of grief and identity, and broke open a realm of unlimited storytelling possibility within the universe.
"It is such an honor writing characters like Loki," he says. "Loki [as we know him in the MCU] has been established through years of amazing creative stewardship beginning with Kenneth Branagh's work. At this point, my job is to put my personal touch on these well-developed characters and push them into storylines that haven't been explored before."


---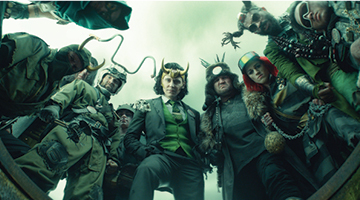 Loki courtesy of Marvel Studios
Throughout the series, Loki jumps between timelines and multiverses, confronting his past selves and, akin to the Rick and Morty "The Vat of Acid Episode," the impact of each of his decisions. His meticulous attention to not only Loki's development but also the possibilities within the MCU itself with the introduction of the multiverse and incalculable variants did not go unnoticed. The series received accolades from fans worldwide and earned nominations for Best Drama and Best New Series from the Writers Guild of America. Waldron's success in pushing the MCU formula to tell new stories in the beloved universe is not yet over. The long-awaited Doctor Strange in the Multiverse of Madness, written by Waldron and directed by Tobey Maguire-era Spider-Man director Sam Raimi, will hit theatres in May 2022 after the Loki season one finale and Spider-Man: No Way Home left fans desperate for more multiverse action.
In less than a decade, Waldron has become a celebrated writer in the industry. Perhaps, in every segment of his work, he has succeeded in channeling his younger self in front of the television, paying homage to the science fiction and pro-wrestling enthusiast. With the announcement that STARZ would renew Heels for a second season and Disney+ would begin production on season two of Loki, as well as the premiere of Doctor Strange inching closer, audiences have yet to see so much more from this writing marvel.