Bringing the Future into the Present
"Pepperdine recognizes new heights of excellence and strives to become a global leader in higher education."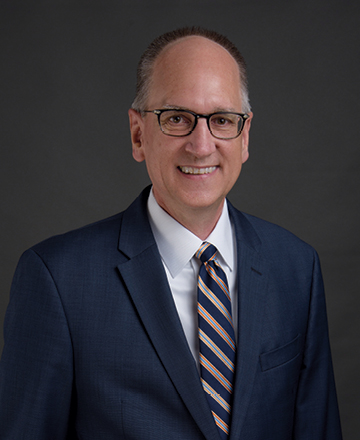 Tim Perrin, Senior Vice President for
Strategic Implementation
I remember the exact day of the very first meeting about Pepperdine's 2030 strategic plan. It was a Friday—August 2, 2019, and it coincided with my second day back at Pepperdine (having previously served for two decades as both a member of the faculty and administration), my second day in the new position of senior vice president for strategic implementation, and the second day in office for president Jim Gash, the University's eighth president.
In other words, we hit the ground running! I was still trying to move into my new office when I joined that first meeting with President Gash, then provost Rick Marrs, vice provost Lee Kats, and others to map out the strategic planning process. As we gathered that day, we shared the enthusiasm and anticipation that come with new beginnings. We could not imagine what the future held—a global pandemic!—but we all shared a sense of the profound opportunity and responsibility before us to chart the path forward and upward for Pepperdine. Strategic planning at a place like Pepperdine is a complex undertaking. At its best, it effectively engages all key constituent groups within the University and produces a plan that is both bold and inspiring, tied to reality and measurable.
To manage that complexity, we formed a 10-member strategic planning task force. We intentionally limited the size of the group while ensuring that it was representative. We valued collegiality but also a diversity of experiences, perspectives, and responsibilities. The group began meeting in October 2019 and came together for the last time in August 2021.
Over the course of almost two years, the task force met dozens of times, evaluating the landscape of higher education; assessing the University's strengths, weaknesses, opportunities, and threats; facilitating more than 20 listening sessions with hundreds of community members—faculty, staff, students, alumni, parents, friends, donors, and boards; and developing multiple drafts of a comprehensive University strategic plan. Perhaps most significantly, we became friends and trusted colleagues. I'm deeply grateful to Mark Chun, Cynthia Colburn, La Shonda Coleman, Rick Gibson, Sara Jackson, Lee Kats, Rick Marrs, Nicolle Taylor, and Natasha Thapar-Olmos.
There are, of course, other people and groups who played a critical role in the development of Pepperdine 2030: Ascend Together. The Board of Regents took seriously its governance responsibility and created a strategic guidance document that identifies five distinctive pathways the University must travel to fully realize its bold vision. President Gash added his voice throughout the strategic planning process, offering a presidential vision statement on Pepperdine's grand and unbounded future. And there were so many more!
The title of the strategic plan—Ascend Together—is drawn from President Gash's inaugural address. It is a fitting way to envision the next decade at Pepperdine as we look to the Santa Monica Mountains that surround our majestic Malibu campus. We recognize that there are new heights of excellence we must achieve to become global leaders in higher education. The University has enjoyed remarkable success in its first 85 years, but I'm convinced that the best is still ahead of us as we ascend . . . together.