Reframing Her Story
Through careful editing and perseverance, Seaver College professor Maire Mullins challenges depictions of intimate partner violence in the 19th century
When Seaver College English professor Maire Mullins received a letter indicating her book had been rejected from yet another publishing house, she refused to despair. She continued to send out the manuscript until she received a yes—not because she was desperate to tell her own story, but because she was determined to share someone else's.
Mullins was fighting to uncover the true story of Hannah Whitman Heyde, a 19th-century woman who had suffered intimate partner violence at the hands of her husband, notable Vermont landscape artist Charles Louis Heyde. To accommodate his career, the couple moved from one scenic outpost to the next, which moved Whitman Heyde away from her family and prevented her from making friends. Isolated from her loved ones, she wrote countless letters to her mother and her siblings recounting her experiences of domestic abuse in great detail. These letters, which were carefully preserved by her older brother, poet Walt Whitman, shared a victim's perspective, which, as experienced by many others in that time period, had to become highly publicized before it was deemed worthy of attention.
"She was alone," says Mullins. "She didn't have community, and she didn't have rootedness, but she did have one thing. She had her letters."
Whitman biographers have historically mischaracterized his sister as a neurotic and hypochondriac and for years failed to capture the complexity of the emotional, psychological, and physical abuse she experienced at home. As her depictions of her ongoing traumatic experiences painted a sobering picture, Mullins wanted the world to see the contents of Whitman Heyde's letters in order to finally shed light on her actual lived experience.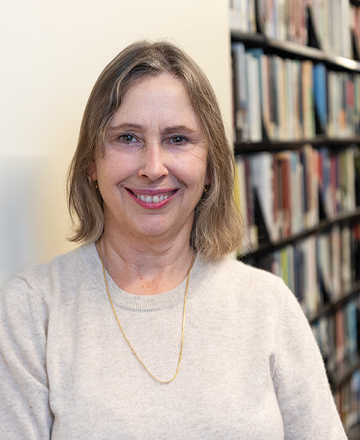 There were these two stories out there — the story that the biographers told and the story that Hannah told. And that's where my research began.
In December 2021, Bucknell University Press published Hannah Whitman Heyde: The Complete Correspondence, the first complete collection of Whitman Heyde's letters. Edited by Mullins and grounded on her years of research, the book provides a vital counternarrative to existing portrayals of Whitman Heyde's character.
Mullins, a Walt Whitman scholar and the Blanche E. Seaver Chair of English Literature, became interested in Hannah's story when she first felt the disconnect between what Whitman biographers wrote about her and the contents of her letters.
"Whitman biographies maintained that she was hysterical and kept a messy house," Mullins says. "There were these two stories out there—the story that the biographers told and the story that Hannah told. And that's where my research began."
Publishing the letters was a labor of love for Mullins. Through the support of the Seaver Undergraduate Research Program and the Academic Year Undergraduate Research Initiative, Mullins and several students learned how to code from senior application analyst Jason Eggleston in order to digitize Whitman Heyde's words. The project first began as an online collection of letters, but Mullins quickly realized that the entirety of Whitman Heyde's correspondence was worthy of being published, a fact that editors at various scholarly presses did not initially accept.
"This is a project that goes beyond Whitman studies," Mullins says. "Her correspondence gives us a deeper understanding of what would happen to women in the 19th century who were experiencing intimate partner violence. I can't tell you how elated I was when Bucknell University Press wrote to me and said they were interested. I wasn't happy for myself. I was happy for Hannah. Her story was finally going to be told."
Despite her consistent communication with her brother and her detailed descriptions of the abuse she suffered, Whitman biographers have historically referred to another source when painting the picture of her life: her husband's letters. In fact, Charles' letters, each one presenting a counternarrative for each of his wife's, were intentionally crafted to undermine his wife's reality—one that he consistently challenged and denied. In his letters, he painted his wife as messy, a terrible housekeeper, and a hypochondriac. He described her as friendless, neurotic, and a burden. His story was the one biographers read, a phenomenon Mullins describes as common throughout history.
"Very often, biographers looking at correspondence will believe one correspondent more than the other," Mullins shares. "What I know to be true is how the Whitman family responded to Charles. There's a word you never see in Walt Whitman's correspondence, except when referring to Charles: 'snake.'"
Yet, biographers took particular phrases out of Charles' letters to characterize Hannah.
"This is a revisionist story of a woman who not only was abused by her husband but who had her history linked to the abusive narrative that he put forward about her," Mullins says.
Hannah Whitman Heyde was an educated woman when education and literacy were becoming increasingly commonplace for women. In fact, a mutual appreciation for education is likely what brought Charles Louis Heyde and Hannah Whitman Heyde together. In an ironic twist, her education and her literacy are what ultimately empowered her to tell of his abuse. More than a century after her death, another woman of letters devoted years of her life to lifting the narrative veil Hannah Whitman Heyde's husband had crafted. And now, Hannah's story is at last being told.
Hannah Whitman Heyde image: courtesy, Walt Whitman House, Camden, NJ