Act Two
Screenwriter and former nun Barbara Nicolosi forges new ground for the faithful in Hollywood.
If your life story is made into a Hollywood film, cross your fingers that Barbara Nicolosi pens the screenplay. A professional screenwriter and adjunct professor in Pepperdine's MFA program in writing for film and television, she has been known to gamble a writing job to stand up for her ethics.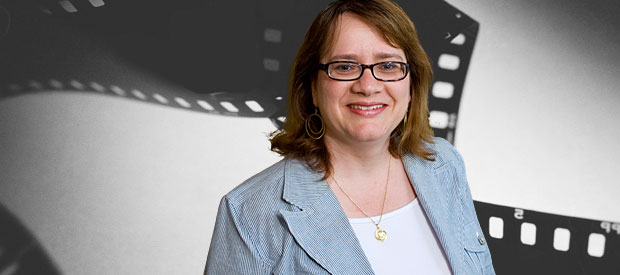 "The movie would have taken in more money if I'd trashed the person," Nicolosi explains, remembering a time she was asked by a studio to weave unsubstantiated, salacious details into a biographical script she had written. "If I'd seen any evidence that the details might be true, that would have been different."
The decision cost her the job, but she laughs at the absurdity of the incident. "I was told to play down my integrity. I told my agent I don't actually 'play' integrity at all."
Nicolosi isn't self-righteous, nor is she trying to fight an uphill battle to get more Christian films made in Hollywood. But as a vocal and active Christian filmmaker, she is proof that people of faith don't have to compromise their standards to succeed in mainstream entertainment.
While standing up for her values, Nicolosi respects and admires her industry as the business of making what she calls "visual poetry." And for any Christian pursuing a career in Hollywood, she has this piece of advice: "You can't have a messiah complex, standing in judgment of the 'heathens' around you. That's not a posture of respect," she says.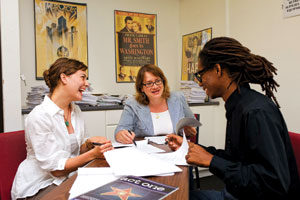 Nicolosi, author of Behind the Screen: Hollywood Insiders on Faith, Film, and Culture, imparts her insider wisdom teaching introduction to film and advanced screenwriting in Pepperdine's MFA program, a degree that is taught with a special emphasis on faith in filmmaking. Her students have met successful professionals from various creative fields of filmmaking, such as cable movie director Charles Roberts Carner, composer Jim Covell, theatre actor and director Marianne Savell, and Dreamworks animator Mark Matthews.
She is also the founder and president of Act One, a nonprofit organization built to train Christians for careers in mainstream film or television. Accepting only a small number of applicants each year, the program exemplifies Nicolosi's personal creed that talent is every bit as important as faith; she sees no need for mediocre films, even ones that tell worthy, spiritual stories. "If the writer isn't a person of real talent, there's nothing we can do with them," she explains. Graduates of the program have gone on to write independently, sign with talent gencies, or win screenwriting fellowships. All of their projects are mainstream, and not in the Christian genre.
Heeding the call of both faith and film has been a personal balancing act for Nicolosi, who was a nun before she began writing professionally. "It's such a cliché—the nun who goes to Hollywood—that I don't even mention it very often. I left right before my final vows."
After leaving the convent, she applied to the film program at Northwestern University, where she earned a master's degree in screenwriting. Like most people who eventually make it in the film industry, she honed her skills for years before being in a position to make a living from writing alone—all while doing her best to avoid the Hollywood cliché of the struggling artist.
"I know myself and I knew I couldn't live in my car," she laughs. "I got a real job as the director of project development for a producer in Malibu. I was always writing intermittently."
Her job required her to read hundreds of scripts a month, giving her plenty of examples of poor writing. One of the most common mistakes for would-be writers, she discovered, is that they invest too little in creating subtle depth and instead go for the easy payoff. "They give the audience an emotional jolt from sappy sentimentality or from violating brutality," she offers as an example. "Writers take the easy emotional step since it's so difficult to come up with a visual metaphor for an unseen reality. They end up making pseudo art instead of doing something clever. A film should be a poem on the screen."
Writing since 1995, she's learned that creating poetry and having it transferred to the screen are two different things altogether; only a small fraction of purchased scripts are ever actually made into films. Her current project, however, looks "set to go all the way." Nicolosi cowrote the screenplay for Mary Mother of Christ, and the film is currently in pre-production with an early cast list that includes such Hollywood heavyweights as Al Pacino, Jessica Lange, Peter O'Toole, and Jonathan Rhys Meyers. It is being made in association with Origin Entertainment, a production company Nicolosi cofounded.
Today this former nun—who was recently married—has plenty of reasons to believe God wants her in Hollywood, even if sometimes that means missing out on a job or two because of her integrity. "Many Christians, when they come to Hollywood and encounter difficulties, take it as a sign that God doesn't want them in the business," she says. Christian or not, it's a tough industry to crack for anyone. Her advice is as universal and mainstream as the Christian writers she trains for Hollywood. Simply put: "Don't give up."
Fellow filmmaker of faith Craig Detweiler will join Nicolosi at Seaver College this fall. A producer, screenwriter, author, and lecturer, Detweiler is the codirector of Reel Spirituality: An Institute for Moving Images at Fuller Theological Seminary, and maintains two blogs exploring faith and film. Listen to an interview with Detweiler at magazine.pepperdine.edu/filmandfaith.